Russian Military Jets Intercepted By NATO Near Latvia Over Baltic Sea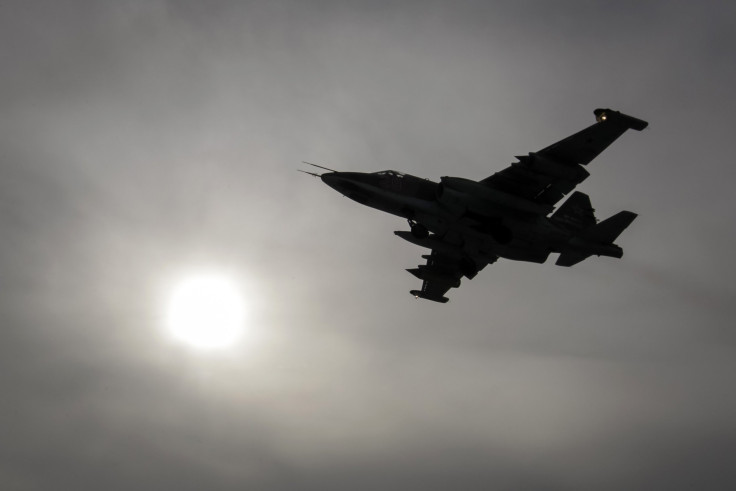 Seven Russian aircraft were intercepted by the NATO Baltic Air Policing mission while flying in international airspace near Latvia, the country's National Armed Forces said on Twitter Wednesday. Typhoon fighters from the Spanish and Italian air forces were scrambled on Tuesday to intercept the Russian aircraft, which included four Su-27 fighters as well as two An-26 and one An-12 transport planes.
In a separate tweet on Wednesday, the Latvian military also reported seeing three Russian Kilo-class submarines, support ships and a hydrographic survey vessel just 30 miles from Latvia's territorial waters.
On Tuesday, a Russian warship was spotted 28 miles from the coast, and on Monday a Russian submarine was seen at a similar distance.
The ships launched from Russia's Baltic Sea naval base in Kaliningrad. Russia has increased its presence in the area in recent months. The buildup of military assets is happening at the same time as the U.S.-led Operation Atlantic Resolve conducts military training exercises across Eastern Europe, including ongoing naval maneuvers in the Black Sea.
In addition, Russia has relocated some Tu-22M strategic bombers to areas in Crimea and enhanced ballistic missile systems to Kaliningrad, a Russian exclave that shares a border with Lithuania to the north and Poland to the south.
On Monday, Russian President Vladimir Putin ordered his Northern Fleet to conduct exercises, including 38,000 troops, 41 ships, 15 submarines and 110 aircraft. The training is supposed to last until Saturday and, Russia said, the exercise was not related to the current tension over the nearly yearlong war in East Ukraine.
"The main task of the [combat readiness drill] is to assess the armed forces from the Northern Fleet's capabilities in fulfilling tasks in providing military security of the Russian Federation in the Arctic region," Russian Defense Minister Gen. Sergei Shoigu told Sputnik, a Russian media outlet, on Monday. "New challenges and threats of military security demand the further heightening of military capabilities of the armed forces and special attention will be paid to the state of the newly formed strategic merging [of forces] in the North."
© Copyright IBTimes 2023. All rights reserved.