Russian Military News: Contract Servicemen Increase, Exceed Number Of Draftees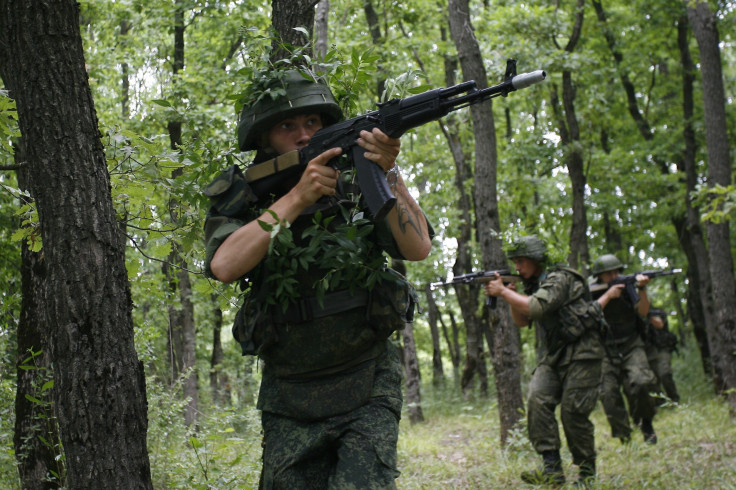 The number of contract servicemen in Russia's armed forces had increased by almost 60,000 since 2014, exceeding the number of draftees, a Russian Defense Ministry official said, according to Russian news agency Tass. The Defense Ministry's announcement comes amid tensions over Russia's military role and involvement in both Syria and Ukraine.
"Over the past three years we have managed to considerably increase the number of contract servicemen in the Russian army," Defense Ministry Maj. Gen. Ruslan Vasilyev said Friday while speaking with reporters in the eastern city of Khabarovsk. "This year, their number has exceeded the number of conscript servicemen and will reach 352,000 by the year end."
The ministry reported that Russian President Vladimir Putin wants the number of contract servicemen in Russia to increase to 500,000. Russia has 81 enlistment centers across the country, with one of the largest located in Khabarovsk. More than 16,000 people were selected for contract service from Russia's eastern military district.
The confirmation of Russia's direct military involvement in Syria this week has caused tension with the U.S. Russia was working to open a military base near the Syrian city of Latakia and has sent military advisors to aid Syrian President Bashar Assad. Russia has tried to downplay its military role in Syria.
"Russian military specialists help Syrians master Russian hardware, and we can't understand the anti-Russian hysteria about this," said Maria V. Zakharova, a foreign ministry spokeswoman.
On its own border, Russia has continued to deny any direct military involvement in the conflict in Ukraine that began in 2014. The government continues to maintain its position that any Russian soldiers fighting in Ukraine with so-called separatists were there of their own volition.
Russia has started construction on a large military base near the border with Ukraine, it was reported earlier this week. When completed, the base could house up to 3,500 soldiers.
© Copyright IBTimes 2022. All rights reserved.
FOLLOW MORE IBT NEWS ON THE BELOW CHANNELS