Russian Security Council Warns US Seeks 'Color Revolution' Against Kremlin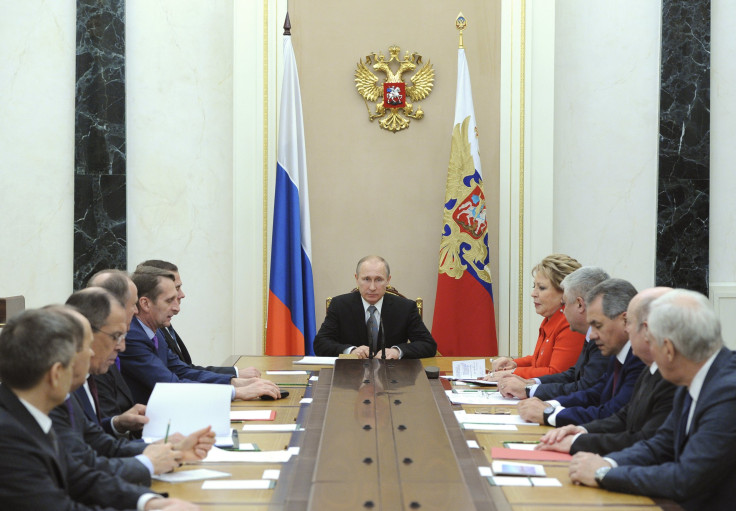 The Security Council of the Russian Federation warned on Wednesday that the United States is trying to create a new global order and could instigate a "color revolution" in Russia in an attempt to destabilize Russian President Vladimir Putin, following the second meeting with Putin this month. Part of that strategy, the SCRF said, is fueling discontent with the Russian population through its economic sanctions regime against Russia over the conflict in Ukraine.
The U.S. seeks a world order with itself holding economic and military influence over most of the world through free trade regimes and military intervention abroad, according to the SCRF. The expansion of NATO and the "economic isolation" of Russia is part of that plan. Instigating a color revolution like those seen in post-Soviet states like Georgia and Ukraine in recent years would further that goal.
A color revolution is loose term to describe a generally peaceful, political revolution meant to oust a governing regime deemed corrupt, undemocratic or abusive. Sometimes these revolutions have given way to violence, but most start off under the pretext of a non-violent civil disobedience campaign. Top Russian diplomats have described color revolutions as a form of geopolitical warfare pushed by U.S. and other Western government as a way of tearing former Eastern Bloc states from the Russian sphere of influence. They are called so because protesters often rally behind a color or other symbol, like 2004's Orange Revolution in Ukraine and 2008's Rose Revolution in Georgia, both of which followed disputed national elections.
"Advanced [color] revolution technologies will be employed ever more widely for the purpose of ousting political regimes disliked by the United States, and the probability of their use against Russia is rather high," the SCRF said in a release on its website, adding that "A thorough analysis of the [new] US [national security] strategy, conducted by the experts from the Russian Security Council, clearly shows that it has a blatant anti-Russian nature and creates a negative image of our country."
The SCRF's statement echoes the words of its secretary and former director of the Russian Federal Security Service, Nikolay Patrushev, from earlier this month. Patrushev outlined what he called the U.S. strategy for color revolutions, which mainly consist of financing and supplying opposition groups and placing economic sanctions on governments it does not favor "under the pretext of human rights protection and the necessity to form civil society institutions," a method he said hasn't changed in the last few decades.
The U.S. and European Union both have sanctions regimes on Russian businesses, including banks and energy companies, with close ties to the Kremlin. It has also placed sanctions on high-ranking individuals close to Putin. "It is evident that the White House hoped for a sharp deterioration of the Russians' quality of life and mass protests," Patrushev said.
Putin himself also warned against a color revolution in November of last year, although he refrained from fingering the U.S. specifically. He also denied he sought to crack down on political dissidents, saying dissent should be voiced in a "civilized" manner and "strictly within the framework of the law."
"In the modern world extremism is being used as a geopolitical instrument and for remaking spheres of influence," Putin said. "We see what tragic consequences the wave of so-called color revolutions led to. For us this is a lesson and a warning. We should do everything necessary so that nothing similar ever happens."
The last major round of protests in Russia came after the 2011 legislative elections, in which Putin's United Russia party won about half of the votes and which opposition leaders called rife with corruption and election fraud. Tens of thousands turned out in support of fair elections, and while no one was killed, about 1,000 were arrested. A counter-protest group calling themselves "anti-Orange," in a reference to Ukraine's Orange Revolution, came out to support the government.
FOR FREE to continue reading
✔️ Unlock the full content of International Business Times UK for free
offer available for a limited time only
✔️ Easily manage your Newsletters subscriptions and save your favourite articles
✔️ No payment method required
Already have an account?
Log in
© Copyright IBTimes 2023. All rights reserved.