Russian Sinai Plane Crash Photos, Video Show Victims' Families Grieving As Officials Probe Why Metrojet Flight 7K9268 Went Down In Egypt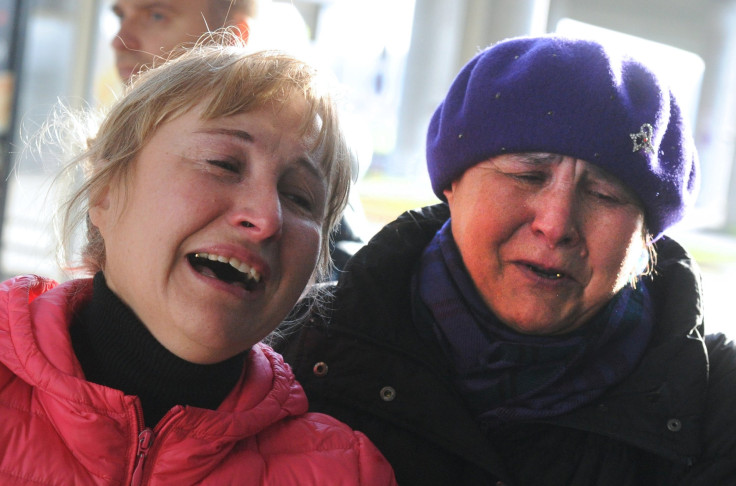 Families mourned at a Russian airport Saturday after Metrojet Flight 7K9268 carrying 224 passengers and crew members crashed in Egypt's Sinai Peninsula, killing everybody aboard the airliner. The Airbus A321 operated by the Russian airline Kogalymavia was traveling from the Red Sea resort of Sharm el-Sheikh in Egypt to St. Petersburg in Russia when it went down in a rural mountainous area, Reuters reported.
The plane apparently made a smooth takeoff before suddenly falling after approaching cruising altitude. The Russian plane had 214 Russian and three Ukrainian passengers, according to an Egyptian cabinet statement. All bodies at the crash site are to be taken to Cairo, while Russia set up an operational headquarters for victims' families at Pulkovo International Airport in St. Petersburg.
"I now see a tragic scene," an Egyptian security officer at the crash site told Reuters by telephone. "A lot of dead on the ground and many who died whilst strapped to their seats. The plane split into two, a small part on the tail end that burned and a larger part that crashed into a rock. We have extracted at least 100 bodies and the rest are still inside."
Russia's transport regulator planned to investigate whether the airline had respected flight-safety rules, while Kogalymavia said human error was not to blame. "Airbus regrets to confirm that an A321-200 operated by Metrojet was involved in an accident shortly after 6:17 local time ... over the Sinai Peninsula today," Airbus said in a statement. "The aircraft was operating a scheduled service, Flight 7K9268 from Sharm el Sheikh (Egypt) to St. Petersburg (Russia). The concerns and sympathy of the Airbus employees go to all those affected by this tragic accident of Flight 7K9268."
Security sources said there was no indication the Airbus plane had been blown up or shot down. In recent months, Islamic State group fighters in Sinai have killed hundreds of Egyptian police officers and soldiers, and they have attacked Western targets. Russia has vowed to wipe out the group formerly known as either ISIL or ISIS in Syria, where it began airstrikes against the militants to support Syrian President Bashar Assad Sept. 30.
U.S. officials said they were awaiting more information. "We don't know any details about it, but obviously the initial reports represent tremendous tragedy, loss, and we extend our condolences to the families and all those concerned," U.S. Secretary of State John Kerry said.
© Copyright IBTimes 2022. All rights reserved.
FOLLOW MORE IBT NEWS ON THE BELOW CHANNELS