Russian Soldier Admits Putin Bombed Russia Town, Blamed Ukraine To 'Provoke Ukrainians'
KEY POINTS
The Russian soldier said the shellings on Klimovo were carried out by officers of Russia's Federal Security Service
The information was gleaned from a phone call intercepted by Ukrainian intelligence officials
Ukraine said the Klimovo attack was part of Russia's scheme to incite anti-Ukraine hysteria among Russians
Ukrainian intelligence officials released another audio clip of an intercepted phone call where a Russian soldier was heard admitting that President Vladimir Putin's forces bombed their own town to put the blame on Ukrainians.
The audio clip of the call was released Friday. In the call, which lasted roughly two and a half minutes, the Russian soldier was heard telling his wife that Putin's forces were responsible for the shelling of the Russian town of Klimovo on Thursday last week. The soldier added that the attack, which was blamed on Ukraine, was meant to provoke Ukrainians.
"These are our heroes," the soldier told his wife. "This is done in order to provoke ... Ukrainians."
The Russian soldier also compared the bombing to a series of attacks on Russian apartments in Moscow, Buynaksk and Volgodonsk in 1999. Moscow blamed the bombings on Chechens. Russia later used the incident as grounds to start a second war with the region. It has been widely speculated that the attacks were carried out by the Russian government.
"The same crap was in the Chechen war," the soldier told his wife. "Apartments were blown up in Moscow, like ... they were terrorists."
The soldier added that the recent shellings on Klimovo were carried out by the officers of Russia's Federal Security Service, which has previously been accused of torture.
Aleksandr Bogomax, the governor of the Bryansk region where Klimovo is located, said Ukrainian forces damaged two buildings in the attack. Russia's Investigative Committee also claimed the attacks were done by Ukrainian military helicopters, adding that they launched a criminal case into the shellings.
Officials for the National Security and Defense Council of Ukraine (RNBO) released a statement on April 14 where it described Russia's claims as part of a scheme to "incite anti-Ukraine hysteria in the Russian Federation." The RNBO also said it received a warning about Russia's plans to launch a series of terrorist acts in its territory to pit Russians against Ukrainians.
The RNBO also said that a day earlier, authorities in the Russian region of Kursk said Ukrainian forces attacked a border guard unit in the Korenevr district.
Russia's unprovoked invasion of Ukraine, which began on Feb. 24, is now entering its eighth week.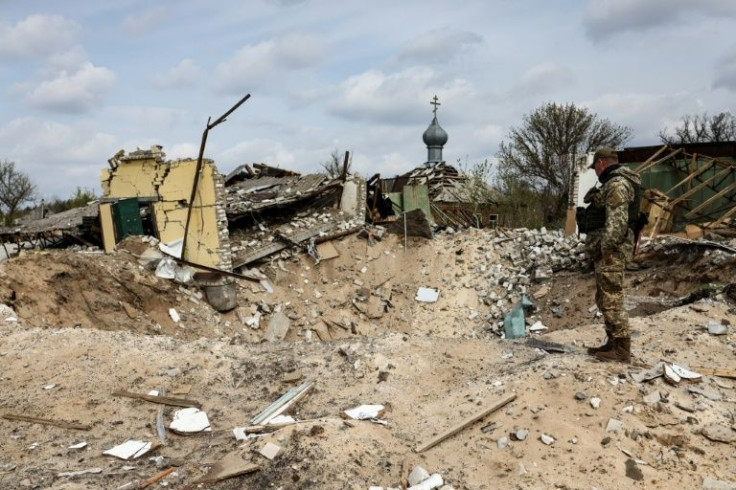 © Copyright IBTimes 2023. All rights reserved.