Russian Soldier Admits Russia Is Using Illegal Phosphorus Munitions, Intercepted Call Reveals
KEY POINTS
In the call recording, the Russian soldier said they melt 'everything' using phosphorus bombs
It is illegal to use white phosphorus bombs near civilians
The Human Rights Watch has called on world leaders to ban the use of white phosphorus
A Russian soldier has admitted that they are using illegal munitions to shell locations in Ukraine, according to a new recording.
The Security Service of Ukraine (SSU) on Wednesday released a recording of an intercepted phone call where a Russian soldier stationed in the Kherson region was heard saying that they were using phosphorus munitions in Ukraine.
"We drop phosphorus, cluster. No one gives a d*mn. Everything melts there. Also, it looks beautiful at night," the soldier said in the phone call.
White phosphorus bombs are incendiary weapons that ignite as soon as they come into contact with oxygen, burning at a temperature of 1,500 Fahrenheit. Fires made by phosphorus munitions can spread up to several hundred square yards and can cause deep burns, even through bone, according to WebMd.
It is illegal to use phosphorus bombs near civilians, according to the 1980 Protocol on Incendiary Weapons, 1992 Chemical Weapons Convention and 1997 International Convention for the Suppression of Terrorist Bombings. However, the use of phosphorus during a war is not banned as it is not classed as a chemical weapon under the Chemical Weapons Convention, as per CBS News.
The Human Rights Watch, an international non-governmental organization advocating for human rights, had previously called on world leaders to fully ban the use of incendiary weapons. However, it later claimed that "a small number of countries have blocked progress." The organization did not specify which nations blocked efforts to ban the use of phosphorus weaponry.
The SSU's latest recording comes as the war in Ukraine stretches into its sixth month. As of Wednesday, battles are still continuing around the city of Bakhmut as the Russians attempt to gain control of the eastern Donetsk province, which along with the Luhansk province makes up the entire Donbas region.
At least one person was killed Wednesday after a two-story hotel was partially destroyed by Russian shelling. According to estimates from the Office of the U.N. High Commissioner for Human Rights (OHCHR), a total of 5,237 Ukrainian civilians have been killed in the war so far, including 348 children.
In contrast, at least 40,070 Russian soldiers have died in the war, according to figures released by the Ministry of Defense of Ukraine on Wednesday.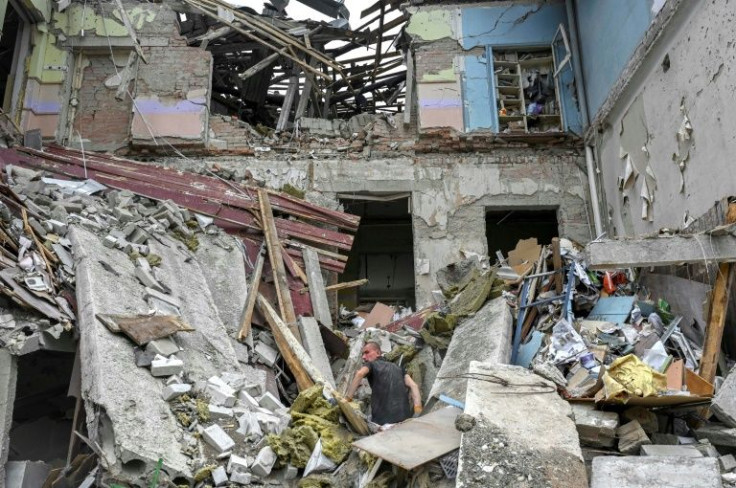 © Copyright IBTimes 2023. All rights reserved.
FOLLOW MORE IBT NEWS ON THE BELOW CHANNELS