Russian Soldier Confirms Order To Kill Civilians, Use Of Illegal Weapons In Intercepted Call
KEY POINTS
Russian forces were ordered to shoot cars in Ukraine, even ones that contain civilians, the Security Service of Ukraine says
They have also used phosphorus against Ukrainians, according to the agency
More than 15,000 suspected war crimes have been reported in Ukraine
Russian forces in Ukraine have been ordered to shoot cars, even ones that have civilians inside them, according to Ukrainian authorities.
"The car will become a colander," a Russian soldier told his mother in a telephone conversation that the Security Service of Ukraine (SSU) said it intercepted.
Russian forces have also used phosphorus in its invasion of Ukraine, the soldier admitted.
"They are burning them with phosphorus. Phosphorus flew from our side to khokhol side," the Russian soldier was quoted as saying by the SSU.
Khokhol is a derogatory term used by Russians to denigrate Ukrainians.
"We remind that the use of phosphorus bombs is a crime against humanity and a violation of the Geneva Convention, while killing civilians is against the laws and customs of war," the SSU stated.
White phosphorus is not banned as a chemical weapon under international conventions because it has legal uses. It is used by militaries to illuminate targets and create smokescreens, according to retired U.S. Marine Corps General Peter Pace.
But white phosphorus also produces incidental incendiary effects, and it has been labeled as an incendiary weapon. It is illegal for phosphorus to be used near civilians because combatants are required by international law to distinguish between civilian and military elements, CBS News reported.
Article 1 of Protocol III of the Convention on Certain Conventional Weapons defines an incendiary weapon as "any weapon or munition which is primarily designed to set fire to objects or to cause burn injury to persons through the action of flame, heat, or combination thereof, produced by a chemical reaction of a substance delivered on the target."
Under the protocol's Article 2, the use of incendiary weapons on civilian targets and the use of air-delivered incendiary weapons on military objectives within a "concentration of civilians" is prohibited in all circumstances.
Russia has previously been accused of using white phosphorus bombs in its invasion of Ukraine. In response to the allegation, Russia said it "has never violated international conventions."
The country was also accused of using white phosphorus in the ongoing Syrian Civil War.
More than 15,000 suspected war crimes have been reported in Ukraine since Russia invaded the country in late February, according to Ukraine's Prosecutor General Iryna Venediktova. Three Russian soldiers have pleaded guilty to war crime charges in Ukrainian courts so far.
SSU investigators opened 594 criminal proceedings for alleged crimes related to Russia's open military aggression between June 4 and 10.
Other task forces from the International Criminal Court, United Nations and European Union, among others, have launched their own investigations into alleged war crimes committed during the conflict.
"All interceptions and data collected by the SSU will be included in the material for international courts so that no Russian crime goes unpunished," the agency said.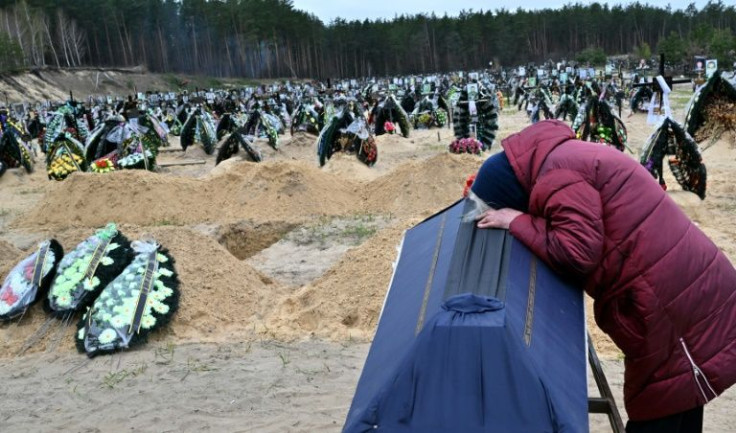 © Copyright IBTimes 2023. All rights reserved.