Russian Warship To Syria? Missile Cruiser Passes Through Egypt's Suez Canal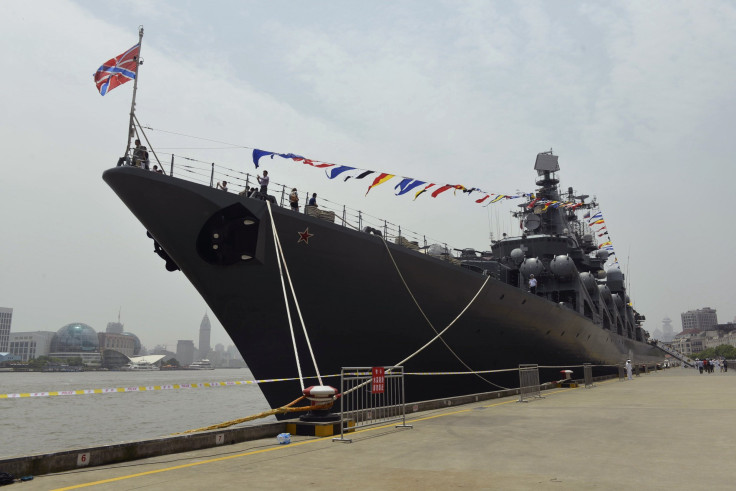 An 11,000-ton missile cruiser passed from the Red Sea to the Mediterranean, using Egypt's strategically-located Suez Canal over the weekend, various media outlets reported Tuesday. The ship was believed to be en route to Syria, where Russia has continued an intense military campaign against rebels fighting the weakening Syrian government.
"The flagship of the Pacific Fleet, Guards' missile cruiser Varyag, has navigated through the Suez Canal and arrived in the Mediterranean Sea as part of its mission," said Capt. Roman Martov, the press service's head, Sputnik reported.
The ship took some 12 hours to pass through the waterway, said an Egyptian source quoted by Egypt's official news agency. The cruiser is a Soviet-era warship commissioned in 1989. Russia has maintained a naval presence in the Mediterranean since the end of 2012, stationing up to 10 combat and support ships in the sea.
Russia began an airstrike campaign in Syria in late September, in a move meant to bolster Syrian leader Bashar Assad's struggling forces. While Russia has targeted the Islamic State group, also known as ISIS, Russia has been accused of focusing much of its campaign against anti-regime rebels, many of whom are backed by the U.S. and other Western countries.
Russia Overview | FindTheData
The Russian airstrike campaign has been accused of targeting civilian infrastructure in areas held by opposition groups, resulting in hundreds of civilian deaths. An Amnesty International report published last month said at least 200 civilians were killed in the two months leading up to the end of November, and accused Russia of using cluster bombs in civilian areas. Dismissing the report, Russia's defense ministry said it contained "fake information" and "trite clichés," BBC reported.
Before heading toward the Mediterranean, the Russian cruiser took part in Indian-Russian joint naval exercises in Indian waters, before heading toward a port in Salalah, Oman.
© Copyright IBTimes 2023. All rights reserved.