Russians Protest Against Putin, Medvedev: Alexei Navalny Detained Amid Nationwide Rallies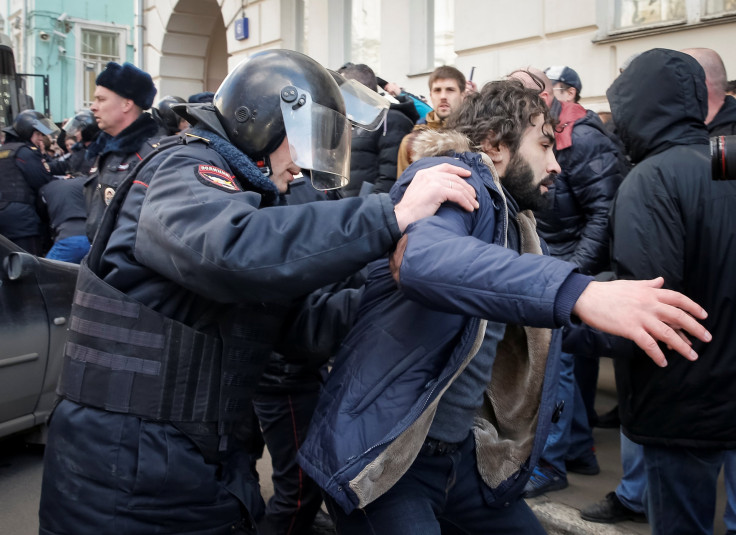 Thousands in Moscow took to the streets Sunday in anti-corruption protest against President Vladimir Putin in what is being called as the biggest demonstration in the country in five years. The Russian police made hundreds of arrests, including the protest organizer and leader of opposition, Alexei Navalny, who wants to run against Putin in next year's presidential election, according to reports.
Along with Navalny, the police detained 17 people who work at an anti-corruption foundation led by Navalny, sources told Reuters. The foundation is a Russia-based nongovernmental organization that investigates, exposes and fights corruption among high-ranking Russian government officials.
The Moscow Police Department said Sunday on its website that around 500 people had been arrested in the city for taking part in an "unapproved public event."
Read: List Of Putin Critics Who Got Killed In Past Decade
Besides Moscow, there were 99 similar rallies in cities and towns across the country. The protests are part of a campaign called "He is not your Dimon," referring to the Russian name Dmitry for Prime Minister Dmitry Medvedev. The protests, called by Navalny late last week, started with allegations against Medvedev but protestors even chanted "Down with Putin." Some in St. Petersburg demanded for both Putin and Medvedev to be jailed and called them the new Tsars of Russia, according to Forbes.
Navalny has accused Medvedev of corruption such as amassing a global property empire through corrupt means. In a report published March 2 by his anti-corruption foundation, Navalny said that Medvedev has massive wealth, including "huge pieces of land in the most sought-after regions, yachts, apartments in old mansions, agricultural complexes and wineries in Russia and abroad." The report claimed that these assets were purchased through "bribes from oligarchs, and state bank loans."
Medvedev's spokeswoman referred to corruption allegations against the prime minister as "propagandistic attacks" and called it pre-election publicity stunt, Reuters reported.​
Navalny has been a Kremlin critic for a long time. He has served several short jail terms after arrests in previous protests and has twice been convicted in a fraud case, however, he was given a suspended sentence. He intends to run for president next year, in which Putin is widely expected to run for another term, reports said.
© Copyright IBTimes 2023. All rights reserved.