Russia's Armata Combat Platform Touted After T-14 Tank Breaks Down During Victory Day Parade Rehearsals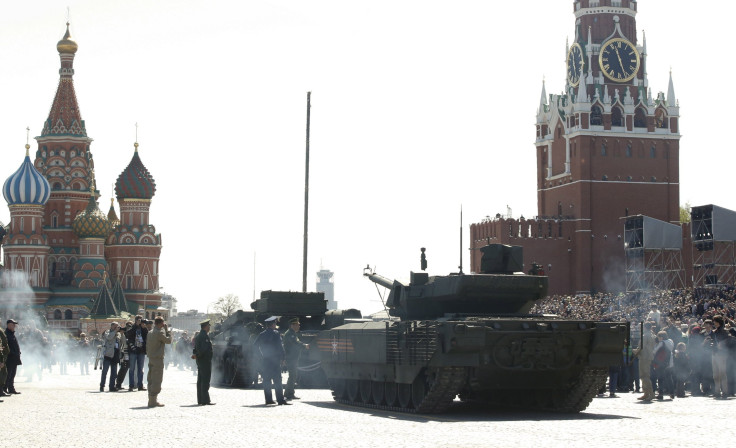 A top official from Uralvagonzavod, one of Russia's largest military production companies, on Friday praised the versatility of the Armata combat platform, which was used in the production of several varieties of Russian military vehicles. His comments came one day after a T-14 Armata tank, touted as an advanced war machine, stalled out during rehearsals for the upcoming Victory Day parade.
The Armata combat platform can be retrofitted to serve a variety of battlefield purposes, Uralvagonzavod deputy CEO Vyacheslav Khalitov told Russian-owned news agency TASS. Aside from the T-14 tank, the production company plans to develop an armored combat repair vehicle based on the platform.
"Armata was conceived as a parent platform for a wide variety of vehicles. Future configurations will depend on the client," Khalitov said.
Khalitov also touted the Armata tank's capabilities, which purportedly include an early-warning system for potential mechanical issues, an unmanned turret with a manual override and a structure which shields screw members from exploding fuel or ammunition in the event of an attack. He added that Russia's T-14 tank, despite its planned presence in the May 9 Victory Day parade to celebrate the anniversary of World War II's end.
One such T-14 Armata tank appeared to break down during rehearsals for the event on Thursday, UNIAN news agency reported. The tank's engine continued to run, but the vehicle purportedly could not move.
"We will show how the evacuation of military equipment will be carried out. The stoppage of the tank was planned," officials said over a public address system.
Starting in 2020, the Russian military plans to produce T-14 Armata tanks to replace older models, the BBC reported. Russia has carried out extensive military drilling and training since President Vladimir Putin ordered the annexation of Crimea last March. Western leaders have expressed growing concern with Russian military activity, particularly as it related to the Kremlin's purported intervention in war-torn Eastern Ukraine.
© Copyright IBTimes 2022. All rights reserved.
FOLLOW MORE IBT NEWS ON THE BELOW CHANNELS