Russia's New T-14 Armata Tank Breaks Down During Victory Day Parade Rehearsal In Moscow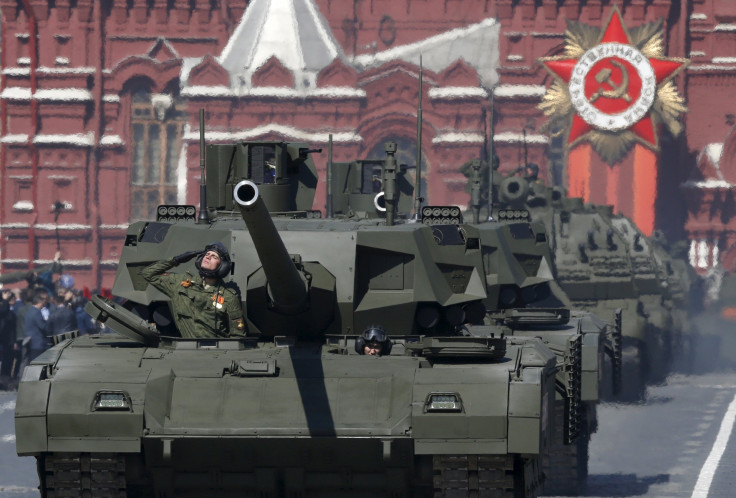 A new Russian tank touted by military analysts as a fearsome, ultra-advanced machine broke down during Victory Day parade rehearsals in Moscow on Thursday, leaving puzzled engineers red-faced. Organizers of the rehearsal for Saturday's parade, which was attended by members of the public, said that the breakdown of the T-14 Armata tank was staged in order to show how the vehicle would be salvaged in a real-life situation.
"We will show how the evacuation of military equipment will be carried out. The stoppage of the tank was planned," announced the public address system, to chuckles from the audience, according to several media reports.
According to Russian newspaper Moskovskiy Komsomolets, the tank came to a full halt and appeared to be experiencing difficulties even though the engine was still running. Other tanks trundled past as army officers approached the crew of the T-14 to discuss the situation. A military towing vehicle was dispatched to salvage the tank, but was unable to pull it away.
Around 15 minutes after the parade rehearsal ended the tank began to move under its own power and joined the rest of the column that had reached the end of the parade strip.
While the Victory Day parade in Moscow traditionally celebrates the Soviet Victory over the Nazis in World War II, it has often been used as an opportunity for Russia, and the Soviet Union previously, to showcase its military might.
Since 2000, under President Vladimir Putin's leadership, the parade has been a place to showcase significant advancements in Russian military hardware as the country looks to bridge the gap with the advanced militaries of the U.S. and Europe.
This year, however, the Victory Day Parade takes on added significance because of Russia's tense relationship with the West over its decision to annex Crimea in 2014 and its continued support of pro-Russian rebels involved in the Ukraine war.
While Putin denies Russia's involvement in the war, European governments will have their eyes on what weaponry Putin will choose to display at the Victory Day parade, as they look for any clues about what strategy he may have planned for the continuing conflict in East Ukraine.
© Copyright IBTimes 2023. All rights reserved.