Russia's Entire Tu-95 Bear Bomber Fleet Grounded After Runway Overshoot, Engine Fire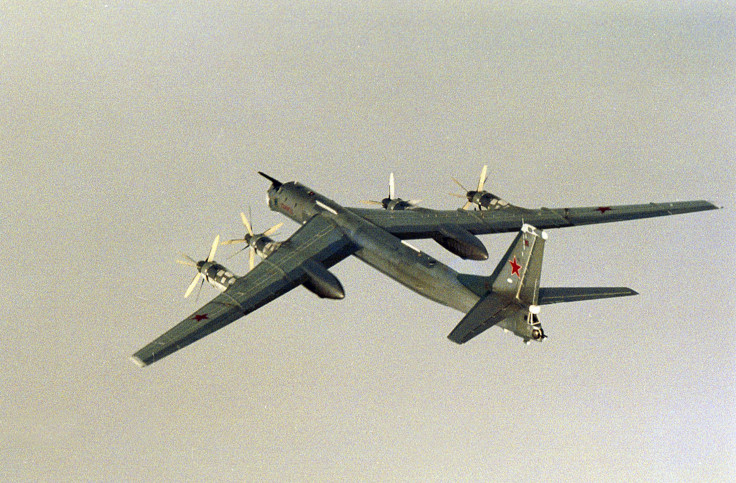 The Russian Ministry of Defense grounded its entire fleet of Tu-95 bombers Monday after one overshot the runway while landing and suffered an engine fire. The Tu-95 is a four-engine, long-range bomber that was iconic during the Cold War and has recently resurfaced as a threat in Russia's increasing confrontations with the West. It's not yet known how long the aircraft fleet will be sidelined for.
"The accident occurred during a practice flight at the Ukrainka airfield in the Amur region at 17:00 Moscow time," said the Russian ministry. "The Tu-95 overran the runway during acceleration. There was no ammunition onboard. According to preliminary information, engine fire was the cause behind the accident."
Ukrainka, despite the name, is nowhere near the Ukraine conflict zone. It's a large base for strategic bombers near the Chinese border and the Pacific coast, 9,000 km (5,600 miles) from Moscow. The Russian Air Force has 63 Tu-95 bombers, and 42 are based at Ukrainka, according to data from 2004 cited by military information site Globalsecurity.org. The others fly out of Engels, in the Moscow region. All are capable of carrying nuclear weapons.
The decision to ground the fleet, which carries out the bulk of long-range flights by Russian bombers, was made by the commander-in-chief of Russian air forces who said that the aircraft would be suspended from flying pending a period of investigation.
The suspension may grant some relief for Europe's air forces, which have had to react to hundreds of instances of hostile Russian aircraft -- often including the Tu-95 -- flying in international air space near European borders over the last 15 months. Russia's annexation of Crimea in March 2014 and its continued involvement in the east Ukraine conflict marked a change in the West's relationship with Moscow and resulted in a greater number of Russian aircraft probing Europe's skies. Some have called the fleet's behavior aggressive, citing that they often fly with transponders off and cannot be tracked by civilian air traffic control, although they do not typically stray into sovereign territory.
Earlier in April, two of the bombers were tracked flying into what's known as a U.S. "defense zone" around Alaska. The U.S. did not scramble jets to shadow the Russian aircraft, as is often the case in Europe and other regions that Russian warplanes probe on a regular basis. First flown in 1952, the Tupolev 95 "Bear" -- the name it was given under the NATO nomenclature for Russian aircraft -- has been produced in many variants, known for their large size and for mounting the most powerful turboprop engines ever produced.
© Copyright IBTimes 2023. All rights reserved.