Russia's Proton-M Rocket Grounded For Another 3.5 Months Following Failed December Launch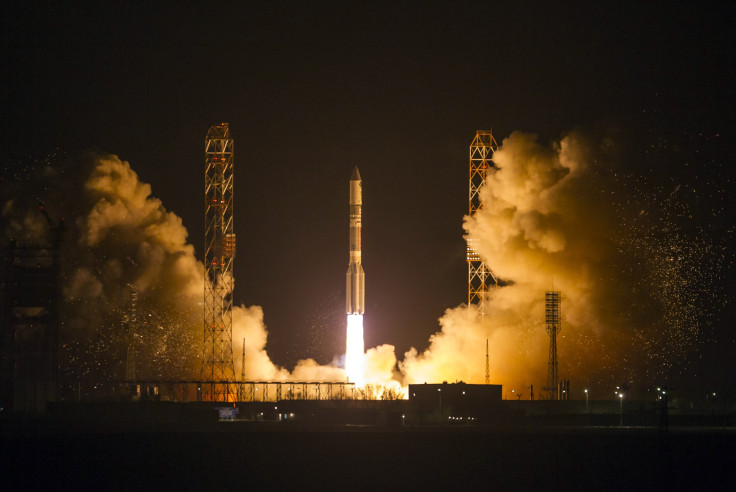 Russia's Proton-M rocket — a heavy lift vehicle that has, for over 16 years, been used to launch military and civilian satellites — will remain grounded for another three and a half months, Russian Deputy Prime Minister Dmitry Rogozin said Saturday evening. The announcement, made during Rogozin's visit to a factory in the city of Voronezh that supplies engines for the country's most powerful operational rocket system, comes almost two months after an International Space Station-bound cargo ship — being carried on board a Proton-M rocket — blew up just minutes after launch.
Russian officials said that the explosion was caused by a faulty third-stage engine — a defect that was later traced back to the Voronezh plant. As a result, the head of the factory was reportedly forced to resign last week.
"The launches of Proton-M will be resumed within 3.5 months. Voronezh Mechanical Plant will receive economic aid for technical re-equipment," Russia's state-run Sputnik news agency quoted Rogozin as saying. "All those guilty of technology and document substitution will be severely punished. Three Proton-M rockets will be dismantled. Engines of the second and third stages will be changed."
The December explosion destroyed the Progress MS-04 — also known as the Progress 65 — cargo ship carrying 2.6 tons of food, fuel and other supplies for astronauts on board the ISS. In a statement released at the time, the Russian space agency Roscosmos said that the explosion "will not affect the normal operations of the ISS and the life of the station crew."
"Most of cargo spacecraft fragments burned in the dense atmosphere," Roscosmos said. "The State Commission is conducting analysis of the current contingency."
This wasn't the first accident involving a Proton-M rocket. In May 2014, a Proton-M rocket carrying an advanced communications satellite broke up. Then, in May 2015, another rocket carrying a Mexican satellite crashed just eight minutes after lift-off due to a third-stage anomaly.
© Copyright IBTimes 2023. All rights reserved.