Saffron Extract Benefits: 6 Reasons Why Dr. Oz's Natural Weight Loss Aid Can Work for You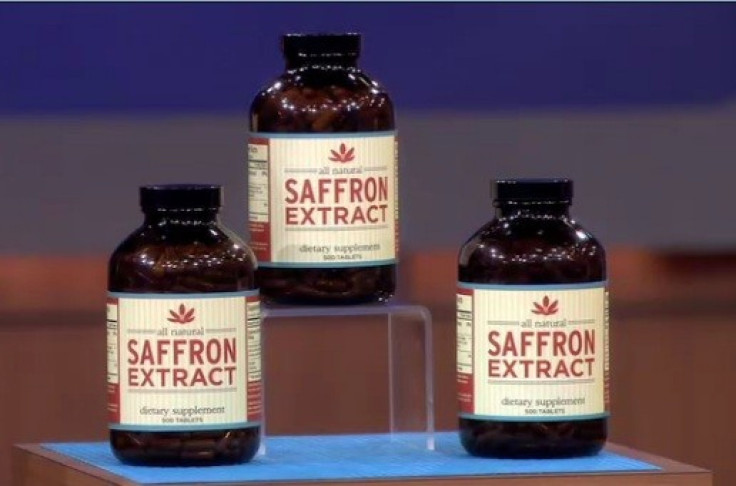 Dr. Oz knows a thing or two about staying fit. Television's most popular doctor (who has the seal of approval from Ms. Oprah Winfrey herself) featured a segment on Monday on The Dr. Oz Show about belly-blasting supplements. Belly fat is one of the biggest complaints women, particularly those over 40, have today. Although exercise is pivotal for body transformation, so is diet.
Dr. Oz revealed a miracle appetite suppressant that will shrink your belly fat in no time -- saffron extract. Here are five reasons why saffron extract, a natural weight loss aid, might work for you.
Saffron Extract Can Prevent Over-Eating
Saffron extract, a natural spice use for seasoning, fragrance, due and medicine for over three millennia, will annihilate your urge to over-eat. Though Dr. Oz had never heard of this miracle appetite suppressant before, he revealed how saffron extract prevents over-eating, which is (of course) related to weight gain. According to a study in Whole Foods Magazine, 100 percent of women who took the saffron extract supplement reported decreased hunger.
Saffron Extract Combats Emotional Eating
Emotional eating is a huge factor in weight gain for many people, triggered by chemicals in the brain. According to Life Extension, compulsive eating occurs in 30 percent of obese women, though its prevalence in the general population reportedly exceeds even this number. You crave carbohydrates. Why is that? asked Dr. Oz on Monday's show. When take carbohydrates and put them up in the mouth you are actually turning on chemicals in the brain... They turn on this pleasure sensation, this craving you have, and they give you the satisfaction from doing this and relief.
A saffron extract supplement will go into your intestinal system, go into your brain and stimulate the same feeling an emotional eater would get from eating, say, carbohydrates. It gives you that feeling of relief without that short-term hit from the carbohydrates. So, when you see food, you don't have to put it in; you don't feel addicted to put it in there. You have the ability to say 'no.'
Proven Results
The studies involving saffron extract that Dr. Oz looked at allowed participants to eat whatever they wanted; and the results were clear. They snack significantly less and they lost body weight even though they were allowed to eat whatever they want, he said. When I hear that, that's a wakeup call for me.
Dr. Oz and his team performed the study themselves with two volunteers who tried the saffron extract supplement over one weekend to see if it curbed their appetites. Both women were self-proclaimed emotional eaters.
One participant said, I didn't get that craving, or that urge. The stress of the weekend did not cause her to eat more. The other participant said that when she gets hungry she will eat for whatever is around, from muffins to pies to chips. Once I started taking these over the weekend, I did notice a decrease in the amount of hunger and the intensity of that hunger. I didn't feel like I was going to snap if I didn't have anything to eat, she said.
The first participant lost three pounds in three days. The second participant lost five pounds in three days. I'm speechless! I'm ecstatic! said the second participant.
Click here to watch Dr. Oz's segment on saffron extract from The Dr. Oz Show.
It Is Natural
Saffron extract is a natural supplement, made from the saffron crocus. The dried stigmas, threadlike parts of the flower, are used to make saffron spice. According to WebMD, saffron has been used to help alleviate a number of ailments aside from over-eating including: asthma, cough, sleep problems, hardening of the arteries, intestinal gas, depression and heartburn. It has also been used as an aphrodisiac.
Other appetite suppressants are man-made. Phentermine is one sort of appetite-suppressant drug approved by the FDA as a short-term weight loss aid. However, according to WebMD, this drug should be taken for only a few weeks at a time, should not be taken with other appetite suppressants and poses the possibility of serious side effects and withdrawal reactions. Some of the side effects include irregular heartbeat, mood changes, changes in sexual ability/interest, severe headaches and lung or heart problems. Click here to read the full list of side effects.
No Calories!
The saffron extract supplement has no calories. However, Dr. Oz noted that prospective users must look for a special blend called Satiereal. This particular variation was used in the studies Dr. Oz looked at. Those studies called for 88-90 mg, twice a day.
Satiereal is a clinically studied, proprietary extract of saffron. According to Healthy Body Daily, in clinical studies, women taking Satiereal experienced:
100% reduction in the desire to snack
50% fewer instances of eating between meals
Less hunger
Moderate weight loss
More energy
Better mood
Saffron Extract is Inexpensive
According to Dr. Oz, saffron extract costs approximately $30 for one month's supply. A simple Google search will reveal that this is a quite inexpensive price-tag. Other appetite suppressants can cost up to $100. Other popular weight loss aids, like Alli, hover around the $60 to $70 range. This product can be purchased at GNC or Amazon. Please consult a physician before taking this supplement.
© Copyright IBTimes 2023. All rights reserved.