For Sale: Used 2008 Telsa Roadster For $65K; Tesla Cars Are Starting To Appear On The Used Car Market; Will They Attract The Right Resale Value?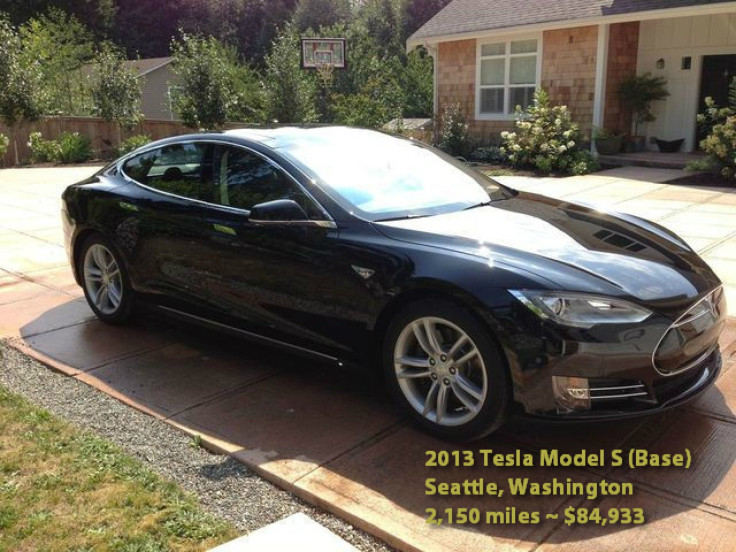 Matthew Bashover is two kinds of pioneer: He's one of the early adopters of the Tesla Model S luxury electric sedan and also one of the first customers to put his used Tesla on the market.
"I've been driving it every day to and from work," he told International Business Times by phone from Dallas on Wednesday. "I think it's a great car. What was interesting to me about Tesla is it was the first company to focus on making an electric car with a range over 200 miles. Eighty miles per charge just isn't enough."
But now Bashover is offering his white 2013 Model S with the extended range battery, xenon headlamps, heated leather seats and about 9,000 miles on the odometer. The asking price: $101,000, above the starting price of about $71,000 but less than the price of a new version of the car with the same options.
Though the optometrist was coy about why he's selling his car so quickly (he says he owns two Priuses and an old Jaguar sports car) he insists it's not because he's been disappointed with the way the Tesla performs, or how much it has cost him to maintain. He estimates that he's paying in nightly recharges from his home charger the equivalent of driving a car that gets 140 miles to the gallon.
"And there really is something to the fact that there are no gears. You don't have the oil and the fluids of a gas engine," he added.

Founded in 2003, Tesla Motors Inc. (NASDAQ:TSLA) may be younger than the average age of a passenger car rolling on U.S. streets (11 years), but already there are Tesla vehicles showing up on used car lots. There aren't many, and most of them have very few miles – almost none over 30,000 – but vehicles like these will be watched by the industry to gauge their resale value and to meter their long-term maintenance cost and dependability.
How this first batch of used cars fares in the aftermarket is important to the company because any Tesla customer who finances the purchase through the company's unconventional financing program (in partnership with Wells Fargo and U.S. Bancorp) is guaranteed to receive 43 percent of the original purchase price after three years. Bloomberg Industries recently estimated that this "gamble" could bring Telsa $368 million in annual revenue by 2016 if the company can sell 10,000 used Teslas annually by 2016 at the average resale price of $36,763.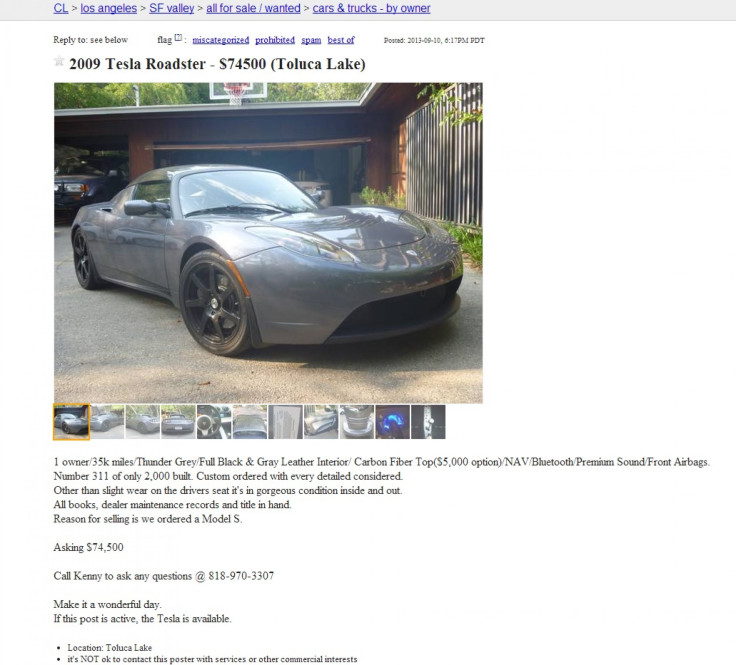 Right now the oldest and most worn Teslas being sold online are the Roadsters – built between 2008 and 2012 on the Lotus Elise chassis – including one with a premium carbon fiber top and 35,000 miles listing on Craigslist in Los Angeles for $74,500. A review of used car sites such as cars.com and autotrader.com yielded fewer than 50 Teslas, most of them with less than 1,000 miles. Very few used Model S sedans have more than 10,000 miles, and all of them cost significantly more than any entry-level luxury sedan.
Kelley Blue Book, the auto pricing information site, has yet to list Tesla's estimated used car value. It's customers like Bashover who are testing the waters to see at what price a used Tesla will settle. And that value will determine just how much revenue (much less profit) Tesla will be able to generate with its buyback guarantee.
In the meantime, the cheapest Tesla in the world right now appears to be this one:
FOLLOW MORE IBT NEWS ON THE BELOW CHANNELS