Same-Sex Marriage Bill Introduced In Australia, New Poll Finds 69% Of Australians Support Legalization Of Gay Marriages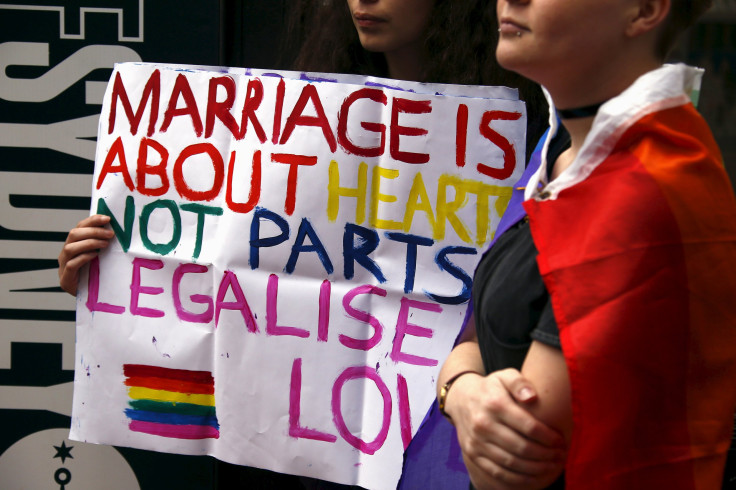 Australian lawmaker Warren Entsch from ruling conservative Liberal Party introduced a same-sex marriage bill in parliament Monday. He said that Australia will remain divided if gay couples do not have equal rights.
The bill comes even as gay marriages are staunchly opposed by Prime Minister Tony Abbott and his Liberal Party.
Entsch agreed that the bill is not likely to go for a vote after last week's meeting, in which the ruling coalition decided that government lawmakers should adhere by the party views, the Associated Press (AP) reported. However, lawmakers in Liberal Party said they would vote in favor of the motion if a vote is permitted.
"I certainly wouldn't have been introducing it if I didn't hope that I could have a vote on it," Entsch, 65, reportedly said.
Abbott maintained his stance on gay marriage, but promised popular vote on same-sex marriage after the next election. "This is something that has been the way it currently is for thousands of years, hundreds of years, it's a very big decision to make a change like this," Abbott said Monday, according to Agence France-Presse.
"I don't say that it's not a decision that the community won't embrace ultimately," he said, adding that legalizing same-sex marriage in Australia should be a "people's choice" rather than "politicians' choice" and "that's what will happen in the next term of parliament."
Meanwhile, a survey conducted by the Sydney-based market research firm Ipsos, published in Fairfax Media newspapers Monday, showed that 69 percent of Australians supported the legalization of gay marriage -- an increase of 12 percentage points since December 2011, according to the AP. Furthermore, the poll also showed that 54 percent of Australians preferred the opposition Labor Party as opposed to 46 percent who supported the ruling coalition.
Labor leader Bill Shorten recently said that his party would legalize gay marriages if he wins the next election.
Homosexual couples are allowed to enter civil unions in most Australian states. However, they are not recognized as married under the country's law.
© Copyright IBTimes 2023. All rights reserved.