For Same-Sex Marriage Supporters, North Carolina Amendment Is Another Hurdle In A Long Road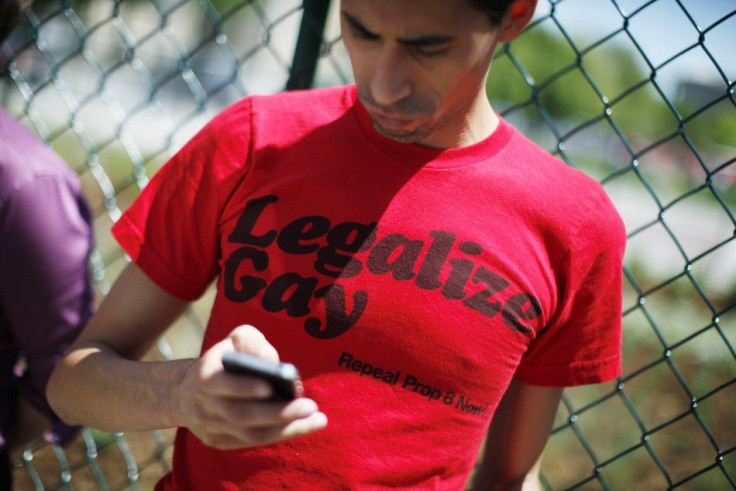 On Monday, Obama campaign strategist David Axelrod assured reporters that the president's position on same-sex marriage was consistent with Vice President Joe Biden's declaration that gay couples are entitled to the same exact rights as everyone else.
That's why the president and the administration has stood down on the DOMA court case, Axelrod said, referencing Barack Obama's decision to have the Department of Justice stop defending a law, the Defense of Marriage Act, that prohibits the government from recognizing same-sex marriage. The president believes that the law is unconstitutional, and when people are married we ought to recognize those marriages according to the rights to which they're entitled.
But on Tuesday, North Carolina voters overwhelmingly passed a constitutional amendment dictating that marriage between a man and a woman is the only domestic legal union the state recognizes. North Carolina already has a law on the books outlawing gay marriage; the amendment goes further by invalidating domestic partnerships and civil unions.
The two divergent developments -- Axelrod praising the president's work to advance marriage equality, and the people of North Carolina choosing to move in the opposite direction -- point to the long game that same-sex marriage advocates face.
The New York, Washington and Maryland legislatures all have voted to legalize same-sex marriage in the last year -- as did New Jersey's, where Gov. Chris Christie vetoed it -- bringing to eight (plus the District of Columbia) the number of states that allow same-sex marriage. And while Obama has been notoriously reticent about his personal views on gay marriage, his decision to no longer defend the Defense of Marriage Act helped to undermine the federal law that blocks legally married gay couples from receiving hundreds of federal benefits.
But even if Congress repealed DOMA tomorrow, there would be little recourse for unmarried gay couples living in the 38 states with laws or constitutional provisions restricting marriage to a union between a man and a woman. The federal government recognizing same-sex marriage wouldn't matter much to couples that can't get married.
The loss of DOMA would not necessarily result in the ability to marry for same-sex couples around the country who are living with discriminatory marriage bans, said Camilla Taylor, director of the Marriage Project for the gay advocacy organization Lambda Legal. Striking down or repealing DOMA does not necessarily mean the end of any state marriage ban. All it means is the federal government would respect as valid any marriage that already exists under state law.
It is possible that the Supreme Court could strike down DOMA for violating the Fourteenth Amendment's equal protection clause, but experts say that scenario is unlikely. Far more probable is a long state-by-state slog.
Marriage has been a province of the states from the beginning of the country. Marriage laws have varied and the national map is now definitely a patchwork, said Jennifer Pizer, a law professor and legal director of the Williams Institute on Sexual Orientation Law and Public Policy at the University of California, Los Angeles. The vote in North Carolina is part of this overall national process of states debating what their laws should be.
Depending on the state, doing away with a ban on gay marriage can be a tougher process than passing a law to legalize it. North Carolina is the 29th state to institute a constitutional amendment prohibiting same-sex marriage, which is much more difficult to reverse than a statute.
The statutes are not exceptionally difficult to get rid of, said Sarah Warbelow, state legislative director for the gay Human Rights Campaign. The constitutional amendments are substantially more challenging, and the degree of how challenging they are really depends specifically on the state.
A big consideration is whether an effort to overturn a same-sex marriage ban would have to pass through state lawmakers or whether voters can weigh in directly through a ballot measure. Legislatures tend to move more slowly, and individual lawmakers have much more sway over whether a bill makes it to a floor vote.
If North Carolina wanted to repeal all or part of the amendment, it's going to be very, very challenging because the Legislature is the one that has to put it on the ballot, Warbelow said.
At the same time, advocates say that taking the issue directly to voters contains an inherent risk (North Carolina's amendment passed through a referendum). According to the National Conference of State Legislatures, of all the statewide popular votes on same-sex marriage, all but one have considered restricting -- rather than expanding -- marriage rights. The lone measure that would have enshrined rights for same-sex couples, a 2009 initiative in Maine, failed.
The bottom line is it's difficult to persuade voters to protect the rights of a minority during heated political campaigns, Pizer said. People often don't change their view on the rights of a minority group based on television ads; people usually evolve in their views about other people's rights when they have time to think about it and it's not a contentious debate or discussion.
Same-sex marriage supporters are confident that history is on their side, pointing to polls showing that Americans are gradually coming to accept it.
Let's face it: We certainly lost battles in the past with respect to referenda and constitutional amendments, Taylor said. We know we have a fight in front of us, but the good news is we can see the end of it. Victory is inevitable; it just may take some time for us to get to that day.
© Copyright IBTimes 2022. All rights reserved.
FOLLOW MORE IBT NEWS ON THE BELOW CHANNELS