Samsung Galaxy Note to Hit AT&T Stores on Feb. 19 For Cool $299.99
Samsung's highly anticipated Galaxy Note device will hit AT&T shelves on Feb. 19 and will run on the wireless carrier's 4G LTE network. The price? A cool $299.99 with a 2-year contract.
The South Korean electronics giant announced, Monday, that Galaxy Note, the first half-tablet/half smartphone from its stable, will hit the U.S. market on Feb. 19 and will run on AT&T's 4G LTE network.
Before in-store sales, AT&T will kick off online sales from Feb. 5 and will ship them on Feb. 17. They will be available in two colors - carbon blue and ceramic white.
The Android 2.3 OS-based Galaxy Note was a huge hit at CES 2012 in Las Vegas, where it unveiled. The device, which looks like a successful marriage between a smartphone and a tablet, features a 5.3-inch, 1280 x 800 pixel Super AMOLED HD multi-touch display and is powered by a 1.5 Ghz, dual-core processor.
Other features include 16GB onboard memory, Wi-Fi, Bluetooth, GPS, and 8-megapixel rear-facing camera (for stills and videos) and 2 megapixel front-facing camera (for video chat).
The icing on the cake, however, is the device's input tool called S Pen. This is a creative stylus that offers the precise control over detailing that can only be expected from an ink pen. Additionally, users can use it to capture all the users-created contents (such as picture, voice recording, typed text, hand written note or drawing) and share them as desired.
The S Pen can also personalize the screen capture image, by adding unique and exclusive feature.
The dilemma over whether Galaxy Note is a smartphone or a tablet has also been put to an end as Samsung plans to launch the device under smartphone category. Which also means that Galaxy Note is the smartphone with the biggest display (5.3-inch) to hit the market. It's also the first smartphone to boast of Super AMOLED HD display.
However, the billion dollar question is that - will Galaxy Note be a success? Leaving aside early adopters, the device risks putting off many consumers because of the confusion whether it is a smartphone or a tablet. And, despite Samsung categorizing the device as a smartphone, its ambiguous size (both screen size as well as dimensions of the device) could easily prompt one to think of it as a mini-tablet. This ambiguity could turn against Samsung. But if the crossover device becomes a success, it will open up a new market for Samsung just as the iPad did for Apple.
So far, the response from customers seem positive. In Korea, Hong Kong, France and some other parts of the world where Galaxy Note has already been launched, over 1 million units of the device has been sold.
We welcome the Galaxy Note to the U.S. and are pleased to expand on our popular Galaxy family of premium products, Dale Sohn, president of Samsung Mobile, said. The innovation in this product including the capabilites of the S Pen continue to show Samsung's leadership in bringing cutting edge design and features to our customers.
The Galaxy Note brings a new level of efficiency to busy customers who would normally rely on multiple devices, Jeff Bradley, senior vice president of devices at AT&T, said. This new breed of smartphone helps consumers accomplish more with a single device than ever before. The unique all-in-one experience can simplify daily life while tapping into AT&T's 4G LTE network to let customers work even faster.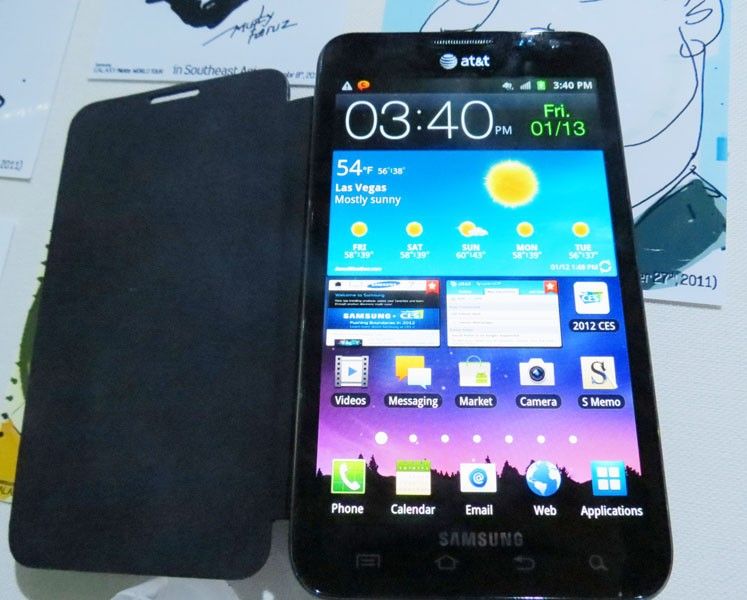 © Copyright IBTimes 2023. All rights reserved.