Samsung Galaxy S3 Release Date 2012: Features We Learned From The Teasers [PICTURES + VIDEO]
It was definitely out of the ordinary: Real news from Samsung, on a Sunday morning? But there it was on Twitter, in black and white: Destination: tgeltaayehxnx.
The word tgeltaayehxnx is actually a clever anagram that, when rearranged, spells out The Next Galaxy. But better yet, when you added a .com to the end of that jumbled anagram, you landed on a Samsung Mobile website with an important-looking countdown clock. If you tried to bookmark the page, you'd see that the title read, A Whole New Universe. The clock was counting down to Monday, April 23 at 7 a.m. ET. For a time, everyone assumed that once the countdown clock reached 00:00:00, we would be looking at a brand-new webpage featuring the brand-new Samsung Galaxy S3.
Excitement reached a fever pitch just before 7 a.m. Monday, but once Samsung's Countdown clock ran out, the page wouldn't load. It had crashed from so many users trying to visit at once; about 30 minutes later, however, a message appeared:
You got it all mixed up, the website read. Following technology blindly often gets you nowhere.
The word tgeltaayehxnx was arranged in blocks, and the site prompted the user to click on the letters in the right order to reveal your real destination.
If it you spelled TheNextGalaxy with the letters -- or simply knew the answer and typed in thenextgalaxy.com -- you were immediately redirected to Samsung Mobile's YouTube page. The featured video wasn't relevant; the most recently uploaded video was what Samsung wanted you to see. A 15-second teaser:
For technology to be truly smart, shouldn't it fit into your life naturally? the ad asked. It then offered to visit the website: www.tgeltaayehxnx.com.
Minutes later, Samsung released a second teaser to its YouTube channel, this one a full minute long. It also had many juicy tidbits embedded directly into its message:
Truly smart technology becomes a natural part of life, the ad began. Where a galaxy fits perfectly into your hand. Your view of the world grows ever wider as you gain the power to explore it freely and swiftly. With technology that fits in this easily, you can now stand out from everyone else.
Let's investigate these statements.
Quote: Truly smart technology becomes a natural part of life, where a galaxy fits perfectly into your hand.
Interpretation: Samsung is really selling this idea of technology molding to your life, and in this example, it also adds that this Galaxy fits perfectly into your hand. Samsung was said to have built the Galaxy S3 smartphone in a much firmer ceramic made encasing, similar to that of the HTC One S. It could also be another juicier rumor: Samsung has not been shy about its flexible displays, and if this phone can truly fit perfectly in any hand, there's a remote possibility that Samsung beats its competitors and becomes the first phone maker to add a flexible display into a major smartphone line. That would certainly give it a fighting chance against the iPhone 5, ready to release later this year.
Quote: Your view of the world grows ever wider...
Interpretation: This quote related to your view of the world almost certainly relates to the window of Samsung's phone, or the display. The previous Galaxy smartphone, the S2, had a 4.3-inch display. Various sites are reporting different measures, but the Galaxy S3 will feature a screen that stretches between 4.6 and 4.8 inches, which is borderline tablet-sized.
Dutch tech site Tweakers.net expects the Samsung Galaxy S3 to feature a 4.7-inch AMOLED screen with a display resolution of 1280 x 720 pixels. In contrast, BGR thinks the Galaxy S3 will feature a 4.8-inch full HD display with a 16:9 aspect ratio and 1080p resolution. Either way, the phone will be a viewing monster, reportedly of course.
Quote: ...as you gain the power to explore it freely and swiftly.
Interpretation: Samsung isn't making this very difficult. Of course, the company is relating to the speed at which it can process information, as well as download and upload data from the network. Tweakers expects the Galaxy S3 to feature Samsung's own Exynos 4412, which is a quad-core system-on-a-chip made with four Cortex A9 processors running at 1.5 GHz. However, previous rumors said the Samsung Galaxy S3 could be packing a quad-core A9-based Exynos 4212, which can clock a whopping 1.8 GHz. While the Exynos 4412 is no slouch, a 1.8 GHz smartphone would make this new Galaxy one of the fastest phones on the planet -- and nearly twice as fast as Apple's best offering, the iPhone 4S.
Samsung could also be referring to its 4G LTE-supported networks. 4G LTE was a big feature in Samsung's Galaxy S2, but the service wasn't originally available for everyone. When the S2 launched in October, AT&T and Sprint customers had LTE support, but T-Mobile and Verizon customers were initially left out. For the S3, it could be that Samsung wants to launch the phone for all the major U.S. cell providers from Day One.
The end of the teaser displayed the logo for Samsung Mobile Unpacked 2012, and below it, the website underneath read: www.TheNextGalaxy.com.
So there it is. The Samsung Galaxy S3 will be released at Samsung Mobile Unpacked in London, which begins May 3. No official early unveilings, but unofficially, we still have a pretty good idea as to what Samsung will unveil on May 3.
Samsung Galaxy S3: Other Likely Features
Screen Layout: With a screen stretched to anywhere between 4.6 and 4.8 inches, the Galaxy S3 will reportedly feature a new five-column layout -- similar to its cousin, the Galaxy Note -- rather than follow the four-column layout of previous Galaxy S phones.
Regardless, a phone of this size may need some additional tools. If Samsung truly believes in the stylus, which it's pushing with the Galaxy Note, who knows? Maybe Samsung will give each Galaxy S3 phone a little stylus and label it with something corny like, Your pointer to the stars.
Processor Power. To reiterate from before, Tweakers believes the Galaxy S3 to feature Samsung's Exynos 4412, which is a quad-core system-on-a-chip built with four Cortex A9 processors running at 1.5 GHz. But just in case the Samsung Galaxy S3 comes with that powerful quad-core Exynos 4212 -- clocking 1.8 GHz -- this phone could blow away all previous smartphones, including the iPhone.
Home button. Speaking of tablet-sized, there were rumors that said the Samsung Galaxy S3 would dump its physical home button like the Galaxy Nexus smartphone. Instead, it looks like the S3 will get a home button just like its little brother, the S2, and its cousin, the Galaxy Note.
Outside and Inside. Outside, the Galaxy S3 smartphone will reportedly feature that firm ceramic encasing. Inside, the phone will reportedly run on Android 4.0 Ice Cream Sandwich.
Camera. Samsung is believed to have improved its 8-megapixel camera from the Galaxy S2 into a killer 12-megapixel camera for the S3. But besides taking up more space, the camera is also said to feature a 1/2.3-inch sensor, which is considerably bigger than the 1/3.2inch CMOS chip found in most smartphones -- iPhone 4S included. A camera with a similar chip, the Pentax Q system camera, costs more than $800 here in the U.S.
Face and Eye Tracking. One Samsung source told CNET that the company was working on adding advanced eye-tracking technologies to its front-facing camera, allowing it to detect when you're looking at the screen so it can lock when you look away. As interesting as the idea sounds, it could become a hassle if you need to enter your passcode every time you look up from your phone. Unlike the Face Unlock feature from Ice Cream Sandwich, this feature sounds very gimmicky.
What else do you hope to see in the next Galaxy S smartphone? Let us know your thoughts in the comments section below.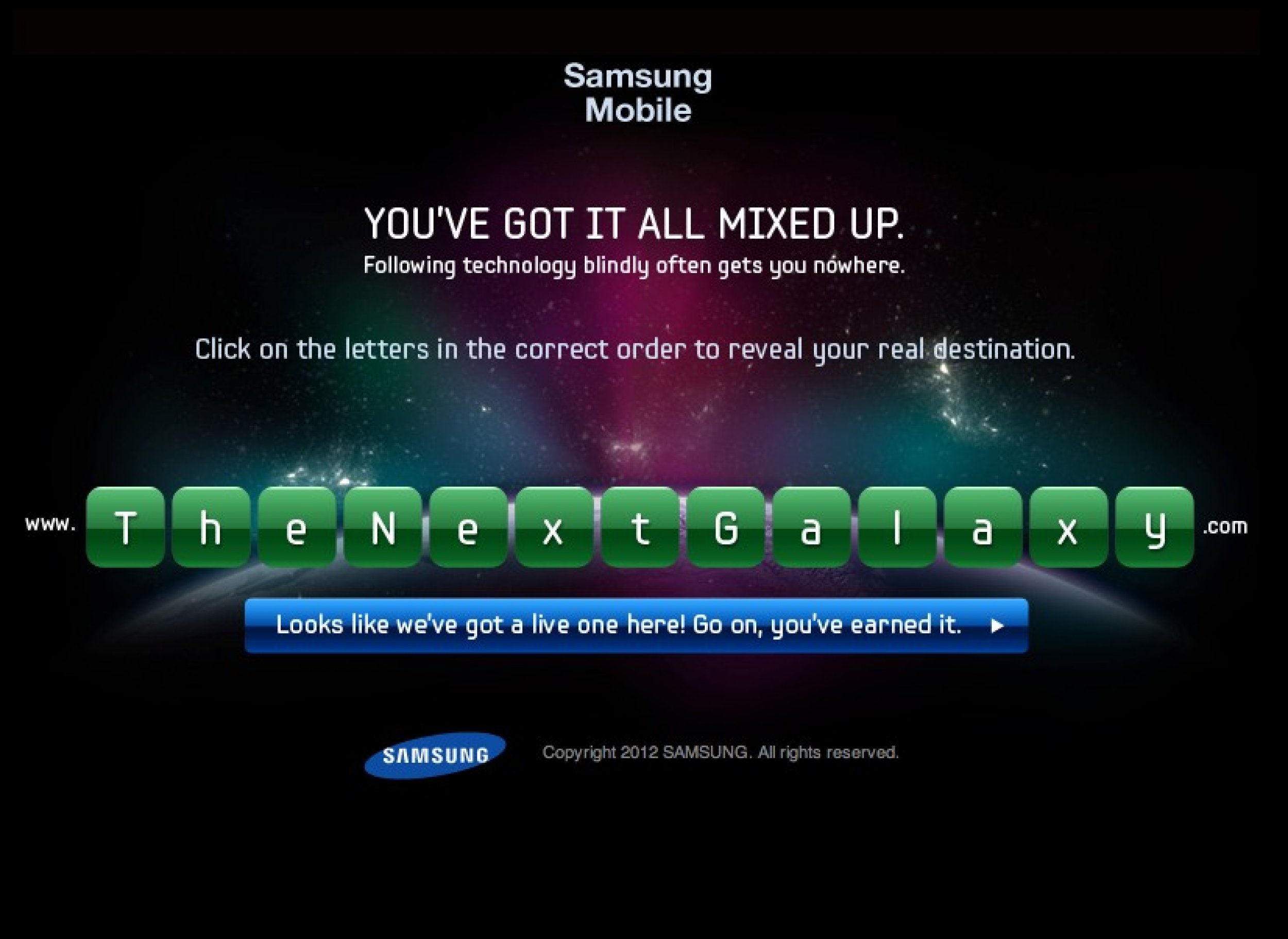 © Copyright IBTimes 2023. All rights reserved.