Samsung Galaxy S4, Galaxy S3 Sale: Sprint Offers BOGO Deal For Galaxy Handsets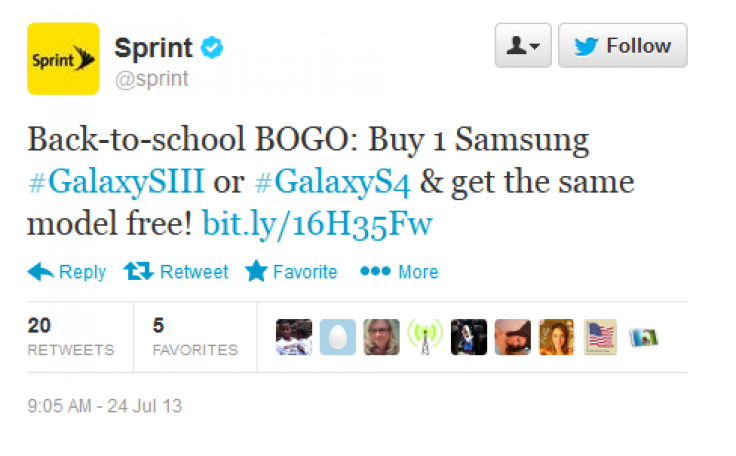 Now is a great time to buy the Samsung Galaxy S4 or Samsung Galaxy S3 on Sprint; the carrier is offering both devices in a BOGO sale where you buy one handset and get another handset of the same model for free.
Sprint tweeted about the BOGO sale on Wednesday. There is currently no word on how long the BOGO promo will last, so those interested in getting a Samsung Galaxy free handset with the purchase of another handset should act fast.
The Samsung Galaxy S4 on Sprint sells for $199.99 after a $50 rebate, while the Samsung Galaxy S3 sells for $99. As per the fine print, each device requires its own line of service with a 2-year agreement or eligible upgrade.
For refunds or exchange, customers must return both handsets bought through the BOGO sale and will be subject to a restocking fee for exchanges.
The Samsung Galaxy S3 is available in white, blue and purple, while the Samsung Galaxy S4 is available in white and black and will soon also be available in purple.
Are you going to take advantage of the Sprint BOGO sale for the Samsung Galaxy S4 and Samsung Galaxy S3? Let us know in the comments below.
Follow me on Twitter @FionnaatIBT.
© Copyright IBTimes 2023. All rights reserved.