$99 Samsung Galaxy S4: T-Mobile Slashes Smartphone's Price For Limited Time Summer Sale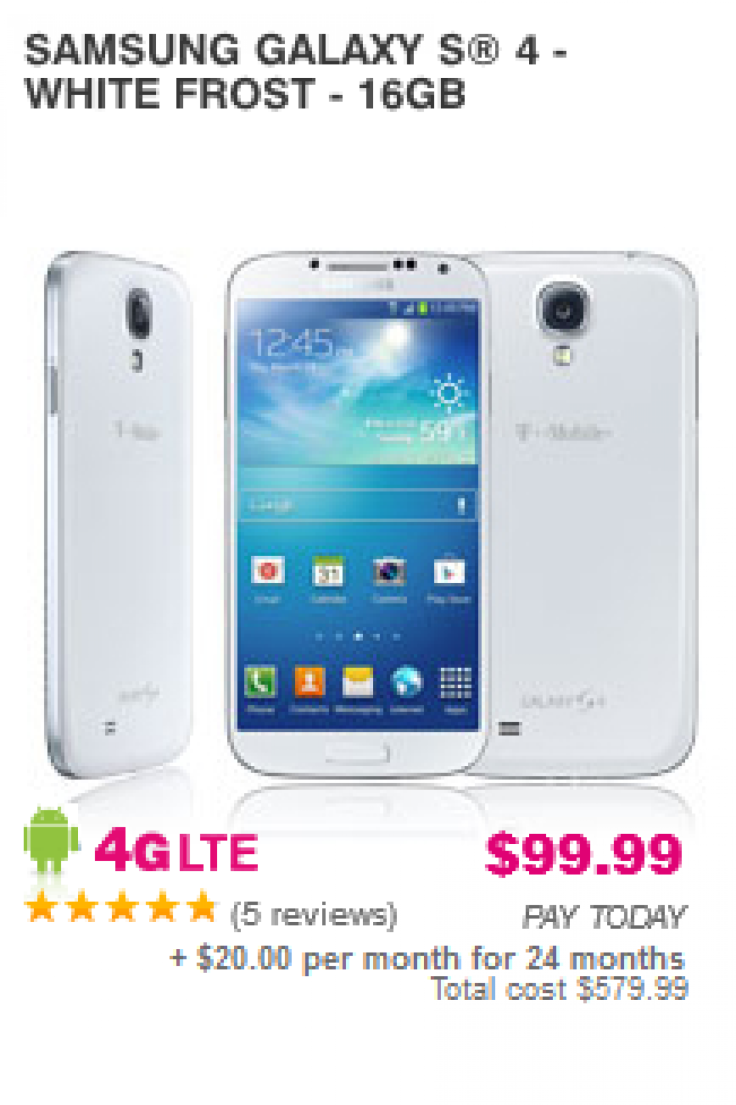 Now is a great time to buy the Samsung Galaxy S4 on T-Mobile; the carrier has slashed the price of the recently released smartphone to $99.99 due at purchase from its original $149.99.
With T-Mobile's non-contract Simple Choice plan, customers must still pay $20 monthly over 24 months in order to pay off the rest of the Galaxy S4's value. They also have the option of paying for the device in full for a discounted $579.99 as opposed to the regular $629.99. Either option equates to a $50 discount on the device, which has already sold more than 10 million handsets in its first month on the market, likely most at full price.
Essentially a summer sale, the discount will only be available for a limited time. If you are interested in buying the Samsung Galaxy S4, be sure to head to T-Mobile by July 12 to take advantage of the discount. After that, the smartphone's price will return to normal.
T-Mobile similarly introduced the iPhone 5 to its network at $99.99 (or $579.99 full price) in April and then bumped the price up to $149.99. Many were reportedly surprised by the price hike, so it is something to keep in mind this time around.
In addition to the Samsung Galaxy S4, the Galaxy Note 2 and the Galaxy S3 LTE are also being offered at a limited time discount. Buy the Galaxy Note 2 for $169.99 down ($649.99 full price), discounted from its original $199.99 (or $679.99) and the Galaxy S3 LTE is being offered for $49.99 down ($529.99 full price), discounted from its original $69.99 (or $549.99). Both devices will also be on sale only until July 12.
© Copyright IBTimes 2023. All rights reserved.