Samsung Galaxy S4 Release Dates And Prices And Processor Variants: When Will Your Country Get The Smartphone? How Much Will It Cost? Will It Have The Exynos Or Qualcomm CPU?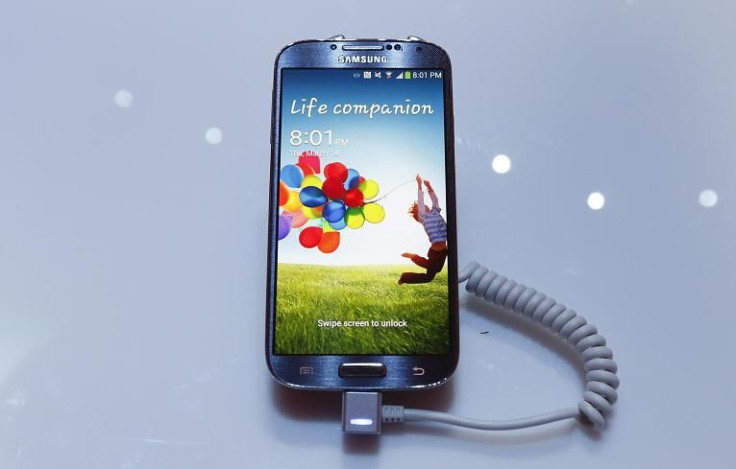 The Samsung Galaxy S4 was unveiled at the Mobile Unpacked event last week at Radio City Music Hall, and the South Korean electronics giant revealed many features of its newest flagship phone, except for two tidbits of information: When will it be released -- and what will it cost?
Samsung President J.K. Shin was on hand to unveil the phone and stated that it would be available for retail in late April, but gave no specific date, location or carrier for said release. While we may assume that late April means the U.S. retail debut, specific release dates tend to be left a mystery until the last minute.
The Samsung Galaxy S4 is expected ship to 155 countries. Release dates of specific devices can vary not only by country, but also by carrier. For the Galaxy S4, several reports also indicate varied prices among the diverse range of release dates and release carriers.
Here's a rundown of currently available Galaxy S4 release date and price news by country and carrier. Also check out which countries will receive the Qualcomm Snapdragon 600 processor and which the Exynos 5 Octa processor.
United States
Six American carriers are slated to power the Galaxy S4, Verizon, AT&T, Sprint, T-Mobile, U.S. Cellular and Cricket Wireless, but all of them are remaining particularly mum about release date and price. AT&T and T-Mobile have opened pre-order sign-up pages, with AT&T's page notably reading "The secret it out," but both only allow customers to sign up for more information about the Galaxy S4, and do not provide any details about the phone's release. On the other hand, rumors indicate an April 26 release date and a standard carrier price of between $199 and $299 with a two-year contract. An unlocked Galaxy S4 probably will cost around $800. The U.S. variant is expected to carry the Qualcomm Snapdragon 600 processor.
United Kingdom
The U.K. has a lot more information floating around for its variant of the Galaxy S4, with a general release date of April 26 being accepted. Carrier Everything Everywhere has indicated that date for the release of its variant, but has not given any other details. Two online retailers; however, have announced their prices for the Galaxy S4, Unlocked-Mobiles has priced the smartphone at £529.98 ($802) including VAT for the 16 GM, while MobilePhonesDirect has priced it at £564.99 ($855) with free with 24-month plans on O2, Vodafone, Orange or T-Mobile carriers. MobilePhonesDirect reportedly states it will begin shipping handsets "43 working days," which is approximately May 20. Some expect the retailer may be accounting for delays in availability that often come with the first release of a device. The U.K. variant is expected to carry the Exynos 5 Octa processor.
Canada
The Galaxy S4 is expected to be powered by several Canadian carriers that are both well-known and not so familiar, including Rogers, Bell, Eastlink, Fido, Koodoo, TELUS, Virgin Mobile, Wind Mobile, SaskTel, Mobilicity and Videotron. Similarly to the U.S., Canada's variant is expected to feature the Qualcomm Snapdragon 600 processor and will likely see prices between $199 and $299, with a three-year contract, and around $800 for an unlocked phone, though consumers may also see varying prices as well as discounts due to the large amount of carriers that will have the phone. Samsung Canada reports an unspecific release date of mid-May.
Italy
Italian tech blog Android Caotic reports that Samsung Italia has purportedly revealed that the Galaxy S4 will be available within the first two weeks of May, and that its handsets, which are expected to feature the Exynos 5 Octa processor, will sell for €699 ($905) with a European warranty and €599 ($776) with an Italian warranty. No information about what Italian carriers will have the phone has been released.
Australia
Australian tech blog Ausdroid reports that four carriers have confirmed they will sell the Galaxy S4, including Telstra, Vodafone, Optus and Virgin. It's expected to arrive down under "later this year." No distinct release dates or pricing information have been provided, but the Australian projects a release between April and June. Vodafone and Optus have pre-order sign-up pages where customers can sign up for more information when it's available. The Australian variant will likely carry the Exynos 5 Octa processor.
Germany
The Galaxy S4 has surfaced in Germany with an off-contract, pre-order pricing of €649 ($840), down from €699 ($906) at Amazon.de. The Galaxy S4 has reportedly not yet even been announced in Germany; however, official information about the Eastern European variant, which will likely carry the Qualcomm Snapdragon 600 processor, is expected to come soon.
India
The Galaxy S4 is expected in India sometime in early-May, featuring the Exynos 5 Octa processor and 3G connectivity at its release, according to tech blog TechOne3. The handset is expected to upgrade to dual mode TDD/FDD LTE in releases later this year. Carriers Vodafone and Airtel will reportedly stock the smartphone, and it will likely sell for between Rs. 40,000 ($739) and 45,000 ($832) without contract.
Sweden
European carrier Tele2 has listed on its website, the Swedish variant of the Galaxy S4, expected to carry the Qualcomm Snapdragon 600 processor and starting at SEK 220 ($34) a month on contract. The website indicates that the phone should deliver within six to eight weeks, suggesting customers will receive their handsets between late-April and mid-May.
Stay tuned for updates and more information on the Samsung Galaxy S4 and its prices, release dates and processor variants around the world.
© Copyright IBTimes 2023. All rights reserved.
FOLLOW MORE IBT NEWS ON THE BELOW CHANNELS