Samsung Galaxy S5 Imitator Goophone S5 Available Just Days After Flagship Unveiling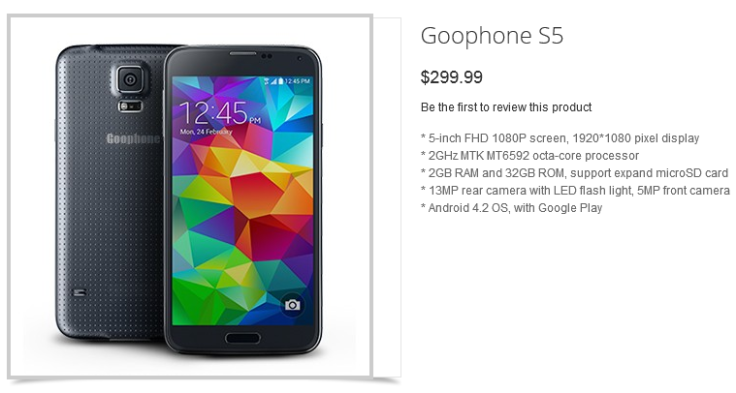 The recently announced Samsung Galaxy S5 may not be hit stores until April 11, but a Galaxy S5 knockoff is already on sale, just two days after the new flagship was unveiled.
The Goophone S5 is now available for a cool $299.99, sporting a look very similar to the Galaxy S5, but specs, which let you know that the device is not a Galaxy S5.
On the Goophone S5, consumers will find a 5-inch 1080p display, a 2GHz MediaTek 6592 octa-core processor, 2GB mobile RAM and 32GB internal storage with support expand microSD card, a 13-megapixel rear camera with LED flash and 5-megapixel front camera, and the Android 4.2 Jelly Bean operating with the Google Play Store included. Notably, the Goophone 5S does not include a fingerprint scanner or heart rate monitor like the Galaxy S5.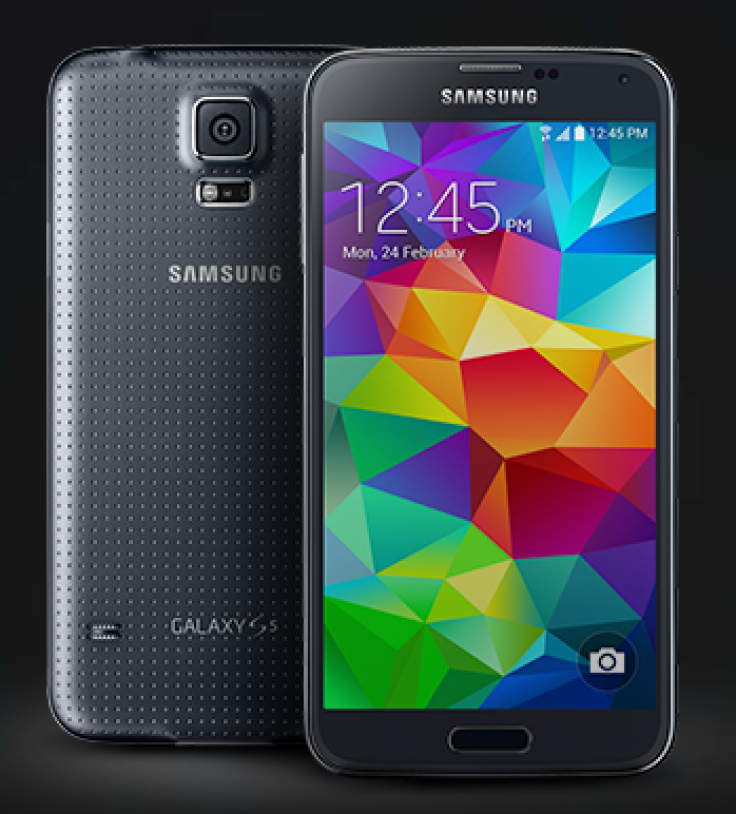 The Samsung Galaxy S5; however, features a 5.1-inch 1080p Super AMOLED display, 2.5GHz Qualcomm Snapdragon 801 (LTE) or 2.1GHz Samsung Exynos 5422 3G processor, 2GB mobile RAM as well as 16GB and 32GB internal storage options with microSD expansion, 16-megapixel auto focus rear camera and 2.1-megapixel front camera, and the Android 4.4.2 KitKat operating system.
The price of the Galaxy S5 has not yet been officially announced, but Samsung has set the smartphone's approximate retail value at $700. This likely indicates a pretty hefty price tag for the Galaxy S5 off-contract, though carriers will have their own subsidized prices as well as off-contact prices slightly less than Samsung's ARV.
Still, considering that the GooPhone S5 is currently sold out, many consumers are willing to accept lower specs, to just have the look and feel of the Samsung Galaxy S5.
Goophone sells a number of imitation devices including the Goophone i5S (iPhone 5s) and Goophone i5C (iPhone 5c); the Goophone N3, Goophone N3 Lite, and Goophone N3 Mini, which are likely based on the Galaxy Note 3; the Goophone S4 (Galaxy S4) and Goophone S4 Max, which is likely based on the Galaxy Mega, and the Goophone M3 (Xiaomi Mi3). Each knockoff features lesser specs and a considerably lower price than the device from which it was based.
© Copyright IBTimes 2023. All rights reserved.