Samsung Gear S3 Specs Released: Oversized Watch Features Speaker, GPS And LTE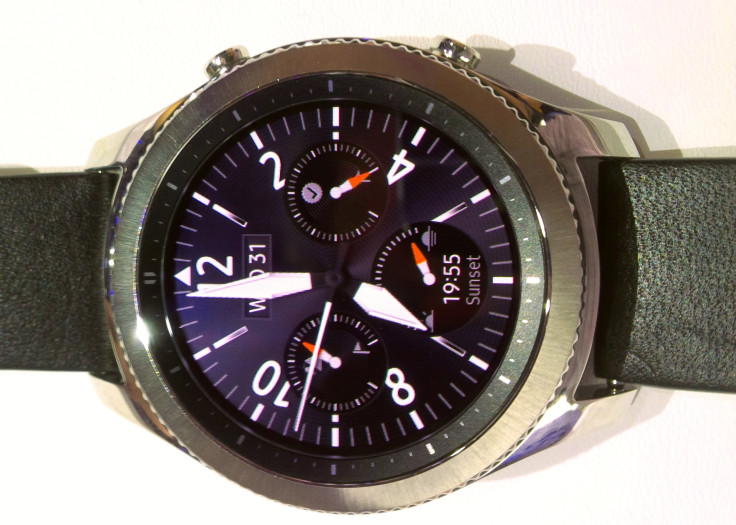 The new generation of Samsung smart watches will be unveiled in Berlin at IFA 2016 today. The Samsung Gear S3 is a larger model than its predecessor, the Gear S2, with a 1.3-inch display with a 360 x 360 resolution and a 46 mm casing. According to Samsung, the newer, larger size is "on trend in the luxury watch space right now."
From a tech standpoint, the Samsung Gear S3 comes with an array of features including a speaker, built-in GPS, 4GB of internal storage and supports Samsung Pay. As for battery life, the all models will have a 380 milliamp-hours (mAh) battery. The enhanced battery, coupled with the power-saving mode, will let the gadget last three to four hours on all models, according to Samsung.
"Samsung Gear S2 achieved meaningful progress in the smartwatch category with a personalized watch face and a versatile rotating bezel that provided an intuitive smartwatch experience," said Younghee Lee, Executive Vice President of Global Marketing, Mobile Communications Business at Samsung Electronics, reports Forbes . "Now with the new Gear S3, we expand our Gear collection and introduce not only a great smartwatch, but a great watch. With smart capabilities and sophisticated, elegant design, the Gear S3 marks a significant addition to our smartwatch portfolio."
In total, there will be 3 variations of the Samsung Gear S3. The watch will be available in two designs: the Classic, which boasts a polished silver look, and the Frontier, which has a sportier matte black finish. While the exterior of the two will vary, the interior hardware will reportedly be identical. The second variable is Bluetooth vs. 4G LTE connectivity. The Samsung Gear S3 Classic will only be available in a version compatible with Bluetooth and Wi-Fi, while the Samsung Gear S3 Frontier will be available in both Bluetooth and LTE models.
"With the Gear S3, we continue to build on our wearables heritage of offering diverse choices to enhance consumers' unique lifestyles," Lee told Forbes .
© Copyright IBTimes 2023. All rights reserved.