San Bernardino Shooting: Should Police Have Acted Sooner To Save More Victims?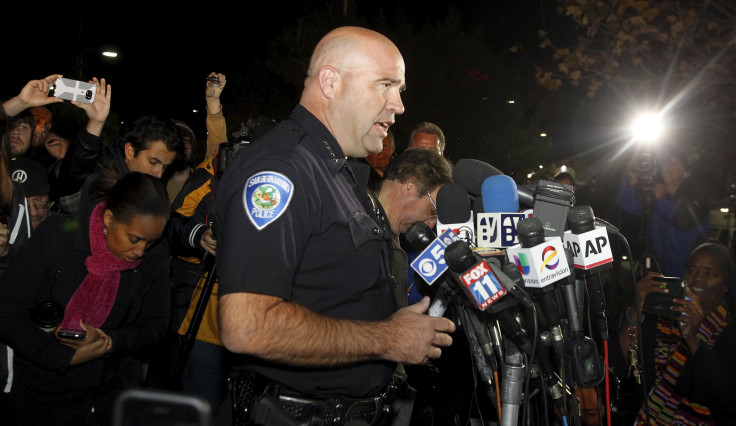 The response by police to the San Bernardino shootings that left at least 14 dead Wednesday can be seen as a model for how law enforcement respond to violent events, according to a criminologist. The way local police set up a triage area and coupled their efforts with other law enforcement agencies is one of the best coordinated police responses to a shooting that Brian Levin, director for the Center for the Study of Hate and Extremism at California State University, San Bernardino, has seen, according to the San Bernardino Sun.
In more than half of mass shootings, victims are killed before police arrive on the scene, but the San Bernardino shootings saw police arrive while the shooters were still active on the scene, Levin said. FBI agents as well as the San Bernardino County Sheriff's office aided in the law enforcement response, ABC News reported.
"It was really textbook. You're not going to find a better response anywhere in the nation," Levin said to the Sun. "It will be used as a national model on how to respond to a terrible, violent tragedy like this."
Police have identified Syed Farook, 28, and Tashfeen Malik, 27, as the suspects in the shootings, but their motives still remain unclear, NPR reported. Levin said a motive related to the workplace is possible, and that an ideological motive shouldn't be ruled out.
The shooting occurred during a holiday party at the Inland Regional Center in San Bernardino for staff who work for San Bernardino County. Farook, who worked for the county, was at the party, but at one point left in anger, NPR reported.
"People who engage in mass or symbolic violence don't necessarily have a hermetically sealed bag of hate that points in one direction," Levin said. "It can often be motivated by multiple hatreds, then manifest itself toward a particular target."
© Copyright IBTimes 2023. All rights reserved.