San Bernardino Shooting Live Updates: Motive For Deadly Rampage Sought As Police Continue Investigation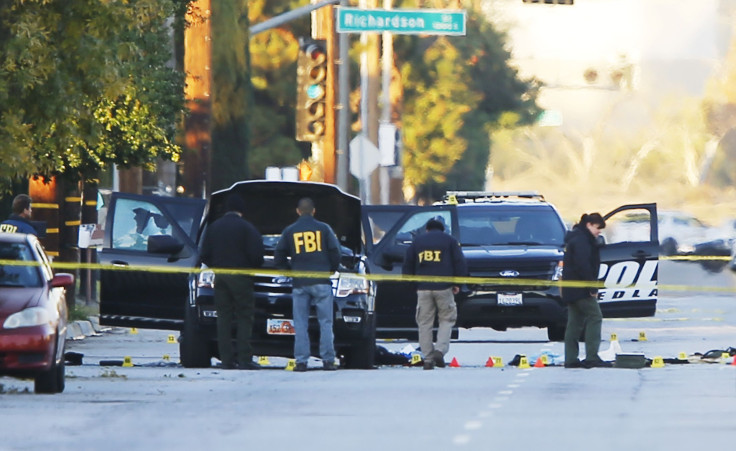 UPDATE: 6:10 p.m. EST -- More victims killed Wednesday in the San Bernardino, California, shooting have been identified. Although authorities have not officially released names, friends and family members have come forward with the news about loved ones.
Daniel Kaufman, 42, was among the victims at Inland Regional Center, according to his boyfriend, Ryan Reyes, who told the Los Angeles Times that Kaufman worked at the coffee shop in Building 3. Reyes was not notified of his boyfriend's death until after 10:30 a.m. PST Thursday -- almost 24 hours after authorities were first alerted of the shooting.
An email to colleagues of Damian Meins identified the Riverside County employee as one of the victims, according to the L.A. Times. He spent 28 years working for the county.
UPDATE: 5:25 p.m. EST -- The Associated Press reported Thursday that Syed Farook used social media to communicate with extremists being watched by the FBI. It's unclear if he was involved with any foreign terrorist organization.
UPDATE: 4:06 p.m. EST -- The names of the 14 people who were killed in Wednesday's deadly workplace shooting rampage in San Bernardino, California, are expected to be made public "in a few hours," according to a tweet by San Bernardino police spokesman Kevin Lacy.
Two of the shooting victims have already been identified, the local ABC News affiliate reported Thursday.
Nicholas Thalasinos, who worked for the San Bernardino Department of Health for at least a dozen years, was confirmed by his wife, Jennifer Thalasinos, as among the casualties. Nicholas worked with one of the shooting suspects, Syed Farook who, with his wife, initiated the shooting ambush.
The other victim whose name has been released is Michael Raymond Wetzel, a family representative said.
UPDATE: 2:35 p.m. EST -- Why did Syed Farook and his wife Tashfeen Malik carry out a mass killing months after their first child was born? U.S. Sen. Dianne Feinstein of California, the top Democrat on the Senate Intelligence Committee, raised questions about the family's decision Thursday as details emerged about the shooting that left 14 dead Wednesday in San Bernardino, California.
"You and I know that women, we wouldn't leave a 6-month-old -- our baby -- to do this, to don tactical gear to go in and kill a bunch of people," Feinstein told reporters. "It's not something a woman would easily do. So it's going to be very interesting for me to see what her background was, what level of animus she had, because she had to have had a considerable level."
She added: "A woman is a woman. And her child has to be of maximum importance to her."
UPDATE: 1:40 p.m. EST -- The family of shooter Syed Farook has denounced Farook's actions, and members are cooperating with police, according to Newsday crime reporter John Asbury. Farook had two sisters and one brother and lived with his mother Rafia Sultana after she divorced his father following claims of domestic abuse. Farhan Khan, the husband of Farook's sister Saira, held a news conference Wednesday evening to express his confusion and disbelief over his brother-in-law's actions as well as to express his solidarity with the victims of the attacks. Police have already interviewed several members of the Farook family, and no family member has been charged with involvement in the crime.
UPDATE: 1:20 p.m. EST -- While speaking at a news conference about the decision to open all U.S. combat jobs to women, Defense Secretary Ash Carter offered his condolences Thursday to the families of victims of the San Bernardino, California, shooting. He said he was sure law enforcement would "get to the bottom of it."
"The protection of our people, including our service people, and concern about radicalization, including of American citizens living in America ... is an enormous concern," Carter said, adding that it was "another reason" the Islamic State group "must be fought in its homeland" in Syria and Iraq.
UPDATE: 1:08 p.m. EST -- Federal authorities are aware that a suspect involved in a mass shooting Wednesday in California traveled internationally, but it's unclear how many countries he visited, said David Bowditch, assistant director in charge of the FBI Los Angeles field office.
The suspect, Syed Farook, was a U.S. citizen and the other suspect, his wife Tashfeen Malik, was in the U.S. on a Pakistan passport with a visa for fiancées. Officials expect to name the 14 victims Thursday.
UPDATE: 12:50 p.m. EST -- Two officers were injured during a standoff between police and two suspects involved in a mass shooting Wednesday, San Bernardino, California, police Chief Jarrod Burguan said Thursday during a news conference. The suspects had over 1,400 rounds in their vehicle during the shootout that unfolded hours after the mass killing at a county government health care center.
Burguan said the investigation was still moving forward and he could not discuss other suspects, but there was no reason to believe a credible threat remained in the community.
"It was a Christmas gathering, holiday type of luncheon," Burguan said of the event where 14 people were fatally shot and 21 were wounded. The doors were unlocked.
"They sprayed the room with bullets, so I don't know if there was one person they openly targeted," he said.
All four firearms used were legally purchased, Burguan said. The suspects did not have a criminal record. A rented black Ford Expedition was used during the vehicle chase. The vehicle was rented four days ago and was supposed to have been returned Wednesday.
UPDATE: 12:45 p.m. EST -- The shooting suspects behind a mass killing Wednesday fired up to 75 rounds and used an explosive device controlled by a remote control, San Bernardino police Chief Jarrod Burguan said Thursday during a news conference. He said the number of wounded had grown from 17 victims to 21 being treated in local hospitals.
UPDATE: 11:42 a.m. EST -- The U.S. man behind the nation's deadliest mass killing in three years had traveled to Saudi Arabia to apparently attend the annual hajj pilgrimage, CBS News reported Thursday. Syed Farook was apparently a devout Muslim, his family told reporters.
UPDATE: 11:10 a.m. EST -- President Barack Obama addressed the nation Thursday from the Oval Office to discuss gun control. To watch a live stream on the president's latest speech on guns, click here.
Obama called Wednesday's shooting in California "a terrible attack" and thanked law enforcement officials for their timely response. "I think so many Americans feel like there is nothing we can do about it," Obama said about the nation's high number of mass shootings.
UPDATE: 10:54 a.m. EST -- Republican presidential candidate U.S. Sen. Rand Paul is pushing back against a New York Daily News cover calling for more gun control laws. "Genuine thoughts and prayers are not political fodder," he tweeted.
UPDATE: 10:46 a.m. EST -- The CEO of Loma Linda University Medical Center, where many victims of Wednesday's mass shooting in San Bernardino, California, were still receiving treatment, said Thursday that patients were seeking counseling from the facility's chaplain. Kerry Heinrich said during a news conference he could not share personal details about patients' progress without violating their privacy, but he noted the victims all had gunshot wounds.
UPDATE: 10:06 a.m. EST -- Law enforcement agencies in the area of San Bernardino, California, continued their investigation of a home in Redlands, with more than two dozen FBI agents combing through the home and garage of a suspect in Wednesday's mass shooting, the Los Angeles Times reported. FBI officials said it was likely the home will yield answers as to what motivated the alleged shooters, Syed Rizwan Farook and Tashfeen Malik.
Dozens of federal agents and local police also combed the scene of the mass shooting in the Inland Regional Center, a facility for developmentally disabled adults. The area where police shot and killed the suspects remained blocked off and a smashed SUV in which the suspects allegedly fled was still in the middle of San Bernardino Avenue, the Los Angeles Times reported.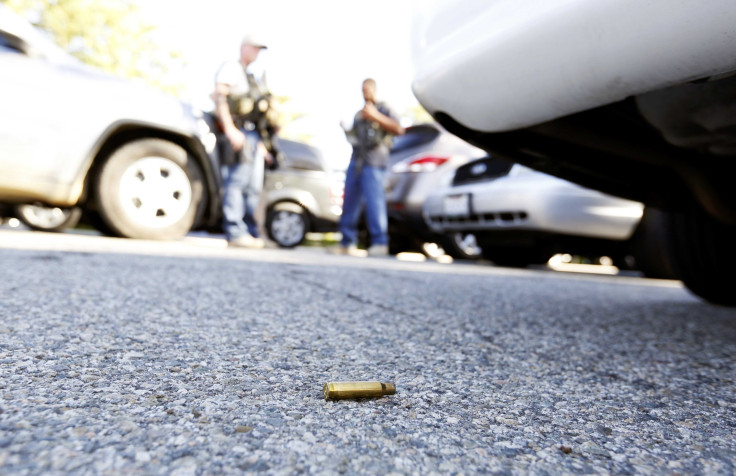 UPDATE: 9:36 a.m. EST -- "One thing is clear: Violence like this has no place in this country and in this nation," U.S. Attorney General Loretta Lynch said Thursday during a planned criminal justice event at the White House. Lynch condemned the Wednesday attacks in San Bernardino, California, in which 14 people were killed and 17 more were injured by two suspects armed with automatic rifles.
UPDATE: 8:57 a.m. EST -- Police scheduled a news conference Thursday morning to discuss Wednesday's shooting, a sergeant with the local San Bernardino, California, force tweeted, the Guardian reported. The police department has been praised for its quick response to the rampage. The FBI is involved with investigating the shooting on the federal level.
U.S. Attorney General Loretta Lynch is also expected to address the shooting during a 9:15 a.m. news conference about criminal justice and poverty.
Original Story:
The motive behind Wednesday's mass shooting in Southern California that left at least 14 people dead and 17 wounded remained unclear early Thursday as police searched for answers. Syed Rizwan Farook and Tashfeen Malik, who were both killed in a shootout with police, were named as suspects in the rampage. The couple is believed to have been married.
The gunmen were heavily armed when they opened fire at the San Bernardino County Public Health Department at the Inland Regional Center, a facility that serves people with developmental disabilities. Farook worked at the center and joined colleagues at their annual holiday party, but left the event after a dispute. He later returned with his wife, bearing tactical gear and assault rifles, officials said.
Hussam Ayloush, executive director of the Council on American-Islamic Relations in Los Angeles, has urged people to remain patient and to wait until a motive has become clear amid speculation the shooting may have been politically or religiously motivated. The civil rights organization, which held a news conference Wednesday evening, quickly condemned the shooting and expressed sympathy for the victims.
Ayloush, who has been in touch with Farooq's family, told CNN the motives remain unclear, and the family "is devastated, like all Americans. This is the time for us to express solidarity among all of us Americans in rejecting whatever the motives might have been," the Guardian reported. "There is absolutely no justification for such horrendous behavior."
A co-worker said Farook had traveled to Saudi Arabia and returned with a wife he met online, various media outlets reported. The suspects in the rampage reportedly dropped off their 6-month-old daughter with a grandmother, family representatives said. The shooting rampage lasted just a few minutes -- a sign, San Bernardino Police Chief Jarrod Burguan said, they likely went in "with a purpose," the New York Daily News reported.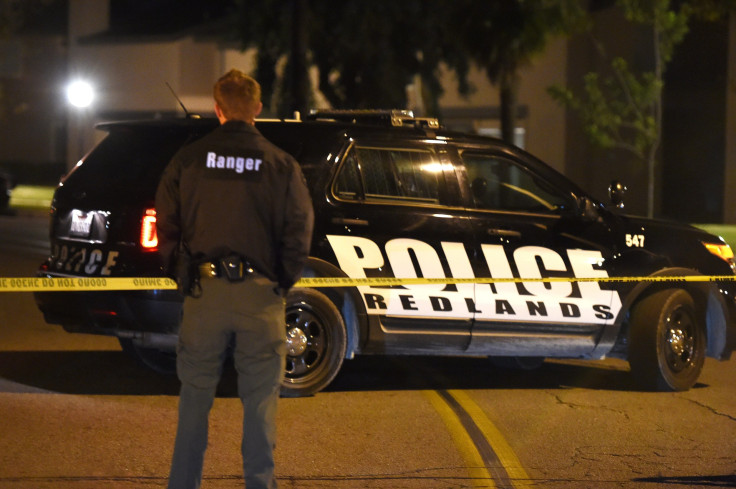 © Copyright IBTimes 2022. All rights reserved.
FOLLOW MORE IBT NEWS ON THE BELOW CHANNELS