Sandra Bland Protests In Minneapolis: 'Black Lives Matter' Demonstrators Take To The Streets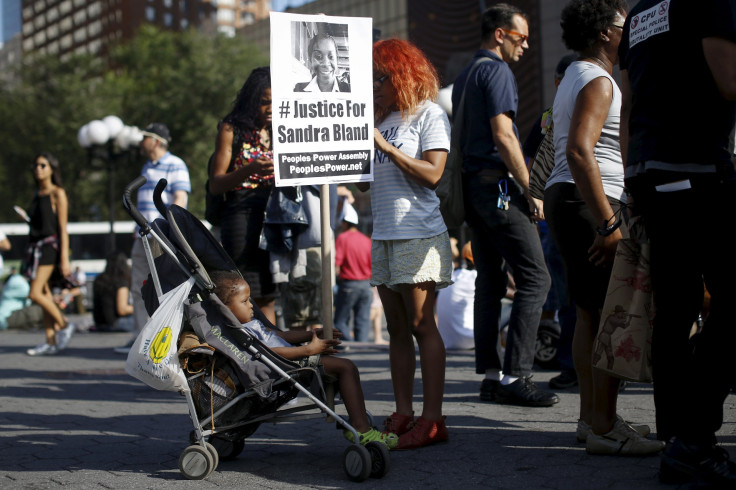 Hundreds of protesters took to the streets Friday in Minneapolis calling for justice for the death of Sandra Bland, the black woman found dead in a Texas jail following a confrontational traffic stop. Authorities determined Bland committed suicide while in custody, but her case has drawn widespread criticism from those who said she was unjustly detained, arguing her case highlighted the poor treatment of black people at the hands of the police.
At the Minneapolis demonstration, protesters could be heard chanting: "You can't stop the revolution, black power is the solution." In another video shared on Twitter, protesters chanted: "Black lives matter, black lives matter," which has become a slogan of the movement critical of police treatment of black communities.
A dash-camera video that captured the arrest has stirred considerable controversy. The video shows the arresting officer aggressively interrogating Bland during a traffic stop, eventually making her step out of the car and forcing her to the ground. Bland, a 28-year-old activist from Chicago, was charged with assaulting a police officer and kept in jail for two days while waiting for family members to raise the $5,000 bond before being found dead in her cell.
The case was brought to national attention partly due to activists on social media who tweeted with the hashtag #BlackLivesMatter and #SandraBland. There was initially speculation that she was dead upon arrival, though that theory was challenged by video evidence and phone call records of Bland while in custody. Others have alleged Bland was killed by police who staged a suicide to cover up their crime. A judge has said that theory was disproven based on video evidence showing police had not entered her cell during the time of her death.
News of her treatment by the police was compared with other recent cases of perceived unwarranted uses of excessive force by law enforcement officials. Coverage of her death largely focused on recent debates over race relations and conduct by law enforcement in the country.
© Copyright IBTimes 2022. All rights reserved.
FOLLOW MORE IBT NEWS ON THE BELOW CHANNELS