Sandra Fluke CNN Essay: Limbaugh, Others 'Cannot Silence Us'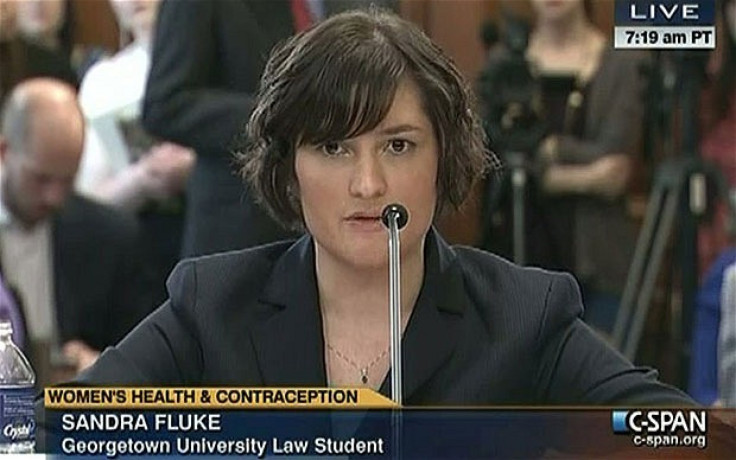 Sandra Fluke, the law student whose fight for birth control coverage by health insurers and Rush Limbaugh's resulting rant has made her a household name, thanked supporters and vowed to continue her activism in an essay posted Tuesday on CNN's website.
She chastised those who demonized and smeared me, a veiled jab at conservative radio host Limbaugh, who called Fluke a slut and a prostitute on air, and other detractors.
These attempts to silence women and the men who support them have clearly failed, Fluke wrote. I know this because I have received so many messages of support from across the country -- women and men speaking out because they agree that contraception needs to be treated as a basic health care service.
Without mentioning names, she accused right-wing bloggers and commentators of spreading misinformation about mandated contraception coverage being funded by taxpayers.
To be clear, through programs such as Medicaid, the government already does and should fund contraception coverage for the poorest women in our country, wrote Fluke, who is 30.
The controversy erupted after the third-year student at Georgetown University's law school was invited by Democrats to speak at a congressional hearing in mid-February about mandated contraception coverage. Georgetown doesn't include birth control in the health insurance it provides students, faculty and employees.
When the hearing's chairman, Rep. Darrell Issa, a California Republican, complained that Fluke's name had been submitted too late, Democrats called it an unfair exclusion and House of Representatives Minority Leader Nancy Pelosi arranged an unofficial hearing Feb. 23.
Fluke argues that all health insurance should be required to cover patients' costs for birth control because it's a necessity. In her essay for CNN.com, she reiterated her argument, citing several examples: women with polycystic ovarian syndrome, Catholic women who see no conflict between their social justice-based faith and family planning, mothers who shouldn't get pregnant for health reasons and single moms who shouldn't have to decide between birth control and buying groceries.
She also praised President Barack Obama's health care overhaul law, the Patient Protection and Affordable Care Act.
Right-wing bloggers who don't agree with the mandate, both for religious and financial reasons, began writing about Fluke after she testified in Congress. Conservative website CNS News ran a story under the headline Sex-crazed co-eds going broke buying birth control and while HotAir.com screeched: Georgetown co-ed: Please pay for us to have sex... We're going broke buying birth control.
The issue went viral, however, when Limbaugh slammed Fluke on Feb. 29 by claiming she was asking the government for money to have sex.
What does it say about the college co-ed Susan Fluke who goes before a congressional committee and essentially says that she must be paid to have sex? What does that make her? It makes her a slut, right? It makes her a prostitute, said Limbaugh. He later went on to apologize.
Fluke doesn't mention Limbaugh, but was clearly referring to him at the end of her essay.
Attacking me and women who use contraception by calling us prostitutes and worse cannot silence us, she wrote.
© Copyright IBTimes 2023. All rights reserved.
FOLLOW MORE IBT NEWS ON THE BELOW CHANNELS