Sandusky Trial: Defense Attorney Joe Amendola Compares Case To 'All My Children' [VIDEO]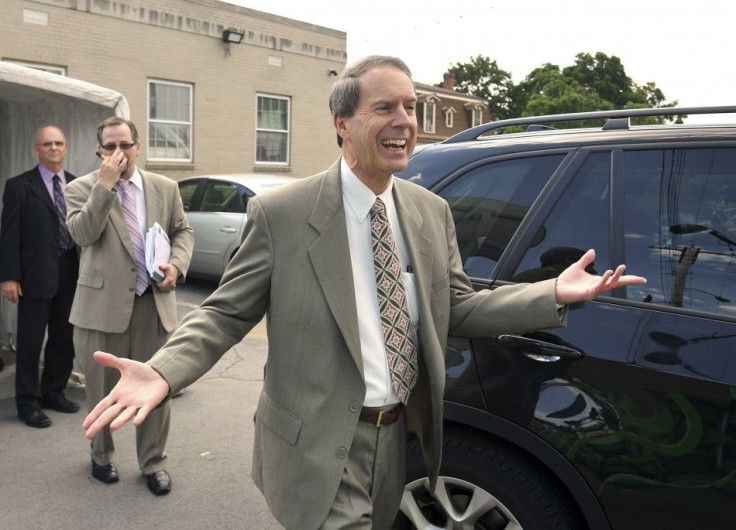 As if it isn't enough former Penn State assistant football coach Jerry Sandusky is under investigation by the federal government, his attorney, Joe Amendola, has run afoul of using an inappropriate metaphor.
Several reporters approached Amendola on Tuesday outside the courthouse. They asked the defense attorney if his client would testify.
Stay tuned it's like a soap opera, you have to wait and see -- if you know the answers it takes all of the excitement out of it, he replied.
As Amendola gathered his belongings from his car and moved to enter the courtroom, another reporter asked him, Is Jerry going to testify?
Stay tuned I told you it was like a soap opera you have to wait, Amendola said.
Days of Our Lives? a reporter asked.
In the background, someone can be heard asking Amendola, which soap are we playing for here?
I think its 'General Hospital', Amendola replied, again chiding the reporter to be patient.
He goes on to blurt out, Actually, it could be 'All My Children', 'All Our Children'.
That comment is widely being criticized as inappropriate. His client is facing 51 charges of child sex abuse. Sandusky has denied the charges.
The trial entered its seventh day Wednesday, as the testimony nears a likely end. It remains unclear if Sandusky will take the stand.
© Copyright IBTimes 2022. All rights reserved.
FOLLOW MORE IBT NEWS ON THE BELOW CHANNELS