Santorum Wins Alabama And Mississippi, Sweeping Deep South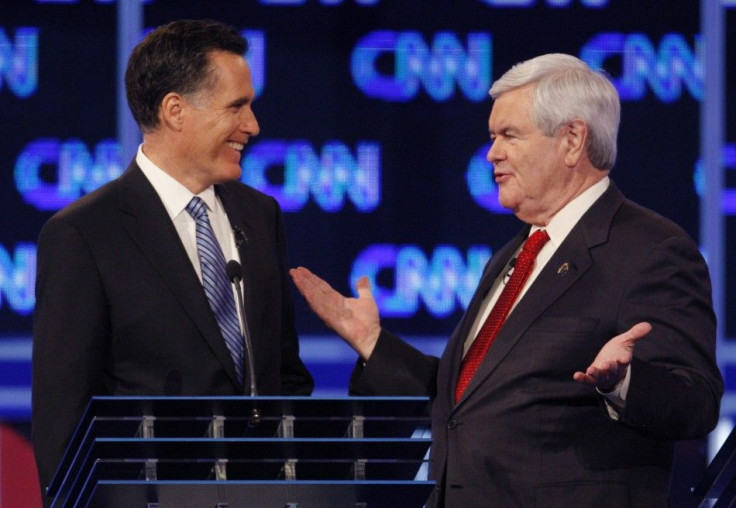 Rick Santorum has won the Alabama GOP presidential Primary, and as of Tuesday evening, he is projected to win in Mississippi, television networks report.
Former House Speaker Newt Gingrich was banking on a Southern strategy for making it to the Republican National Convention in August, which means winning in Alabama and Mississippi.
So far, the only states he's won--South Carolina and Georgia, where he served as a representative for 20 years--have been below the Mason-Dixon line. Two more wins there could paint the picture that the South, a crucial region for Republican votes, is set on a Gingrich nomination.
Mitt Romney and Rick Santorum both hope to stop that Southern momentum. Romney must prove that he's capable of winning more than Northeast fiscal conservatives and a few more voters than Santorum in Ohio.
Santorum, on the other hand, needs to break Gingrich's Southern streak in order to make himself the definitive heir to the anti-Romney title, proving that his social conservative scores points for him among GOP voters across the country.
Forty-nine of Alabama's delegates are up for grabs in tonight's primary contest, nearly matching the combined allure of Mississippi, Hawaii and American Samoa, the other three states with primaries and caucuses tonight.
For live coverage of the results from The Heart of Dixie, including what counties have been polled, what percentage of the vote is in and which candidate is currently in the lead, scroll through our live coverage of the 2012 Alabama Republican primary below.
Coverage will begin at 8:30 p.m. EST.
---
10:55 p.m.: Rick Santorum has been declared the winner of the Alabama primary. The Mississippi race remains a tight one between Santorum and Gingrich.
10:47 p.m.: With 67 percent of the vote in, Santorum has inched ahead by one percentage point, giving him 35 percent of the popular vote so far.
10:35 p.m.: 57 percent of the vote is in for the Alabama 2012 Republican primary. Santorum remains in the lead with 34 percent of the vote so far, followed by Newt Gingrich with 30 percent and Mitt Romney with 28 percent of the vote. Ron Paul is in fourth with five percent of the vote so far.
10:20 p.m.: Newt Gingrich has taken Bullock county with 43 percent of the vote. Clark county has gone to Rick Santorum with 33 percent of the vote, as well as Limestone county with 40 percent.
10:00 p.m.: Exit polls indicate that voters in both Mississippi and Alabama are deeply conservative, committed Republicans who are determinately unhappy with the federal government. In Mississippi, over 80 percent of voters said they were dissatisfied or angry with the government. In Alabama, 80 percent said they would vote for a Republican over Obama no matter who the RNC nominee turns out to be.
9:45 p.m.: Twelve percent of the vote is in. Rick Santorum is in the lead with 34 percent of the vote. Newt Gingrich clocks in at 30 percent, with Mitt Romney in third with 28 percent. Ron Paul currently has 5 percent of the vote.
9:30 p.m.: With six percent of the vote in, Santorum continues to lead with 34 percent of the vote to Mitt Romney's 28 and Newt Gingrich's 29 percent. Top counties reporting so far are Randolph, Autauga, Crenshaw, Jefferson, Lamar, Lee, Montgomery, Winston and Washington counties.
9:15 p.m.: Only two percent of the vote in so far for Alabama. There are 116 delegates up for grabs tonight. So far, Romney has the lead with 424 delegates going in. Santorum has 212 so far. Gingrich has 103, while Ron Paul has netted 45 delegates so far.
9:00 p.m.: On Romney's side, however, are the exit polls. According to CBS News, about half the voters in both Alabama and Mississippi indicated that campaign ads influenced their decision. Pro-Romney super PAC Restore Our Future has been hard at work with attack ads, phone calls and mailings over the past few weeks, especially against Santorum.
8:47 p.m.: Throughout the 2012 presidential primary race, Romney has been unable to capitalize on the evangelical vote and on the South's deeply conservative base. The only Southern state he's been able to win is Virginia, where neither Santorum or Gingrich were on the ballot.
8:43 p.m.: Which voters turn out at the polls will be a key factor in deciding the winner of such a tight race. Romney hopes the majority of voters will be moderate Republicans and those who consider themselves fiscally conservative. Gingrich and Santorum are both hoping to bank on their appeal in the South and their emphasis on social issues, but the strengths of both candidates in these areas could end up splitting the vote.
8:35 p.m.: With only one percent of the vote in, the polls are still holding true with a tight race between Mitt Romney, Rick Santorum and Newt Gingrich. Santorum has 33 percent of the vote, Romney has 29 percent, and Gingrich has 26. Ron Paul is in fourth with 11 percent, with one percent (a single voter) has decided to cast their ballot for Michelle Bachmann.
8:30 p.m.: For those confused as to how the delegates will be awarded in Alabama, here's a quick rundown.
According to the Republican National Committee (RNC), 26 of the delegates up for grabs in Alabama tonight will be award proportionately among all the candidates to win at least 20 percent of the vote. If the statewide winner garners more than 50 percent of the vote (based on the polls, an incredibly unlikely outcome), he will take all 26.
Three more delegates will be given for each of the seven congressional districts won, with two going to the winner and one to the runner-up. If the winner in a district gets more than 50 percent of the vote, all three delegates are his.
FOR FREE to continue reading
✔️ Unlock the full content of International Business Times UK for free
offer available for a limited time only
✔️ Easily manage your Newsletters subscriptions and save your favourite articles
✔️ No payment method required
Already have an account?
Log in
© Copyright IBTimes 2023. All rights reserved.