Sarah Palin's Paul Revere Double-Down Gets Jon Stewart Treatment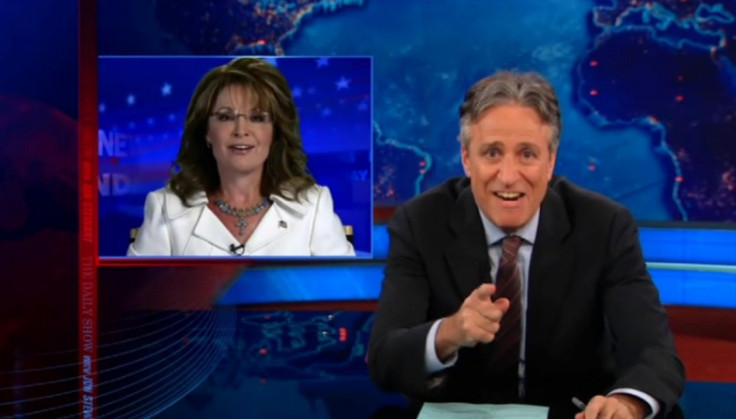 Sarah Palin's latest comments on American history got the Jon Stewart comedy treatment on Monday after accusations over the weekend that she had gotten basic knowledge about American history wrong and her insistence that she was right.
Stewart started by trying to first make sense of what Palin was actually doing last week.
Now we all saw Sarah Palin's not a presidential bid-nothing-to-see-other-than-this-giant-Technicolor-bus-family-vacation-whistle stop-gumbo-rally-who-the-hell-knows-what-this-thing-is-road-trip, he said.
On Friday, she was in Boston looking at sites related to the American Revolution. The comments in question came at a bakery in there.
People often wonder what is it about Sarah Palin? What is so divisive? I think the last few days crystalizes it nicely, Stewart said on his comedy program The Jon Stewart Show.
He cuts to a clip of Palin's comments on Revere.
He who warned the British that they weren't gonna be taking away our arms by ringing those bells and by making sure that as he's riding his horse through town to send those warning shots and bells that we were gonna be secure and we were gonna be free, Palin says.
The camera then cuts back to Stewart, who stares at the camera with a perplexed look for several seconds as the audience laughs, claps and hoots.
I don't know what she just said but she appears to have taken a well-known historical event and turned it into some kind of folksy word salad - which is fine! There were enough adjacent glimmers of fact, adjacent things and -- who really actually cares, he said.
Then he raises his voice and musters an expression of indignation.
But this is the part that actually drives people a little bonkers he says as he cuts to another clip showing Palin on Fox News two days later.
You realize that you messed up about Paul Revere, don't you? a host asks her.
Palin responds:
You know what, I didn't mess up about Paul Revere, Palin says as the camera cuts to Stewart who now appears incensed.
Right There! That's the thing! That's the Palin - You do a little off-the-cuff word jumble, then you go on TV two days later, wearing some kind of enormous jeweled cross that makes you look like you just robbed the Vatican or you're about to marry Jesus in Vegas. Anyway. And then you insist that what you said was exactly what you meant to say that you were right and that you somehow were the victim of some unfairness.
The camera cuts to Palin smiling as she explains.
In a shout out, gotcha type of question that was asked of me I candidly and - I know my American history.
The camera returns to Stewart in disbelief.
It was a gotcha type of question. What was the question again?
The screen cuts to a news host reading the question.
What have you seen so far today and what are you going to take away from your visit.
Stewart on screen again.
Here's a tip. I doesn't make it a gotcha question just because it got - ya.
© Copyright IBTimes 2023. All rights reserved.