Saudi Arabia, On Course For Record Beheadings, Kills 100th Prisoner This Year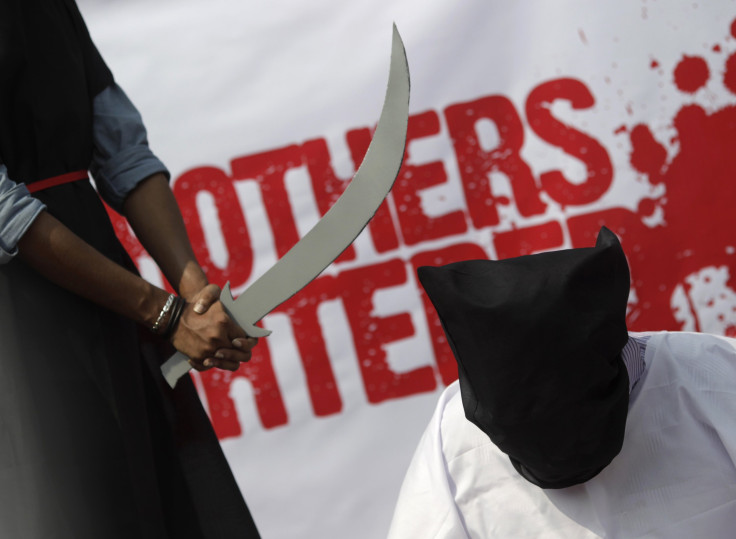 On Monday, Saudi Arabia beheaded a Syrian drug trafficker and a Saudi national convicted of murder, bringing the total number of executions in the country this year to 100, according to media reports. With these deaths, the number of people executed in the kingdom so far in 2015 has already surpassed last year's tally of nearly 90.
Syrian national Ismael al-Tawm was beheaded in the northern region of Jawf for smuggling "a large amount of banned amphetamine pills into the kingdom," the country's interior ministry reportedly said in a statement. Rami al-Khaldi was executed in the western province of Taef for stabbing a Saudi national to death.
In recent years, Saudi Arabia has been consistently among the world's top five executioners, according to estimates by several human rights groups. Late in May, when Saudi authorities carried out the 90th execution of the year, Amnesty International condemned the "unprecedented spike" in a country already ranked among the most prolific executioners in the world.
"This alarming surge in executions surpasses even the country's own previous dreadful records," Said Boumedouha, deputy Middle East and North Africa program director at Amnesty International, said in a statement, released last month. Moreover, according to the human rights group, it is not only the number of executions that is worrying, but also the way the trials are conducted in the country.
"The government severely restricted freedoms of expression, association and assembly, and cracked down on dissent, arresting and imprisoning critics, including human rights defenders. Many received unfair trials before courts that failed to respect due process, including a special anti-terrorism court that handed down death sentences," Amnesty said in an earlier statement.
Under the kingdom's current laws, drug trafficking, rape, murder, armed robbery and apostasy are all punishable by death.
However, despite the recent surge, the number of people executed in the country is still below the record high of 1995, when an estimated 192 people were publicly beheaded for crimes ranging from "rebellion" to "heresy."
"The Saudi Arabian authorities' unwavering commitment to this brutal form of punishment is utterly gruesome considering the deep flaws in its justice system," Boumedouha said in the statement. "The use of the death penalty is cruel and inhumane in any circumstance, but it is even more outrageous when meted out as a punishment against someone convicted in a trial that itself makes a mockery of justice."
© Copyright IBTimes 2023. All rights reserved.