Saudi Arabia Election 2015: Women Candidates Campaign For First Time Despite Difficulties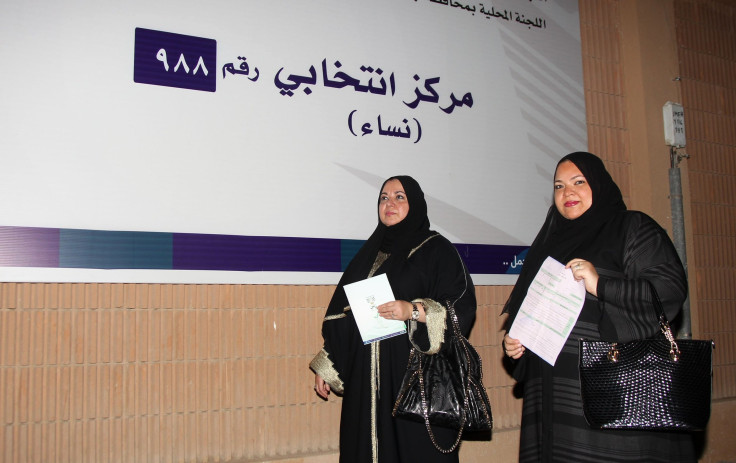 About 900 women launched political campaigns Sunday in Saudi Arabia ahead of the country's Dec. 12 municipal election -- the first ballot to take place under a new law allowing females to vote and run for office. This participation rate was higher than expected, the Media Line reported, and it could symbolize significant progress in traditionally conservative Saudi Arabia.
"If we want to develop or reform our country we should put a woman in every decision-making level," Nassima al-Sadah, of Qatif, told Agence France-Presse. The nation, which forbids women from driving, currently has no elected female cabinet members.
But the candidates were already facing hurdles. Al-Sadah, also an activist, said election authorities recently removed her from the ballot without explanation. CNN reported at least one other woman has alleged her campaign was suddenly shut down, as well. Both told reporters they planned to appeal the decisions.
Other women encountered different forms of resistance. Aljazi al-Hossaini, of Riyadh, told AFP a man rejected her request to put up a campaign tent on his land. NBC News reported that women can't pitch their platforms directly to men. Another 120 female candidates have withdrawn from the race for undisclosed reasons, Al Arabiya reported.
The late King Abdullah bin Abdulaziz Al Saud announced in 2011 his plans to allow women to vote and compete in elections. Saudi females registered to vote this past August, but their political presence was still lacking: Of the 1.5 million registered voters there, only about 136,000 are women, Al Jazeera reports.
However, candidate Haifa al-Hababi, of Riyadh, told NBC News she remained optimistic. "Things are changing here," she said. "I'm not looking at it as a woman or a man — I'm looking at it as an equal. For me, it's an opportunity for the whole country to participate."
© Copyright IBTimes 2022. All rights reserved.
FOLLOW MORE IBT NEWS ON THE BELOW CHANNELS