Saudi Arabia Grand Mosque Crane Crash Compensation: Victims, Families To Get 1M Riyals Each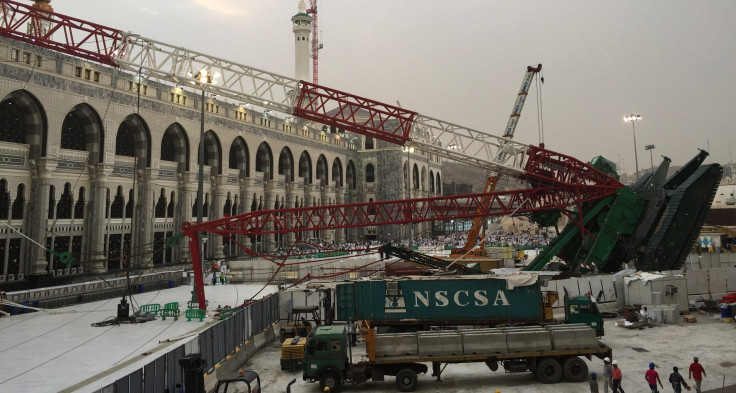 Saudi Arabia has moved forward on plans to pay out large sums in compensation to victims of last month's deadly crane collapse at the Grand Mosque in Mecca, Al Arabiya reported Thursday. The government has formed special committees to collect data on those affected by the incident that left more than 100 people dead, following a decree by King Salman last month to pay 1 million riyals, nearly $267,000, in compensation to permanently injured victims and families of those were killed.
The deadly crane collapse occurred Sept. 11, just a weeks before a massive stampede resulted in the deaths of more than 700 pilgrims during hajj. Victims in the crane collapse included people of 12 different nationalities, with a majority of them being from Pakistan and Indonesia.
The incidents in Mecca have brought the Saudi Kingdom under heavy scrutiny, as several governments have accused Saudi Arabia's authorities of neglecting safety precautions at the holy sites. Millions of people make pilgrimages to Mecca each year. King Salman reportedly decreed that compensation payments will not block individual legal claims brought forward by victims of the disasters.
"There is no room for fraud. Nobody can illegally benefit from the royal compensation," said Mustapha Baljoun, director of the Department of Health Affairs in Mecca, according to Al Arabiya.
Saudi Arabia Overview | FindTheData
The recently-formed committees will investigate each case to determine the deserved compensation, depending on the extent of the injury and whether it was curable. Baljoun said many of the injured have already recovered, while "almost all" of the dead victims have been identified.
A crane crashed through the Grand Mosque, a structure that surrounds Islam's holiest site, due to "balance issues," an early investigation found. There have been charges of negligence against both the firm responsible for the crane and Saudi authorities. The kingdom said they have not found any criminal intent behind the disaster.
Mecca, which hosts one of the world's largest religious gatherings, the hajj, has repeatedly seen disasters over the years. Hundreds of pilgrims died in a stampede during hajj in 2006, as Saudi authorities have spent large sums of money to build Mecca's tourist infrastructure. Authorities have also sought to expand main hajj sites to allow for greater numbers of people and better safety.
© Copyright IBTimes 2023. All rights reserved.