Scottish Opponents of Independence Slightly Ahead: Polls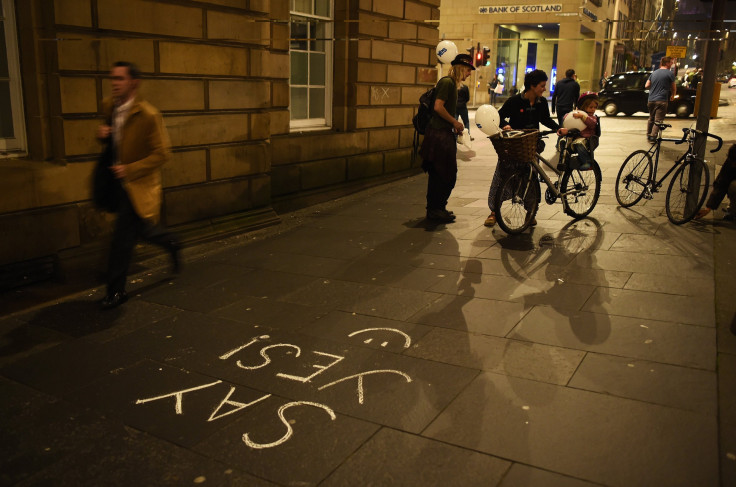 (Reuters) - Scottish supporters of staying in the United Kingdom are 4 percentage points ahead of secessionists with just a day to go before Scots vote in an independence referendum, three different opinion polls showed.
The United Kingdom's fate remains uncertain as the three surveys - from pollsters ICM, Opinium and Survation - showed support for Scottish independence at 48 percent compared to 52 percent backing union.
The polls found 8 to 14 percent of Scotland's 4.3 million voters were still undecided before polls open at 0600 GMT (07:00 a.m. BST) on Thursday.
All three polls showed nationalists had gained ground, but the fact that supporters of the union were ahead in the polls prompted investors to buy the pound, extending sterling's gain against the U.S. dollar.
"It is very tight," John Curtice, professor of politics at Strathclyde University and one of Scotland's premier pollsters, told the Scotsman newspaper which commissioned the ICM poll.
"At the moment it looks as if the 'yes' campaign is going to fall agonizingly short from their perspective. But I have always said this is the 'no' campaign's to lose and it certainly looks as if they have got pretty close to that."
In the face of the biggest internal threat to the United Kingdom since Ireland broke away nearly a century ago, Britain's establishment - from Prime Minister David Cameron to the City of London and football star David Beckham - have united in an almost panicked effort to implore Scots that the United Kingdom is "Better Together."
Attempting to blunt nationalist leader Alex Salmond's argument for breaking away, Britain's rulers promised to guarantee Scotland high levels of state funding and grant Scots greater control over finances.
In a deal brokered by former Labour Prime Minister Gordon Brown, the leaders of Britain's three main political parties said they would retain the funding equation that sustains a higher level of public spending north of the border.
British leaders accept that even if Scotland votes to keep the 307-year union, the United Kingdom's structure will have to change as the rush to grant so many powers to Scotland will provoke calls for a less centralized state from voters in England, Wales and Northern Ireland.
Swathes of voters in the former industrial heartlands of northern England and Wales depend on state welfare spending while some English lawmakers in Cameron's own party have already asked for England to be given more powers.
END OF THE UNITED KINGDOM?
Cameron, whose job is on the line if Scots vote to break the United Kingdom, warned on his last visit to Scotland before Thursday's vote that there would be no going back and that any separation could be painful.
His voice at times faltering with emotion, Cameron took the extraordinary step of reminding Scots that if they did not like him then he would not be prime minister for ever.
But nationalist leader Salmond dismissed Cameron's offer of more powers, saying the next time he visited Scotland would be to negotiate divorce terms of the 1707 union of Scotland and England.
"It is actually an insult to the intelligence of the people of Scotland to rehash these proposals (at the) last gasp in the campaign and hope beyond hope that people think it is anything substantial. It is not." the 59-year-old Scottish leader said.
If Scots vote for independence, Britain and Scotland would face 18 months of negotiations over everything from North Sea oil and the pound to European Union membership and Britain's main nuclear submarine base.
The prospect of breaking up the United Kingdom, the world's sixth-largest economy and a veto-wielding permanent member of the United Nations Security Council, has prompted citizens and allies alike to ponder what would be left.
The White House said it would prefer the United Kingdom to remain "strong, robust and united" while Martin Amis, one of Britain's best-known novelists, said secession would be a leap in the dark.
"What would be left of it if Scotland got out is a very diminished country," said Amis, whose novels have explored the darker side of British life.
Aside from the finance and geopolitics of a secession vote, the battle for voters was entering its peak on the last full day of campaigning. Several more opinion polls are due to be released on Wednesday.
Voters will be asked on Thursday to answer yes or no to the question "Should Scotland be an independent country?"
Seeking to tap into a cocktail of historical rivalry, opposing political tastes and a perception that London has mismanaged Scotland for decades, nationalists say an independent Scotland could build a wealthier and fairer country.
Unionists say independence would needlessly break up the United Kingdom and usher in years of financial, economic and political uncertainty. They have warned that Scotland would not keep the pound as part of a formal currency union.
© Copyright IBTimes 2023. All rights reserved.