Sebelius Says 'I'm Responsible' For HealthCare.Gov Failures At House Hearing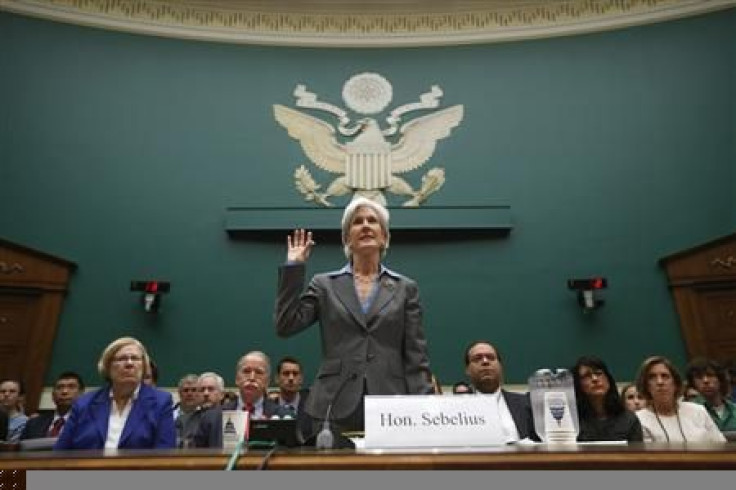 Health and Human Services Secretary Kathleen Sebelius apologized Wednesday to Americans for the error-laden rollout of the Obamacare website HealthCare.gov at a House Energy and Commerce Committee hearing. Vowing to fix the website's problems, she said that Americans "deserve better."
"Hold me accountable for the debacle. I'm responsible," Sebelius said after a heated exchange with Rep. Marsha Blackburn, R-Tenn., about who was in charge of the website.
Sebilius made the statement in her first public appearance before lawmakers to explain HealthCare.gov's flawed launch on Oct. 1 -- the website has since been taken offline. Sebelius blamed many of the website's failures on contractors hired to code it, saying that they didn't meet expectations.
"Access to HealthCare.gov has been a miserably frustrating experience for way too many Americans," Sebelius said in a prepared statement. "You deserve better. I apologize. I'm accountable to you for fixing these problems."
Though she acknowledged a myriad of faults with HealthCare.gov, she also defended the Affordable Care Act as written. She said that the intense strain on the website, a result of more than 20 million unique visitors, was proof that Americans want access to affordable healthcare.
Sebelius also promised to fix the issues currently plaguing HealthCare.gov and said that a team of workers has been working around the clock to improve the website's experience. HealthCare.gov has been reportedly updated with bug fixes, more storage capacity and code closing a possible security loophole.
After finishing her prepared statement, Sebelius faced intense questioning from Republicans, some of whom have called for her resignation and grilled her on the website's privacy issues, security failures and the Affordable Care Act in general.
"There are the highest security standards in place, and people should expect privacy," Sebelius said. "I do absolutely commit to protecting the privacy of the American public."
Sebelius' testimony comes one day after Marilyn Tavenner, the director of the Centers for Medicare and Medicaid Services and the Obama administration official closest to the website's management, apologized for the botched rollout before a different House panel.
Sebelius is expected to testify about Healthcare.gov again on Nov. 6 before the Senate Finance Committee.
© Copyright IBTimes 2023. All rights reserved.