Senator Tim Kaine Delivers Immigration Reform Speech In Spanish On Senate Floor [VIDEO]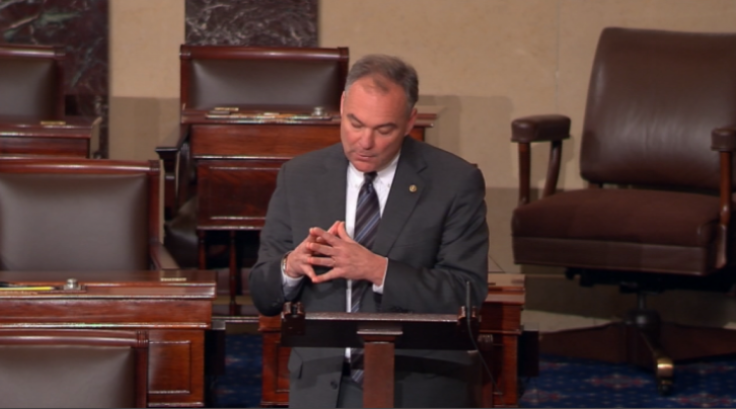 On Tuesday, Sen. Tim Kaine delivered a speech on immigration reform. Unlike other speeches given by senators on Tuesday, he delivered the speech in Spanish. The speech was given in support for the bipartisan Border Security, Economic Opportunity and Immigration Modernization Act. According to the senator's office, "the bill would reform the nation's broken immigration system by creating an accountable path to citizenship, improving the employment verification system, strengthening border security and creating a rational approach to future legal immigration that recognizes the value of strong families."
Take a look at an excerpt of his speech in the video above, along with the full English transcript below.
The Senate has begun a historic debate on comprehensive immigration reform. We have had and will continue to have hours of debate on this issue. I think it is appropriate that I spend a few minutes explaining the bill in Spanish, a language that has been spoken in this country since Spanish missionaries founded St. Augustine, Florida in 1565. Spanish is also spoken by almost 40 million Americans who have a lot at stake in the outcome of this debate.

First, I want to applaud my colleagues in the "Gang of 8," who have worked tirelessly to come up with a bipartisan comprehensive bill. This issue deserves an open and fair debate on the floor. It has been over 25 years since we passed a comprehensive immigration reform bill. The next few days and weeks will not be easy; they will be a test for the Senate, and whether this body can debate, offer amendments, compromise, and ultimately come together on an issue that will move our country forward.

This debate is about Isabel Castillo.

This young woman from Harrisonburg, Virginia was brought to the United States by her parents at the very young age of 6. Her parents performed hard labor in order to support their family by picking apples and working in a poultry plant. All they wanted, like all parents do, was a better life for their children. Isabel did everything right – she graduated from High School and went on to attend college, where she graduated magna cum laude. She did not qualify for financial aid, due to her immigration status, and worked for a year to save money for college. After she graduated from college she was unable to legally find a job. Instead of giving up, this young woman organized the Harrisonburg Dream Act chapter to raise awareness about her situation in order to help other students.

This is one example of many as to why we need to pass an immigration bill. For students and families, such as Isabel's, this is about their future.

The last time Congress passed a Comprehensive Immigration bill was in 1986. Many of the concerns I hear from Virginians involve issues that the last immigration reform bill did not address -- lack of sufficient border security measures and a way to address the large number of undocumented immigrants in our country. The last immigration reform bill also did not include spouses and children of legalized immigrants -- which created a strong incentive for many to enter or remain in the country illegally.

This time around, things are different. I have been very impressed by the open process we have had in the Judiciary Committee.

o 212 amendments were considered in the Committee;

o 30 Republican amendments were accepted; and

o 12 full Committee hearings on Immigration and Border Security were held before markup.

I understand that some doubt remains as to whether or not this bill will fix our broken immigration system. While not perfect -- I can confidently stand here today and say this bill will do more for border security, more to improve our current backlog, more to strengthen our employment verification system, and more to put measures in place to deal with the future flow of immigrants -- compared to any other immigration bill in history.

This bill will first and foremost create a path to earned citizenship, not amnesty. Undocumented individuals will have to meet several stringent requirements such as, paying fees and fines, passing national security and criminal background checks, paying their taxes and learning English.

And before anyone can come out of the shadows, this bill requires a border security strategy and border fencing strategy within six months of enactment.

I am proud that this bill includes strong provisions to protect students who only know this country as their home, DREAMERS, as well as Agricultural workers, who perform some of the most difficult labor -- these individuals will have an accelerated path if they meet certain conditions.

In order for the U.S. to be the most talented country in the world -- we must fix the current flaws in our immigration system. Our immigration system does not meet the demands of businesses that wish to attract and retain highly qualified immigrants.

It is not about just addressing the short-term needs of the STEM workforce but about investing in the future of our children. In order to ensure we remain globally competitive, we must increase our investments in education. This bill does just that by establishing a STEM education initiative -- funded through fees collected from employers of foreign STEM workers.

According to the Council on Foreign Relations "60 percent of U.S. employers are having difficulties finding qualified workers to fill vacancies at their companies."

This bill also creates a fair path for individuals who want to come into this country and start businesses, create jobs, and invest in the economy.

o In Virginia, Asian-owned businesses had sales and receipts of more than $13 billion and employed more than 92,000 people.

o Virginia's foreign students contribute more than $405 million to the state's economy in tuition, fees, and living expenses every year.

Immigrants' contributions in the high-tech sector are striking, with one study finding that immigrants started 25 percent of all engineering and technology companies founded in the United States between 1995 and 2005.

Through this bill individuals who earn a Master's or other postgraduate degree in STEM fields from American universities can apply for Legal Permanent Resident status. This bill also changes our current visa system from one based on arbitrary numbers to one that is market based and understands the needs of U.S. employers.

The Federal Government currently spends nearly $18 billion on immigration enforcement every year; more than the combined budgets of all other federal law enforcement agencies.

o U.S. Border Patrol apprehension of foreign nationals between ports of entry fell to a 40-year low of 327,577 in FY2011; and

o Removals grew from 30,000 in 1990 to more than 391,000 in FY2011.

This bill goes even further by allocating up to $6.5 billion additional dollars for border security. And it requires a biometric exit system to be in place at the 10 largest international airports in the United States within two years, and 20 additional airports within six years.

It is not just about spending more money at the border, but about being strategic in how and where we spend our resources.

One of the key issues that we must address is to hold employers accountable and ensure that we have an effective employment verification system in place.

As of May more than 400,000 employers registered for e-verify. This bill will mandate that all employers use a verification system that ensures all employees are legally authorized to work in the United States, and fine companies that employ undocumented immigrants.

The State Department is currently processing visas for Filipino siblings of U.S. citizens who submitted their visa applications 24 years ago. I ask my colleagues to imagine if you had to wait over 24 years to see your family members.

This bill provides sufficient visas to erase the current backlog of family and employment-based visa applicants in the next 7 years, starting in 2015.

Lastly, and probably one of the most essential pieces of this bill – is how we deal with future flow of immigrants wanting to come to this country. This bill creates a future immigration framework that is premised on a merit-based points system.

The bill:

o Establishes a new non-immigrant agricultural worker visa, and sets forth provisions relating to the integration of new immigrants; and

o Includes provisions to deal with the present and future workforce needs of the American agriculture industry, while protecting workers from being displaced or otherwise adversely affected by foreign workers.

In closing, I welcome this debate. English settlers who landed at Jamestown, Virginia in 1607 helped begin our nation's great history as an immigrant nation. And Virginian Thomas Jefferson, as he wrote the Declaration of Independence, expressed his clear understanding that immigration was a positive force for our nation.

Today, Virginia has the ninth-largest immigrant population in the country, with over 903,000 foreign-born residents. Immigrants contribute greatly to the richness of our Commonwealth.

I hope that we will start a new chapter and send a strong message to the world that we are a country of laws but also of fairness and equality.

Let's not repeat the mistakes of the past but let's also remember that the perfect should not be the enemy of the good. Finding a perfect solution should not stand in the way of progress.

Let's show this country and the world that this is not a Republican bill and it is not a Democratic bill but it is a strong bipartisan bill. It is time that we pass comprehensive immigration reform. Thank you.
FOR FREE to continue reading
✔️ Unlock the full content of International Business Times UK for free
offer available for a limited time only
✔️ Easily manage your Newsletters subscriptions and save your favourite articles
✔️ No payment method required
Already have an account? Log in
© Copyright IBTimes 2023. All rights reserved.