Sepp Blatter Health Update: Suspended FIFA President Examined At Hospital For Stress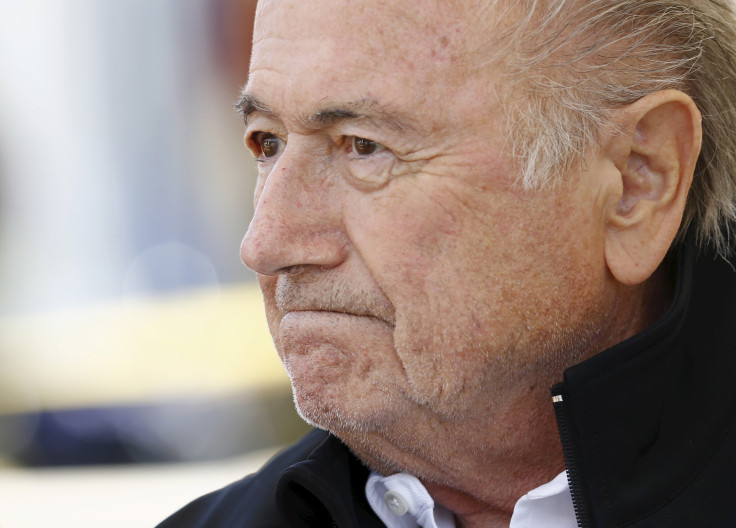 Suspended FIFA President Sepp Blatter was examined at a hospital in Zurich Friday for a stress-related condition, various reports said. Blatter, 79, is currently serving a 90-day suspension imposed by FIFA after Swiss authorities announced a criminal probe into his activity last month.
Blatter received a "medical checkup," but he was deemed "fine" and "expects to be home shortly," his U.S.-based attorney Richard Cullen told Reuters. He did not provide additional information about Blatter's condition. Klaus Stohlker, a close advisor to Blatter, said the longtime international soccer executive was evaluated for stress and was told by doctors to take five days off from work, the Press Association reported.
"[Blatter] is not the youngest these days, and it has been a difficult time. But he told me he feels fine, and the doctor has said he should take it easy for five days. He did have an interview with Swiss television planned for next week which we have had to cancel, which is why the news got out," Stohlker told the Press Association.
Blatter has faced unprecedented public criticism since October, when Swiss authorities said they were investigating allegations of "criminal mismanagement" of FIFA's finances. The case centers on two specific examples of purported malfeasance – a suspicious $2 million payment Blatter made to Union of European Football Associations President Michel Platini in 2011 and the sale of World Cup media rights to disgraced former FIFA executive Jack Warner at well below market value.
Both Blatter and Platini, who was also suspended for 90 days, deny any wrongdoing. The soccer executive's suspensions were announced months after the arrests last May of nine current and former FIFA executives amid a U.S. Justice Department investigation into a multimillion-dollar bribery scandal.
Blatter is expected to formally step down as FIFA's president next February, when FIFA holds an extraordinary election to determine his successor. He has refused to leave office any sooner, despite his suspension and calls from FIFA's top U.S.-based corporate sponsors for his immediate resignation.
© Copyright IBTimes 2023. All rights reserved.