How New York Mets' LGBT Pride Night Can Increase Fans And Profits For MLB Franchise
It's not even spring training yet, but the New York Mets have already started pitching. Instead of aiming for a catcher behind home plate, they are targeting the estimated 2 million LGBT residents and families in the greater New York City area.
With Tuesday's announcement of the team's planned "pride night" this upcoming baseball season, the message was clear: the Mets want the LGBT community to know they want them as fans, clad in the club's signature orange and blue, filing into Citi Field in the city's borough of Queens. As a result, the Mets joined just a handful of MLB franchises in celebrating the LGBT community with an official event and became the first pro team in New York — the U.S. metro area with the highest total LGBT population of any city — to host a pride night.
Amid shifting national sentiment and growing acceptance of lesbian, gay, bisexual and transgender people, sports franchises have lagged in embracing the community. But as the Mets are set to market directly to the LGBT community, an increasing number of teams and leagues could soon do the same, boosting the bottom line while embracing a group of fans who have been largely ignored by professional sports.
"It's going to be a night that all LGBT people, all families, all Met fans and all New Yorkers could come down and celebrate and root on New York's best baseball team," said David Kilmnick, chief executive officer of LGBT Network, which worked with the Mets on the pride night, scheduled for Aug. 13. "As a lifelong Mets fan, I am proud that the New York Mets are not only the defending National League Champions, but the champion of the New York sports world in making sure that everyone is welcomed at Citi Field."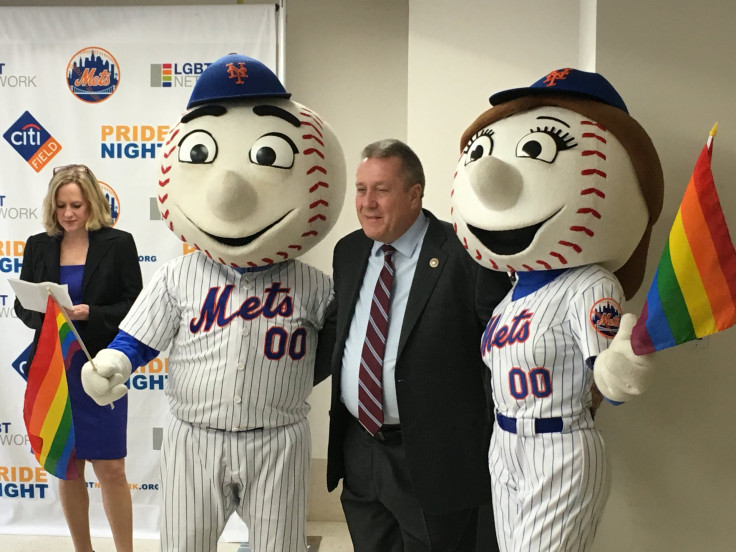 A couple of years ago, baseball teams sporadically embraced the LGBT community but had mostly left any in-stadium involvement or events to outside groups that bought tickets in bulk. That's not to say other MLB teams have not tried their hands at LGBT-themed nights. Squads based on the West Coast, such as the Los Angeles Dodgers and San Francisco Giants, for example, held events last year. The Chicago Cubs claim the longest-running such night, dating back to 2001. Aside from boosting teams' fans, these events helped boost attendance — 52,503 people, for instance, attended the 2015 Dodgers Pride Night against the rival Giants, up nearly 13 percent over L.A.'s league-best attendance average.
A number of pro sports teams outside the MLB have held LGBT nights as well. The WNBA has an entire initiative called WNBA Pride. The Los Angeles Clippers hosted the first LGBT Equality night in NBA history in 2011. It was reported that the Detroit Lions would be the first NFL franchise to host an official, team-sanctioned pride day last season, but that turned out to be a night planned hosted a local advocacy group. Detroit Lion DeAndre Levy donated 100 game tickets to the group, however.
The LGBT community in the U.S. represents an estimated $884 billion in annual buying power, according to an analysis released last summer by Witeck Communications, and it's becoming in the best interest of many franchises to actively court that group.
"Sports teams are selling a product with zero marginal cost, so unless they are literally selling out every game, any way they can get an extra body in the door is extra money in their pocket at no extra cost. Thus, they engage in all sorts of promotions that are designed to appeal to different people in different ways," said Victor Matheson, a sports economics professor at the College of the Holy Cross in Worcester, Massachusetts, in an email to International Business Times. "In the case of LGBT nights, you would expect them to occur in places with large, out LGBT populations like NYC or [San Francisco]."
But officials pointed out that the Mets Pride Night should not be relegated to gimmick status to help slumping ticket sales, as the Mets are the reigning National League Champions, featuring a young, talented team that is an easy sell for fans.
"The Mets don't need to do this to sell tickets," Kilmnick said during a Tuesday press conference. The LGBT Network CEO told IBT that talks about planning a Mets pride night were held as recently as last year's playoff run. An LGBT night, he said, is a public statement to a group of fans that has not always felt particularly welcomed in the sports world.
"New York is the most diverse and inclusive city in the world, and the Mets welcome all fans throughout the season," said Lou DePaoli, Mets executive president and chief revenue officer, in a statement. "We are particularly proud to welcome the LGBT community on Pride Night at Citi Field."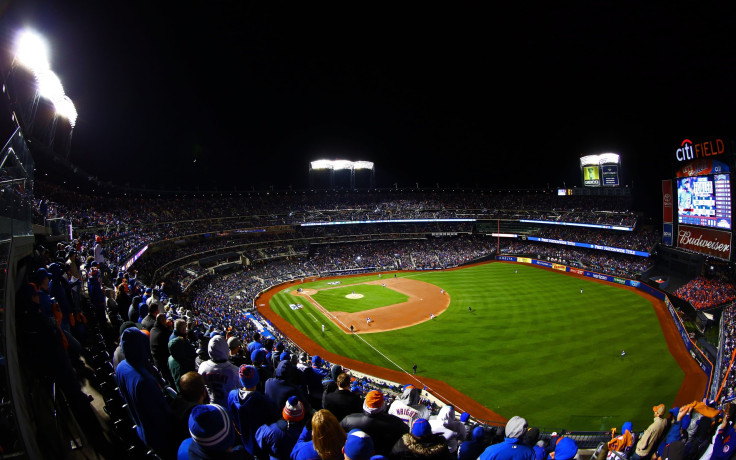 The endeavor is not without risks, said Wade Davis II, executive director of the You Can Play Project, a former NFL player who came out as gay after retiring and is a consultant with the NFL on LGBT issues. There is still a certain fear factor for some sports organizations that make public LGBT statements because franchises worry about the bottom line: profits.
A club's finances can take a hit if sales dwindle as a result of divisive stances. But for a large number of fans that likely have felt left out, high-profile LGBT-friendly events — like the Mets' pride night — "can be really affirming" since in the past, LGBT people were not typically associated with "hypermasculine sports," Davis said in an interview with IBT.
But attitudes across the U.S. are changing. Fifty-seven percent of Americans supported same-sex marriage, ahead of the Supreme Court last year deciding in favor of allowing gay and lesbian people to legally marry in all states. The Mets could be shifting toward welcoming LGBT sports fans at an important moment.
"I don't know why more teams don't do it. The time is certainly right for it to happen," said Bob Dorfman, sports marketing expert at Baker Street Advertising in San Francisco.
Teams host heritage nights for fans of all backgrounds and run countless promotions. Franchises have been slower to adopt LGBT events. But that's changing and will likely continue to do so.
"It's building a fan base. It's certainly a large fan base … it shows good faith and positive attitude," Dorfman said. "Baseball fans cut across every demographic … I think it is a market that should be courted and should be encouraged."
The Mets' pride night is expected to bring some 5,000 LGBT baseball fans to Citi Field for its inaugural event this summer, and the team said it intends to donate a portion of the sales to the LGBT Network's anti-bullying initiative. But adding those fans for one night is perhaps not the biggest takeaway — it's building trust with a community of about 756,000 people in the region. And, as numerous speakers pointed out at Tuesday's press conference, it marked the first time an NYC team actively planned an LGBT night. Most importantly, from the perspective of the Mets and their fans, it came before any such event from crosstown MLB rivals the New York Yankees.
Ethan Diaz, a transgender New York teen who spoke at the press conference Tuesday, said he had been bullied persistently at school. He never felt welcomed on any ballfield, and said it was "frustrating trying to play sports." But Tuesday his allegiances were clear, with Diaz donning a Mets cap as he stood confidently addressing television cameras behind a lectern. The LGBT teen ended with a simple message after talking about the upcoming pride night.
"Let's go Mets!" Diaz said to enthusiastic whoops.
© Copyright IBTimes 2023. All rights reserved.