September US Jobs Report Unlikely To Sway Election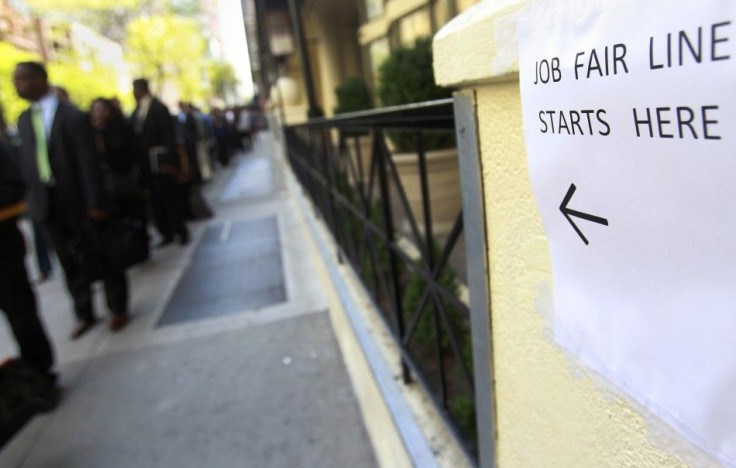 Friday's release marks the next-to-last jobs report before the November elections. But despite all the hype, its impact on undecided voters might prove to be marginal at best.
The government's monthly jobs report has become the most anticipated and studied economic indicator for politicians, economists and journalists. In the real world, however, most everybody else just looks around and figures things out for themselves.
"Most voters make decisions based on what they can see, feel and touch," said Peter Brown, assistant director of the Quinnipiac University Polling Institute.
While those who are news consumers will be more aware of the numbers than those who are not, they all know "what it's like in their lives and in their friends' and families' lives," Brown said. The flow of economic news matters, but only to supplement what their own eyes tell them.
Expectations surrounding September's payroll numbers are remarkably mediocre, somewhere near an average of the prior three months' numbers. "The trend in payrolls is neither strong enough to signal an acceleration in business hiring nor weak enough to spark fears of imminent recession," said Robert C. King, an economist at the Jerome Levy Forecasting Center.
Economists surveyed by Thomson Reuters predict the September jobs report will indicate that employers added 113,000 jobs during the month, a slight improvement over 96,000 jobs created in August.
"A big rise or big drop in jobs might attract the electorate's attention, but this isn't a dramatic enough change to have any effect on the campaign," said veteran pundit Larry Sabato, director of the University of Virginia's Center for Politics.
Following Friday's jobs report, President Barack Obama will probably continue to emphasis that the private sector has been adding jobs for 31 straight months and that he is already a net job creator. Last week's annual benchmark revision by the Labor Department concludes that 125,000 jobs have been created, in total, during Obama's first term, compared with a prior estimate of a loss of 261,000.
Republican challenger Mitt Romney, who portrays Obama as a failed job creator, is likely to point out that more than 20 million Americans remain either unemployed or underemployed, and to assert he would create 12 million jobs if elected.
Unemployment Rate and Obama's Re-election Chances
The job creation numbers are important to economists, but are less understood by voters. Brown points out that for voters, "the unemployment rate is the big number, and everything else is more secondary."
In that sense, Friday's jobs report is unlikely to provide much good news.
A reversal of August's sharp drop in the labor force probably pushed the unemployment rate back up to 8.2 percent, from 8.1 percent. In addition, with the employment-to-population rate near a 35-year low, the unemployment rate is probably underestimating the true weakness of the labor market.
"Everything is at the margins," Brown said. If the unemployment rate comes in at 8.2 percent, he said, "it would tend to undercut the president's notion that things are getting better."
"It certainly wouldn't be good for him, but it wouldn't be fatal by any means and the election would continue the way it was going on," Brown said.
A new Wall Street Journal/NBC News nationwide poll released Tuesday showed the race tightening, with Obama now leading 49 percent to 46 percent among likely voters, down slightly from the five-point lead he enjoyed in mid-September, just after the two parties' conventions.
Unemployment has been stuck above 8 percent since early in Obama's term and it's widely known that no president since Franklin D. Roosevelt has won re-election with unemployment so high. But if Obama's margin in the polls holds, that rule is far from hard and fast.
"There is going to be a second time and it may well be in 2012," Sabato said. "Every election is different and the economy is broader than a jobs number."
While the unemployment figure is considered by swing voters, it is "just part of the economic mosaic, and voters understand that," Sabato added.
Stock Market
Data since 1948 indicate that the S&P 500 (INDEXSP: .INX) has predicted whether or not an incumbent president gets to be re-elected with an accuracy rate of 88 percent, according to Sam Stovall, chief equity strategist at S&P Capital IQ.
Stovall notes that when the S&P 500 index rises during the August-October period, the incumbent gets to stay in the White House. But when the index posts a loss during those three months, the incumbent gets turned out.
So far, the stock market has been on the rise since July 31, up almost 5 percent. In other words, if the S&P's prediction is accurate and the stock market doesn't end October on a sour note, Obama would stand a good chance.
"The rise in the stock market has helped President Obama's chances because not only typically do we see the incumbent win when the stock market's going up, but the stock market is also a broad barometer and it feeds into how most people are feeling about the current economic situation," said Kate Warne, investment strategist at Edward Jones in St. Louis.
However, October is reputed to be a tough time for the market, so the result could still go either way.
"While markets have risen much quickly than many have expected since June, everyone knows that there's a whole series of events that could potentially trigger a pullback over the next month," Warne said, referring to weak third-quarter earnings season, deepening European debt crisis and further slowdown in China.
FOR FREE to continue reading
✔️ Unlock the full content of International Business Times UK for free
offer available for a limited time only
✔️ Easily manage your Newsletters subscriptions and save your favourite articles
✔️ No payment method required
Already have an account?
Log in
© Copyright IBTimes 2023. All rights reserved.