Several Members Of Congress Including At Least 8 House Democrats Arrested At Immigration Rally In Washington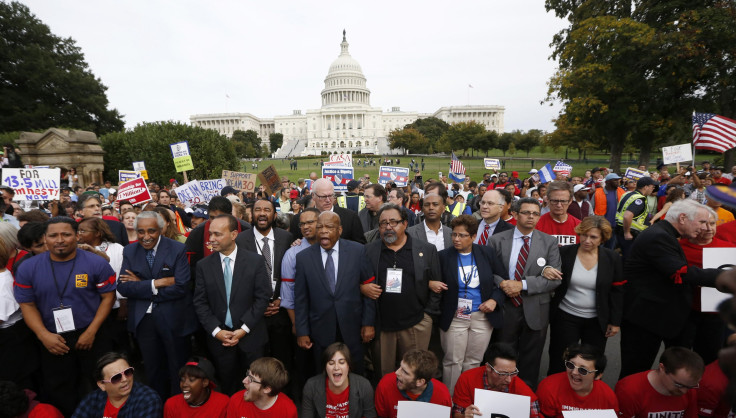 A pro-immigration rally on Tuesday afternoon on the National Mall in Washington calling for the House to move on immigration reform ended in the arrest of at least eight House Democrats among about 200 people, including labor leaders and immigration reform advocates, according to media reports.
While authorities did not release the names of those arrested, representatives of the social policy organization Center for Community Change and The Associated Press witnessed the arrests of Democratic Representatives John Lewis of Georgia, Luis Gutierrez of Illinois, Raul Grijalva of Arizona, Keith Ellison of Minnesota, Joseph Crowley and Charles Rangel of New York, Al Green of Texas, and Jan Schakowsky of Illinois.
Those arrested will be charged with "crowding, obstructing and incommoding" under the local laws of the District of Columbia, media reports said, citing the Capitol Police.
The rally followed a performance at the National Mall by Grammy-winning Mexican band Los Tigres del Norte, which dedicated each song to the about 11 million immigrants estimated to be living in the U.S. illegally, AP reported. The arrests began at about 4 p.m. local time and lasted had ended two hours later, according to media reports citing a police statement.
Before being arrested, Illinois Rep. Gutierrez said that the act of civil disobedience was planned "so the speaker of the House can free Congress and finally pass immigration reform," according to AP.
"The enthusiastic demonstration of support for immigration reform this week has proven to Congress that the broad coalition behind commonsense solutions to our nation's broken immigration laws is as strong as it has ever been," according to a statement from White House press secretary Jay Carney. "It's time for the House of Representatives to reopen the government, pay their bills and get back to the important work of moving the economy forward."
FOLLOW MORE IBT NEWS ON THE BELOW CHANNELS