Trust Act Signed In California As Rallies For Immigration Reform In 80 Cities Celebrate 'National Day For Dignity And Respect'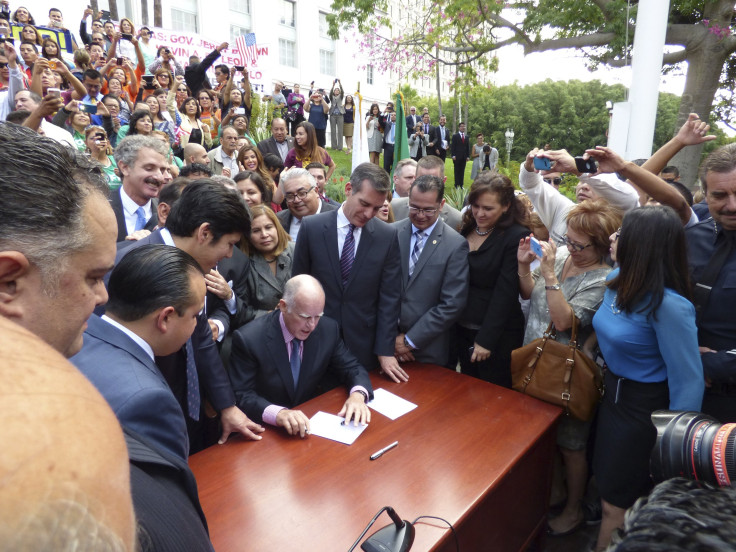 California Gov. Jerry Brown on Saturday signed the Trust Act into law, thus expanding upon the California Dream Act, which gave undocumented individuals more rights under state law than they previously had.
The Transparency and Responsibility Using State Tools Act, aka the Trust Act, prevents California law-enforcement officials under certain conditions from holding an individual if and when requested to do so by the U.S. Immigration and Customs Enforcement agency, or ICE. The bill, AB 4, was introduced by Assemblyman Tom Ammiano, D-San Francisco. The Trust Act holds that an individual arrested on misdemeanor charges and eligible to be released cannot be held for an extra period of time by California law-enforcement officials solely for deportation.
"While Washington waffles on immigration, California's forging ahead," Brown said while announcing in a statement the signing of the Trust Act. "No longer are undocumented people in the shadows. They are alive and well and respected in the state of California."
On Thursday, Brown also signed AB 60 into law, which gives an undocumented individual the ability to obtain a California driver's license.
"The tide is turning," Pablo Alvarado, the executive director of the National Day Laborer Organizing Network, or NDLON, said in a statement. "California's historic legislation marks a shift of the pendulum away from the criminalization of immigrants and against the idea that police should have any role in immigration enforcement." He added that President Barack Obama should follow the example of California with respect to immigration reform.
Also on Saturday, immigration-reform rallies were held throughout the country as part of a National Day of Dignity and Respect. Rallies were organized in 80 cities, including New York, Los Angeles, Philadelphia and San Jose, Calif., as well as in states such as New Jersey and Rhode Island. They were planned to raise awareness of immigration reforms that would provide paths to citizenship for the 11 million undocumented individuals living in the U.S.
Besides the Trust Act, bills related to immigration reform signed into law by Brown Saturday are the following:
AB 35 by Assemblymember Roger Hernndez, D-West Covina: Provides that immigration consultants, attorneys, notaries public, and organizations accredited by the U.S. Board of Immigration Appeals are the only individuals authorized to charge a fee for providing services associated with filing an application under the U.S. Department of Homeland Security's deferred action program.
AB 524 by Assemblymember Kevin Mullin, D-South San Francisco: Provides that a threat to report the immigration status or suspected immigration status of an individual or the individual's family may induce fear sufficient to constitute extortion.
AB 1024 by Assemblymember Lorena Gonzalez, D-San Diego: Allows applicants, who are not lawfully present in the U.S., to be admitted as an attorney at law.
AB 1159 by Assemblymember Lorena Gonzalez, D-San Diego: Imposes various restrictions and obligations on persons who offer services related to comprehensive immigration reform.
SB 141 by Sen. Lou Correa, D-Santa Ana: Requires that the California Community Colleges and the California State University, and requests that the University of California, exempt a U.S. citizen who resides in a foreign country, and is in their first year as a matriculated student, from nonresident tuition if the student demonstrates financial need, has a parent or guardian who was deported or voluntarily departed from the U.S., lived in California immediately before moving abroad, and attended a secondary school in California for at least three years.
SB 150 by Sen. Ricardo Lara, D-Bell Gardens: Authorizes a community college district to exempt pupils attending community colleges as a special part-time student from paying nonresident tuition.
SB 666 by Sen. Darrell Steinberg, D-Sacramento: Provides for a suspension or revocation of an employer's business license for retaliation against employees and others on the basis of citizenship and immigration status, and establishes a civil penalty up to $10,000 per violation.
Editor's Note: As originally published, this article referred to the Trust Act not as a single bill but as a series of bills. In fact, it is a discrete piece of legislation.
© Copyright IBTimes 2023. All rights reserved.