SF BART Strike 2013 Update: Public Transit Shutdown Costing Bay Area $73 Million Per Day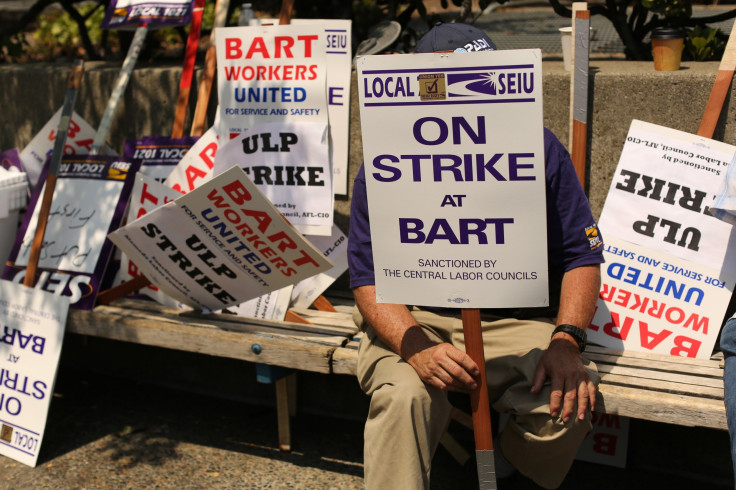 Just one day after a union strike shut down public transit in California's Bay Area, experts estimate that the work stoppage is costing the area approximately $73 million per day.
According to the Bay Area Council Economic Institute, as cited by CNN, that figure comes only from lost worker productivity and does not include overall lost economic activity, "which could add tens of millions of dollars."
While Bay Area Rapid Transit (BART) employees announced their strike Monday morning, the picket lines stayed intact early Tuesday as workers marched with signs demanding a better contract offer. The strike began after union leaders walked out of negotiations with BART hours before their four-year contract was set to expire.
About 400,000 commuters use BART every day in the San Francisco Bay area, according to a BART spokesperson.
"We are sorry peoples' lives have been disrupted by the union strike," BART Spokesman Rick Rice said Monday after the morning commute. "This strike is not necessary, and we call on union leaders to end it and join us at the table so the Bay Area can get moving again."
BART is the nation's fifth-largest rail system with 44 stations in four counties and 104 miles of lines, KPIX in San Francisco reported, adding that the transit system handles more than 40 percent of Bay Area commuters "in what transportation officials noted is the second-most congested region in the nation."
A study last year found San Francisco among the 10 cities with the worst commutes.
The strike came after both sides attempted on Sunday afternoon to negotiate new contracts for BART employees. But according to reports, both parties were still in much disagreement on key issues including salary, pensions, health care and safety.
The two unions, which represent nearly 2,400 train operators, station agents, mechanics, maintenance workers and professional staff, want a 5 percent raise each year over the next three years. BART said that train operators and station agents in the unions average about $71,000 in base salary and $11,000 in overtime annually. The workers also pay a flat $92 monthly fee for health insurance.
Rice told the Associated Press that the transit agency's latest proposal offered a total 8 percent salary raise over the next four years, instead of its original offer of 4 percent over the same period. The proposed salary increase is on top of a 1 percent raise employees were scheduled to receive Monday, Rice added.
The transit agency also said it offered to reduce the contribution employees would have to make to their pensions and lower the costs of health care premiums they would have to pay. "We need to have some substantial discussions," Rice said. "I hope we can make some progress."
© Copyright IBTimes 2023. All rights reserved.