Is Shaun King White? Black Lives Matter Activist, Writer Responds To Conservatives' Claims He Is Another 'Rachel Dolezal'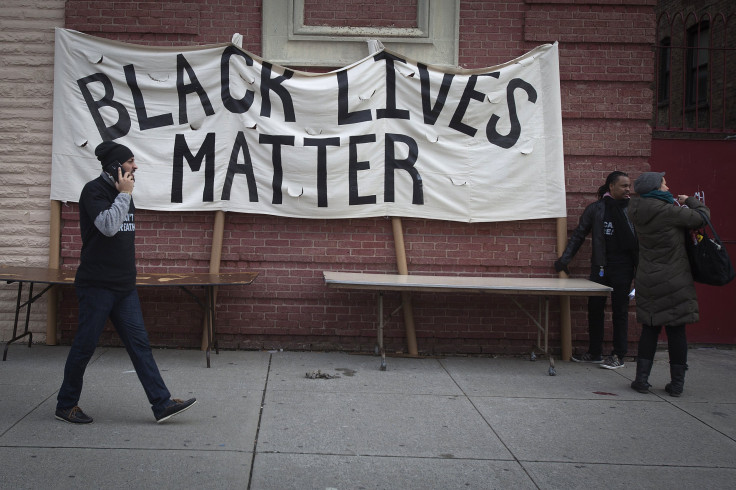 Shaun King, a prominent activist in the Black Lives Matter movement and racial justice writer at the website Daily Kos, said he tried to ignore several attempts by social conservatives to label him as another "Rachel Dolezal" -- a white person fighting racial injustice while passing oneself off as black. But King broke his silence Wednesday, responding to articles on several right-wing websites that claimed he was not black, has lied about his race to receive a scholarship to a black college and that he exaggerated his account of a decades-old assault by "rednecks" when he was in high school.
In a series of more than 35 updates Wednesday on Twitter, King claimed articles by Breitbart News, the Blaze and the Daily Caller, which all have a history of publishing reports that are counter to race-based social justice movements, are a coordinated effort by a "white supremacist conspiracy" to discredit him ahead of the launch of an anti-police brutality campaign planned for next week. However, he did not directly dispute the websites' assertions that his father and mother are white. Instead, he acknowledged that people have only known him as "black or biracial."
King's response virtually mirrored one given by Dolezal, the former Spokane, Washington, NAACP branch president whose racial identity became a worldwide trending topic in June. Dolezal, who once sued Howard University, a historically black college in Washington, D.C., for racial discrimination and was outed by her white parents as someone passing herself off as an African-American woman, said she identifies as being black.
King is a graduate of Morehouse College, a historically black university in Atlanta, and received a scholarship to study there. Breitbart and other outlets Wednesday cited a blogger from the website Re-Newsit.com who unearthed a purported copy of King's police witness statement about his beating by white students at a Versailles, Kentucky, high school in 1995. On the form, King checks the "white" box for his race, according to the Breitbart report.
The conservative websites wrongly asserted that his identifying as white should have precluded King from receiving the scholarship offered to young black men. The Oprah Winfrey Endowed Scholarship Fund, established in 1989 by the daytime television icon, has helped more than 400 people attend Morehouse College and earn a degree from the prestigious college for men. The fund's motto is, "When you empower a black man, you light up the world." But being black is not a stated requirement for eligibility. Applicants must "be enrolled as a full-time student at Morehouse, be U.S. citizens, have financial need, maintain satisfactory academic progress, and possess a high school diploma or GED certificate," according to an online listing of college scholarship started by celebrities.
As for the claims that King exaggerated his account of an assault in high school, friends of the social activist came forward Wednesday to refute the conservative outlets' claims. One friend, identified in a Facebook post as Willis Polk, said he attended high school with King and witnessed the racist attacks that King endured in Kentucky.
"Shaun got called "N***er" just as much, if not more, than myself or any of my black friends and family while growing up in Versailles," Polk wrote in the post. "We grew up in a town where white mothers were constantly disowned by their families for having relationships and making children with black fathers. … [E]ven into the 2000s, the racial identities of mix-raced children were a taboo topic. Shaun was a direct victim of that."
King said the conservative outlets' articles resurfaced a painful period of his past but that they would not deter his work as an activist and social justice commentator. King has been a staff writer at the Daily Kos, a left-leaning media outlet, since September 2014.
© Copyright IBTimes 2022. All rights reserved.
FOLLOW MORE IBT NEWS ON THE BELOW CHANNELS