Shinseki Resignation Over VA Scandal Sparks Demands For Further Accountability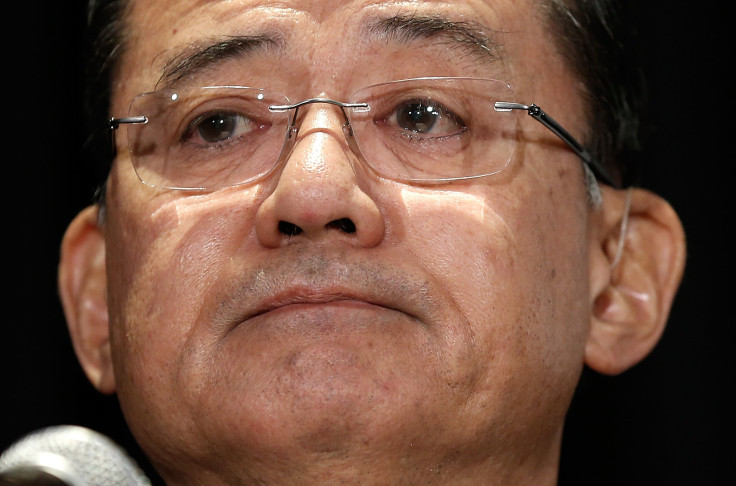 Members of both parties welcomed the resignation of embattled U.S. Veterans Affairs Secretary Eric Shinseki, but the perception that Shinseki is in part a scapgegoat is increasing pressure on the administration to hold other leaders of the VA accountable as well.
Politicians and Twitter users alike demanded that more VA higher-ups take responsibility for the department's misconduct, including the recent disclosure that the some VA facilities fudged waiting lists to hide the long delays that some veterans endure before receiving treatment.
A slightly testy exchange at the end of the Friday morning press conference at which President Obama announced Shinseki's resignation highlighted the problem. "I wonder if there's a little of scapegoating taking place here," asked Christi Parsons of the LA Times.
Obama replied, "Meaning?"
"Meaning if -- I mean, that the dysfunction within the department seems to have been very deep and very widespread."
Obama: "Yeah."
"So is, you know, lopping off the head of it really the best step to take going forward here? Is there--what I'm asking is, is there a political reason for removing him other than going straight to the problem?"
Obama: "Well, the distractions that Ric [Shinseki] refers to in part are political. He needs to be -- at this stage, what I want is somebody at the VA who's not spending time outside of solving problems for the veterans."
The president emphasized the work that needs to be done to address the VA's deep problems. "That's what I want somebody at the VA focused on, not how are they getting second-guessed and, you know, speculation about their futures and so forth," he said.
But Obama's hope that Shinseki's departure would clear the slate didn't work.
House Speaker John Boehner, R-Ohio, said the VA secretary's resignation "changes nothing."
"Shinseki is taking the brunt of the blame for these problems, but he is not the only one within VA who bears responsibility," Rep. Jeff Miller, R-Fla., chairman of House Veterans' Affairs Committee, said in a statement shortly after President Barack Obama announced Shinseki's resignation on Friday.
Sen. Jerry Moran, R-Kan., said Shinseki's departure was "just the beginning. … We now need accountability and true reform within the VA all across the country."
Twitter echoed Congress's sentiments with many user taking the stance that more VA officials should be removed.
William Thien of the prominent veterans group Veterans of Foreign Wars, which did not call for Shinseki to step down, said he supports Shinseki's decision because the controversy surrounding his resignation "overshadow[ed] the crisis in health care issues veterans face."
Shinseki, a decorated war veteran, retired general and former Army chief of staff, has endured criticism of the VA for more than a month. On Friday, at a meeting with the president, Shinseki presented the VA's internal findings that failings across the health system had put the lives of veterans waiting for treatment in jeopardy.
Shinseki stated that while he initially believed the problems were "isolated," he no longer thought that to be the case.
"It is systemic," Shinseki said. "I will not defend it, because it is indefensible."
Shinseki offered to resign to give a new leader the chance to address the systemic problems at the department.
The president announced Shinseki's resignation on Friday. He said 119 members of Congress agreed.
"With considerable regret, I accept [his resignation,]" Obama said.
Deputy Secretary Sloan Gibson will take temporary charge of the department, the president said.
Meanwhile, some veterans mourned Shinseki's departure.
Jim Strickman, a Vietnam-era veteran and veterans advocate who runs VAwatchdog,org, told IBTimes he was in favor of Shinseki remaining in office. "I believe that General Shinseki was kept in the dark for much of his tenure," he said. "The bureaucrats who are so well entrenched at VA spoon fed him only what they wanted him to hear."
The general's staff "sandbagged Shinseki and brought an honorable career down in flames," Strickman said.
"While I had my disagreements with the Secretary, I did make statements to everyone who asked for him to resign, to reconsider," said Thomas Bandzul, legal counsel for Veterans and Military Families for Progress.
"If someone as knowledgeable and capable as Ric is, and he could not gain the support of the House and Senate to help him fix the problems and in this instance wait until the IG was finished, who is going to survive at VA?"
© Copyright IBTimes 2023. All rights reserved.
FOLLOW MORE IBT NEWS ON THE BELOW CHANNELS