Eric Shinseki Resigns Amid Veteran Health Care Scandal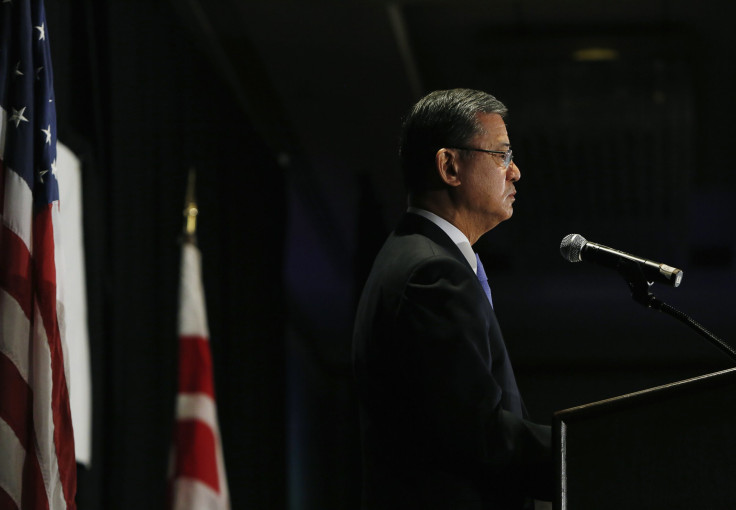 This is a breaking news story. Check back for updates.
UPDATE 2:30 p.m. EDT: The chair of the House Veterans Affairs Committee, Rep. Jeff Miller (R-Fla.), said Secretary of Veterans Affairs Eric Shinseki, who resigned Friday morning, was honorable and dedicated to his country, but that his tenure at the agency "will forever be tainted by a pervasive lack of accountability among poorly performing VA employees and managers."
Shinseki resigned after meeting with President Barack Obama at the White House Friday morning. Shinseki's explanation: That he got bad information from those under him.
In his statement to waiting media, Obama outlined the steps Shinseki had taken to right the scandal-ridden agency, including firing people involved in the treatment delays that allegedly led to veterans' deaths at a Phoenix, Arizona, facility, and contacting the thousands of veterans who had yet to be treated at that facility. Obama told waiting reporters at the White House that Shinseki had offered his resignation from the position that he had held since 2009. "With regret, I accepted," said Obama.
"He has worked hard to investigate and identify the problem," said the president, including that Shinseki told him that "the V.A. needs new leadership to address it. He does not want to be a distraction."
Prominent veteran's groups have raised concerns about what might happen next to the beleagured organization. "One thing that we fear," said Diane Zumatto, National legislative Director for AMVETS to the International Business Times. "is that a lot of people may just assume that 'now that the secretary is gone, that's gonna get rid of the problem,' and we don't believe that for a minute."
Zumatto said that with the resignations and firings, many key positions at VA are empty, and for now that is also a concern.
Shinseki had been under severe pressure for weeks after revelations that some facilities within the VA were using secret waitlists to hide the large amount of veterans waiting for treatment, and that 40 had died while waiting for treatment at a Phoenix facility.
Subsequent media reports made it clear that the problems were not new, and in some cases date back to the formation of Veteran Affairs in the late 1980s and as far back as 1935.
Now that Shinseki, a former chief of staff for the Army, has gone, he will be replaced by Assistant Secretary of Veterans Affairs Sloan Gibson.
"Right now, VA needs a leader who will take swift and decisive action to discipline employees responsible for mismanagement, negligence and corruption," Miller said. "VA's problems are deadly serious, and whomever the next secretary may be, they will receive no grace period from America's veterans, American taxpayers and Congress."
Paul Rieckhoff, found and CEO of Iraq and Afghanistan Veterans of America (IAVA) said that while his organization knows and respects Gibson, they see the long-term future in very different hands. "We encourage the president to look for an Iraq or Afghanistan veteran who will lead an aggressive turnaround of the VA. IAVA members are standing by to work with the president to improve the VA but we should be clear that America's veterans will not accept a sympbolic change of management alone."
Those words were echoed by Anthony Hardie, a Gulf War veteran and veterans advocate who has testified numerous times in front of Congress, who said that problems at the VA were systematically ignored by all of the top and middle management. "Now it's time for a complete Operation Cleansweep at VA, said Hardie. "to fix the raft of egregious, systemic problems afflicting our nation's veterans -- from veterans' health care to research to claims, from toxic wounds like Gulf War Illness and burn pits to TBI and patient wait times."
The man that released the first allegations to the press, Dr. Sam Foote, former doctor at the Phoenix, Arizona hospital where 40 veterans died, saluted Shinseki's contribution to the VA and to the U.S., and told the International Business Times on Friday that "with eight or more Democrats senators calling for his resignation, it really left the president with no choice," but urged people to remember that the allegations would have never got out "without the very good employees at the Phoenix VA who were concerned about our veterans and risked their jobs to give me the information I needed."
© Copyright IBTimes 2023. All rights reserved.
FOLLOW MORE IBT NEWS ON THE BELOW CHANNELS