Should Bank of America Spin Off Merrill Lynch?
ANALYSIS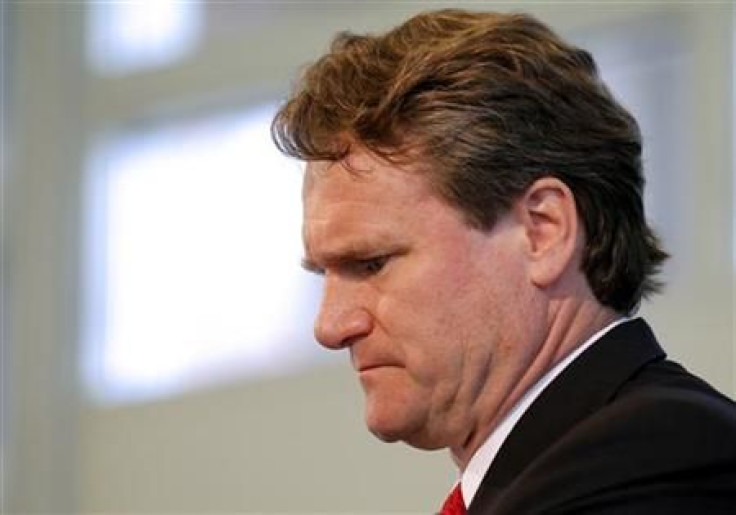 Bank of America (NYSE: BAC), the largest U.S. bank by assets, has found itself in the middle of an ever-deepening crisis.
Not only are its books plagued with toxic mortgage assets, but the beleaguered company needs to raise sufficient capital to meet newly-stringent global liquidity standards, while it faces a wave of huge multi-billion-dollar lawsuits related to its poisonous dump of mortgage securities.
In the second quarter of 2011, the bank lost an astounding $8.8-billion, partially due to the burden of its enormous mortgage/legal liabilities.
Moreover, as revenues and earnings shrink, the bank's much-maligned chief executive Brian Moynihan has engineered a massive program of job cuts and the selling of non-core assets.
And, oh, yes, the stock price has been languishing for more than two years -- shares have lost almost half their value year-to-date.
"Banks are now in an extremely challenging environment," said Robert Lutts, president and chief investment officer of Cabot Money Management in Salem, Mass. "Even banks like Wells Fargo and JP Morgan, which are better off than Bank of America on a relative basis, are still delivering pretty dismal numbers."
However, Bank of America has at least one sterling asset -- Merrill Lynch, which the bank bought (and rescued) during the darkest days of the global financial crisis in 2008.
Analysts once proposed that Bank of America should consider spinning off its valuable Merrill unit – but in the current climate, that may not be a wise action.
Moynihan himself has asserted that Merrill is a stellar segment of the company and that it would make no sense to unload it.
Indeed, among Moynihan's restructuring moves, core businesses are being consolidated and aligned. For example, the bank's investment banking unit is being combined with corporate banking operations and other segments.
Moreover, Moynihan fired Sallie Krawcheck, the former head of the wealth management unit, suggesting that the notion of separating Merrill simply will not happen,
One could say that Bank of America 'spun off' Krawcheck, instead of Merrill Lynch.
Todd Hagerman, an analyst at Sterne Agee, said Moynihan "is desperately trying to get his arms around the many challenges confronting the organization by proving to shareholders and bank regulators alike that he is willing to make tough decisions in short order to stabilize the company."
Lutts describes Merrill as a "cash cow" that Bank of America would be foolish to get rid of.
"Merrill is their 'golden goose,'" he said. "It generates major cash flow and is a proven franchise. Moreover, Merrill proved it could not survive as an independent entity. By separating Merrill, they would significantly weaken the entire company."
While Merrill Lynch remains a highly attractive and profitable institution and solid brand name, the other company Bank of America bought during the credit crisis, Countrywide Financial, is a disaster that threatens to implode the entire corporation. It is probable that the bank's former chief executive, Kenneth Lewis, did not fully comprehend the magnitude of Countrywide's problems.
As such, some analysts also suggested that Bank of America should perhaps unload as many Countrywide-related assets as possible.
"They'd be better off selling off Countrywide assets," Lutts noted.
Meanwhile, investors clearly have no clue how to value a company with such disparate parts. Consider that Bank of America shares are currently trading at about one-third of book value.
According to Capital IQ, (before Monday trading) Bank of America shares had a book value of $20.29 per share, versus a closing trading price of $7.23 as of Friday – a price-to-book of only 0.36. In contrast, rival big banks like Wells Fargo and JP Morgan-Chase presently boast price-to-books of 1.06 and 0.75, respectively.
Separately, the global banking industry is undergoing a painful restructuring, with Bank of America leading the way.
Lutts believes that layoffs at large banks will continue unabated.
"We're basically 'over-banked,'" he said. "We simply have too many banks and they're not generating enough revenues to justify current staffing levels. We're going to see a lot more consolidation across the industry."
Moynihan himself could also soon find himself without a job, Lutts contends.
"He [Moynihan] is pretty close to being gone," he stated. "He has failed with this bank."
However, Lutts concedes that Moynihan inherited a challenging, perhaps hopeless, situation when he took over the reins at Bank of America.
"I'm not sure what else he could've done to fix the company's problems," he said. "Bank of America's woes are so deep, I'm not sure anyone else could've done a good job there."
FOR FREE to continue reading
✔️ Unlock the full content of International Business Times UK for free
offer available for a limited time only
✔️ Easily manage your Newsletters subscriptions and save your favourite articles
✔️ No payment method required
Already have an account?
Log in
© Copyright IBTimes 2023. All rights reserved.