Should Rahm Emanuel Resign? Chicago Mayor Reverses Position On Police Oversight, Avoids Scrutiny From Democratic Allies After Laquan McDonald Video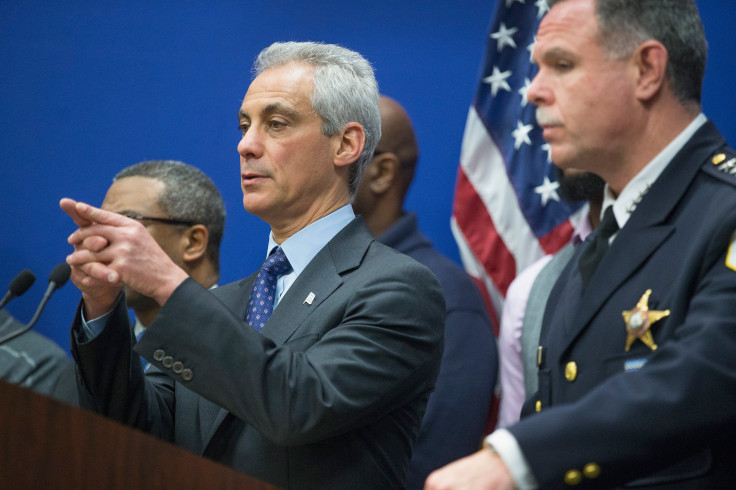 Chicago Mayor Rahm Emanuel's announced on Tuesday that he fired police superintendent Garry McCarthy, a statement that comes one week after the release of a video showing a police officer shooting a 17-year-old African-American boy to death. Among the questions asked of Emanuel during the morning press conference, which was originally scheduled to discuss police accountability, was about why his administration kept the 2014 video under wraps until well after he was re-elected in a hotly contested runoff vote.
Emanuel's political motives have been scrutinized in recent days and activists and politicians around the country have called for both Emanuel and McCarthy's resignations, but the timing of the video's release is not the only issue that has been called into question. Another set of issues surround statements Emanuel made just weeks ago, criticizing those protesting against the brutal police tactics illustrated in the video. Some have also raised questions about how his connections to Washington Democrats will possibly invite a Department of Justice investigation, like the one earlier this year in Ferguson that called for "immediate, wholesale and structural corrective action."
"Our goal is to build the trust and confidence with the public. And at this point and at this juncture in the city, given what we are working on, he has become an issue rather than dealing with the issues," Emanuel said Tuesday of McCarthy. "No one person trumps my commitment to the city of Chicago and its future," he added, calling McCarthy "a distraction."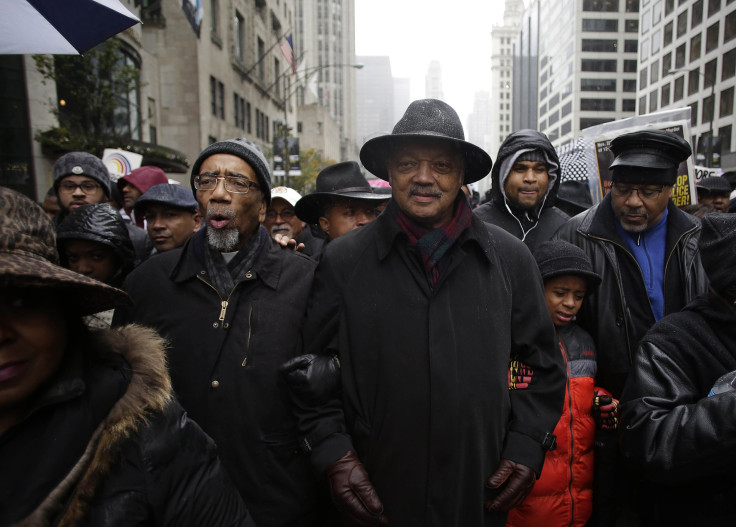 About a month before the video was released, Emanuel made headlines when he said activists' focus on police brutality had left law enforcement in a "fetal" position, making officers afraid to fight crime as aggressively as necessary. Emanuel made comments opposing increased scrutiny of police, though under his tenure Chicago's police department has killed more civilians than any other police department in a large city.
That same police department has also operated a secret interrogation site, which was exposed by the Guardian earlier this year. Chicago police held detainees at the interrogation facility, known as Homan Square, for hours without access to legal counsel or other civil rights.
Soon after Emanuel's comments, the video of the killing of Laquan McDonald surfaced. In the dashcam video, a police officer can be seen shooting the teenager repeatedly, and then leaving McDonald's body to lay in the street as a police car pulls up to the scene. An autopsy report from the Cook County medical examiner's office showed McDonald was shot 16 times.
When Emanuel held a press conference last week to discuss the video's release, he sought to frame the incident as the actions of a rogue cop, not a pattern in his city's police department. He said he chose not to release the video because he did not want to interfere with the ongoing criminal investigation, the Chicago Tribune reported, but a Cook County judge ruled the city did not need to hold the video.
In remarks prompting further questions, Emanuel said he had not seen the video before its release last week, despite Chicago police having held the evidence of one of the most graphic examples of police brutality in nearly a year. Many responded to the mayor's claim that he had not seen the video with anger and skepticism on social media.
In the wake of the video's release, critics called for Emanuel to resign, along with McCarthy and Cook County State's Attorney, Anita Alvarez. By Wednesday morning, the hashtag #ResignRahm was trending on Twitter in Chicago.
Black leaders flocked to Chicago last week to demonstrate with community members, calling for change and blocking the city's Magnificent Mile on Black Friday as shoppers headed to department stores along the prominent street.
"The police leadership has to change as well as its infrastructure," Rev. Jesse Jackson said Friday. "Who knew about the tape, and who covered it up for 13 months?"
Jackson, along with U.S. Representatives Bobby Rush and Danny Davis, have called for a U.S. Justice Department investigation into McDonald's killing, as happened in Ferguson, following the death of Michael Brown. However, this is another area where questions arise around the city's mayor, who served as U.S. President Barack Obama's chief of staff before resigning to run for his current position.
While Obama said he was "deeply disturbed" by the footage of McDonald's shooting, the Department of Justice has yet to weigh in, and federal officials have largely steered clear of commenting on Emanuel throughout this process.
As Chicago Tribune columnist John Kass pointed out, former Obama strategist and Emanuel ally David Axelrod tweeted about the shooting last Tuesday -- but instead of criticizing the mayor, he lay blame on the delayed indictment, effectively shifting the focus to Alvarez.
While Emanuel likely hopes his new task force will show activists that he is taking them seriously, it is unclear whether a federal investigation will eventually take place and what changes the police accountability group will have the authority to affect. During Tuesday's press conference, Emanuel seemed to become frustrated with reporters who asked about whether he was becoming a distraction like McCarthy. "I think I am doing my job," he said.
For now, civil rights advocates have said they will continue to demand more action.
"We think that when citizens are involved in police actions, and they can question witnesses regarding police shootings, that it will be a better city and a better Chicago," said Rose Joshua, the president of the NAACP chapter on Chicago's South Side, the Chicago Tribune reported. Joshua and other NAACP leaders have pushed for changes to the Independent Police Review Authority (IPRA), a civilian board that handles the most serious police oversight cases.
"Our good mayor appoints the head of IPRA," Joshua said Thursday. "Our good mayor appoints the police chief. And our good mayor appoints the police board. Every one of those agencies has some say-so or some responsibility to answer to senseless crimes in our community. We are calling for reform because of the fact that in the city of Chicago, the mayor is the executive and has charge of this city."
© Copyright IBTimes 2023. All rights reserved.
FOLLOW MORE IBT NEWS ON THE BELOW CHANNELS