Singapore Haze Leads To Legal Action Against Indonesian Firms That Could Result In Massive Fines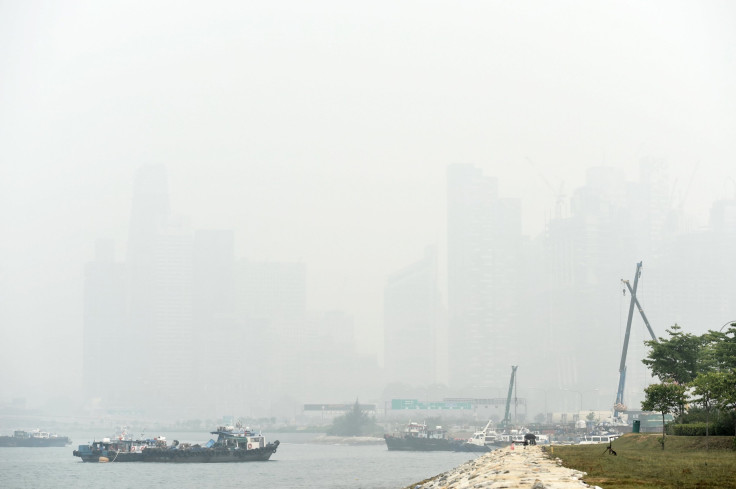 Singapore has sued five Indonesian companies blamed for farm and plantation fires causing serious air pollution over the city-state, which is a global financial centre with a tropical climate and multicultural population. The latest move by the Singapore government could lead to massive fines against the companies that have been served with legal notices, according to a government statement issued Friday.
Under the 2014 Transboundary Haze Pollution Act, Singapore can impose a fine of about $70,000 for each day on a local or foreign company that contributes to unhealthy levels of haze pollution in the city. The maximum amount of such a fine could reach up to $1.4 million, Agence France-Presse (AFP) reported.
The haze problem has lasted "for far too long," Singapore's Minister for Environment and Water Resources Vivian Balakrishnan said in the statement. "This is not a natural disaster. Haze is a man-made problem that should not be tolerated. It has caused major impact on the health, society and economy of our region."
Singapore is located near the Indonesian island of Sumatra, where farmers and plantations traditionally set off fires to clear land for cultivation. Friday's move came after the haze sparked some political drama with Singapore claiming that Indonesia has failed to take adequate measures to stop the outbreak of the smoky haze that has continued for years.
Meanwhile, Asia Pulp and Paper -- one of the world's largest pulp and paper groups and among the five Indonesian firms sued by Singapore -- has been asked by Singapore's National Environment Agency to provide information on measures taken by its suppliers in Indonesia to extinguish fires, AFP reported.
Four other Indonesian companies, including Rimba Hutani Mas, Sebangun Bumi Andalas Wood Industries, Bumi Sriwijaya Sentosa and Wachyuni Mandira, have also been given similar orders to deal with fires on their land.
On Friday, Singapore closed its schools and handed out face masks to "vulnerable and needy" residents after the Pollutants Standards Index hit "hazardous" levels. According to reports, the air pollution levels could last well into November.
Earlier this week, over 150 Indonesians, led by students and volunteers of various Indonesian environmental groups, also protested government inaction in managing the forest fires.
© Copyright IBTimes 2023. All rights reserved.
FOLLOW MORE IBT NEWS ON THE BELOW CHANNELS