Singapore Tops List Of Most Powerful Passports - IBT Graphics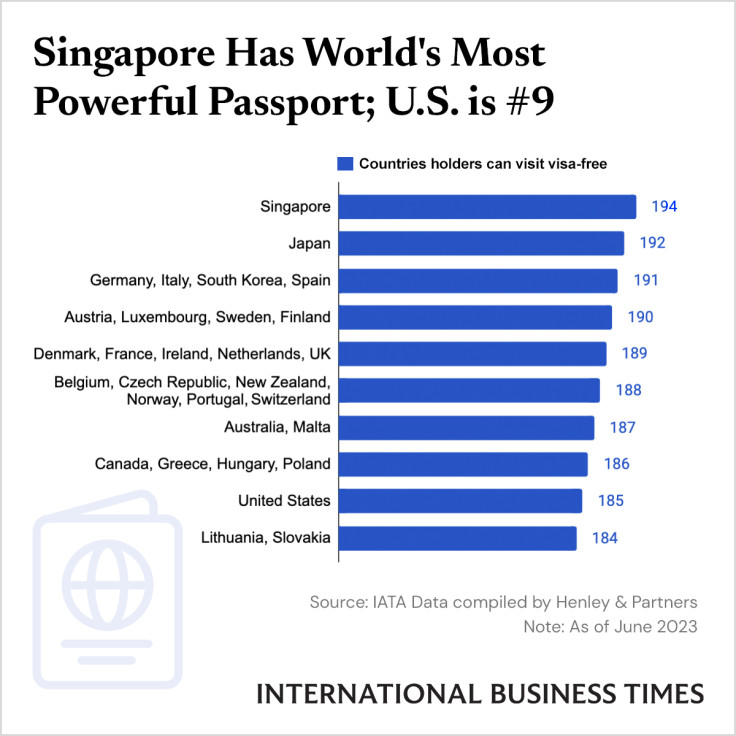 Singapore has topped the list of the world's most powerful passports in 2023, as per the latest International Air Transport Association (IATA) data analyzed by Henley & Partners.
The index is developed on the basis of the number of destinations passport holders can access without a prior visa. Countries with the highest rankings on the index have more open economies, encouraging foreign investment and international trade.
Singapore surpassed Japan, which had the most powerful passport till February 2023, with the most visa-free/visa-on-arrival score at 194 out of 227 global destinations.
Currently, Japan holds the second most powerful passport with 192 visa-free destinations, followed by Germany, Italy, South Korea and Spain at 191.
On the other hand, Afghanistan has the weakest passport in the world at 111th position in terms of travel freedom. Afghan passport holders are allowed to enter only 27 countries and territories without applying for a visa in advance.
© Copyright IBTimes 2023. All rights reserved.